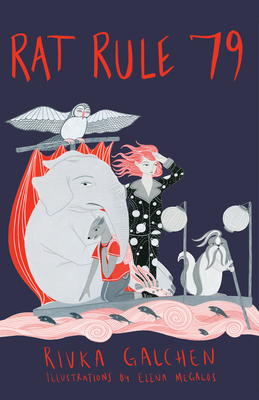 Rat Rule 79 (Hardcover)
Restless Books, 9781632060990, 224pp.
Publication Date: September 10, 2019
* Individual store prices may vary.
Description
From the New Yorker "20 Under 40" author of Atmospheric Disturbances comes a brain-twisting adventure story of a girl named Fred on a quest through a world of fantastical creatures, strange logic, and a powerful prejudice against growing up.

Fred and her math-teacher mom are always on the move, and Fred is getting sick of it. She's about to have yet another birthday in a new place without friends. On the eve of turning thirteen, Fred sees something strange in the living room: her mother, dressed for a party, standing in front of an enormous paper lantern—which she steps into and disappears.

Fred follows her and finds herself in the Land of Impossibility—a loopily illogical place where time is outlawed, words carry dire consequences, and her unlikely allies are a depressed white elephant and a pugnacious mongoose mother of seventeen. With her new friends, Fred sets off in search of her mom, braving dungeons, Insult Fish, Fearsome Ferlings, and a mad Rat Queen. To succeed, the trio must find the solution to an ageless riddle.

Gorgeously illustrated and reminiscent of The Phantom Tollbooth and The Wonderful Wizard of Oz, Rivka Galchen's Rat Rule 79 is an instant classic for curious readers of all ages.
About the Author
Elena Megalos was raised in the City of Angels. When she was twelve-going-on-thirteen she dreamed of writing the cookie fortunes for her beloved neighborhood Chinese restaurant, The Unicorn. That, or illustrating a book for children. This is her first one. See more work at elenamegalos.com.
Praise For Rat Rule 79…
"Rat Rule 79 is the adventure I didn't know I wanted until it started, just like it's the book you don't yet know you're going to love. We have been waiting for this book our entire lives."
— Lemony Snicket, author of A Series of Unfortunate Events

"Rat Rule 79 is an impossibly perfect book: a Mobius strip where the love loops continuously between mother's daughters and daughter's mothers, law and disorder, the lost and the found. Fred is a heroine for the ages—a twelve-year old savant of mathematical and emotional truths and a connoisseur of peanut butter and pickle sandwiches, Fred is smart enough to navigate irrational lands, demands, and numbers, and brave enough to love the strangest strangers. Rat Rule 79 belongs on a shelf of classics with The Phantom Tollbooth, Mrs. Frisby and the Rats of NIMH, and The Last Unicorn. How can it be that Galchen's epic, so utterly, enchantingly new, also gave me the happiest deja vu while reading? How can the Dark, Dark Woods be such an illuminating place? These and other paradoxes fill Galchen's astonishing, hilarious, mind-and-heart expanding book. As I read, I thought, 'I can't wait to share this with my daughter, son, mother, brother, sister, best friend…' a number set that eventually swelled to include: everyone."
— Karen Russell, author of Swamplandia

"I love this book. It's a wonder. I wish I'd had Rat Rule 79 when I was a boy. I'd have been obsessed with Fred and her adventures and reread her funny sweet story a hundred times, always finding something new."
— James Gleick, author of The Information and Isaac Newton

"Lewis Carroll, Norton Juster, Tove Jansson, Russell Hoban; like them, Rivka Galchen has written a book for children and adults that occupies its own delightful and preposterous space. Rat Rule 79 feels like it has simply been waiting to fall into our laps."
— Jonathan Lethem, author of Motherless Brooklyn and Chronic City

"Fred is a little bit Alice, a little bit Dorothy, but wholly original and smart, smart, smart. This is exactly how I like my word play. Can't decide if I'm more enamored with the Insult Fish or the Elephant in the Room. Prime mother-daughter book club fodder."
— Summer Dawn Laurie, Books Inc. (Berkeley, CA)

"Rivka Galchen's Rat Rule 79 is clever and strange and so very much fun, but what makes Rat Rule 79 so remarkable is the warmth and wisdom that exudes from its pages. A subversive Wizard of Oz for kids too smart for their own good, it's sure to become many a young readers' favorite book for years to come."
— David Gonzalez, Skylight Books (Los Angeles, CA)

"Witty, clever, and bright, Rat Rule 79 is a timeless adventure for readers of all ages. Filled with logic problems, riddles, and sharp word play, the Land of Impossibility is a place you will want to visit again, and again, and again. The characters are vibrant and unique, the prose is snappy and engaging, and the illustrations are whimsical, even with their limited color palette."
— Holly Roberts, Out West Books (Grand Junction, CO)

"Clever and fully entertaining, this humorous middle grade is perfect for parents AND young readers. I love the wordplay, the puzzles and the omnipresent narrator offering asides to the reader. Highly recommend!"
— Sarah Bagby, Watermark Books (Wichita, KS)