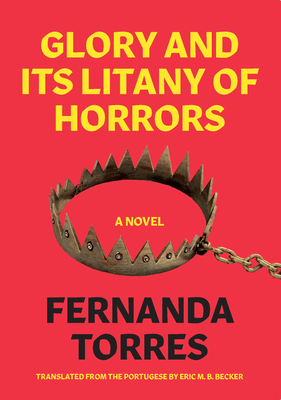 Glory and its Litany of Horrors
A Novel
Paperback

* Individual store prices may vary.
Description
"
The End
, a riotous, sex-stuffed novel by Torres, which takes Technicolor pleasure in detailing the deaths of five incorrigible old beach bums of the Bossa Nova generation…. Her five men, whom she kills off in reverse chronology, are 'united by male allegiance, women, and the beach, in that order'.... With America undergoing a mass reckoning with male sexuality, a novel like this feels both taboo and gleeful, a guilty kind of reprieve."
—Hermione Hoby,
The New Yorker
From Fernanda Torres, the celebrated Brazilian actress and bestselling author of The End, comes a riotous tragicomedy of a famed actor's path from national sex symbol to cult icon to raving madman after a disastrous performance as King Lear.
Mario Cardoso's meteoric rise to fame begins in the early sixties, when the promise of sex and revolution permeates the Rio air. But as he conquers the stage, arthouse cinema, and primetime TV, the fever and the decadence of stardom take their toll, and middle-aged Mario finds himself with an ebbing reputation, hairline, and bank account. He needs a royal comeback.
Enter
King Lear
. Mario's turn as Shakespeare's mad monarch goes well until he's overtaken by a fit of laughter that gets more demented with each performance. Forced to cancel the show, he's confronted with his mother's unstaged madness—she's now convinced that Mario is in fact her long-departed husband. Broke and desperate, Mario signs on for an evangelical network production:
Sodoma
. Yet, as low as he's fallen, Mario's final set is one he never imagined.
With the wicked humor and fleet-footed pace that made her novel
The End
a runaway bestseller in Brazil, Fernanda Torres's
Glory and its Litany of Horrors
is a razor-sharp take on the uneasy marriage of Art and the marketplace, and on the profession of acting in all its horror and glory.
Praise For Glory and its Litany of Horrors: A Novel…
"Brazilian actress Torres follows the frenetic collapse of an actor's career and his masculine bluster with piercing humor in her latest (after
The End
).... Torres's zippy momentum still leaves space for an emotional coda, and she has an impressive knack for showing Mario's vulnerability. This resonant story of an actor's accelerating decline will charm readers who enjoy madcap farce."
—
Publishers Weekly
, Pick of the Week
— Publishers Weekly, Pick of the Week
"This clever novel probes the conflict between business and artistry by chronicling the troubles of Mario Cardoso, a famous Brazilian actor past his prime.... Throughout, Cardoso's voice remains a blend of cynicism and delusion, with the occasional insight: 'What I lacked was the dignity to wear a crown, none of us have it.'"
—
The New Yorker
— The New Yorker
"Brazilian actor Fernanda Torres writes about what she knows, while writer, editor and translator Eric M. B. Becker provides English-language audiences ready access to Torres's affecting performance on the page. Having alchemized theater into her standout debut, The End, Torres returns with another tragicomedy about the cost of 'this bind they call fame'—the irresistible lure, the blinding reception, the fickle adoration and the unrelenting need for reinventions."
—Terry Hong,
Shelf Awareness
— Terry Hong
"Torres's experience as an actress takes center stage in her prose as sentences and action flow seamlessly, carrying the reader along on the edge of their seat…. Eric M. B. Becker's translation wonderfully represents the Brazilian text, engaging with Brazilian culture, discourse, and history in English…. Exceptional."
—Clayton McKee,
Asymptote
— Clayton McKee
"Before she became a bestselling author, Fernanda Torres was a celebrated actress in Brazil. In this, her second novel, she centers an actor who falls from grace after a disastrous performance as King Lear. This is a witty, satirical look at acting as art and its corruption by capitalism."
—Karla Strand,
Ms. Magazine
— Ms. Magazine
Restless Books, 9781632061126, 240pp.
Publication Date: July 23, 2019
About the Author
Fernanda Torres was born in 1965 in Rio de Janeiro. The daughter of actors, she was raised backstage. Fernanda has built a solid career as an actress and dedicated herself equally to film, theater, and TV since she was 13 years old, and has received many awards, including Best Actress at the 1986 Cannes Film Festival. Over the last twenty years, she has written and collaborated on film scripts and adaptations for theater. She began to write regularly for newspapers and magazines in 2007 and is now a columnist for the newspaper Folha de São Paulo and the magazine Veja-Rio and contributes to the magazine Piauí. Her debut novel, The End, has sold more than 200,000 copies in Brazil.

Eric M. B. Becker is a writer, literary translator, and editor of Words without Borders. He is the recipient of fellowships and residencies from the National Endowment for the Arts, the Fulbright Commission, and the Louis Armstrong House Museum. In 2014, he earned a PEN/Heim Translation Fund Grant for his translation of a collection of short stories from the Portuguese by Neustadt Prize for International Literature winner and 2015 Man Booker International Finalist Mia Couto (due out in early 2019 from Biblioasis). He has also published translations of numerous writers from Brazil, Portugal, and Lusophone Africa, including, Noemi Jaffe, Elvira Vigna, Paulo Scott, Martha Batalha, Paulo Coelho, and Carlos Drummond de Andrade. Current book projects include work by Djaimila Pereira de Almeida, Alice Sant'Anna, Fernanda Torres, and Lygia Fagundes Telles (NEA Fellowship 2019), among others. His work has appeared in the New York Times, The Literary Hub, Freeman's, and Electric Literature's Recommended Reading, among other publications. He has served on the juries of the ALTA National Translation Award and the PEN Translation Prize.