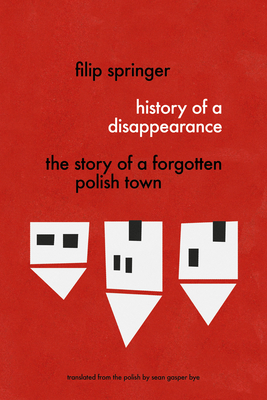 History of a Disappearance
The Story of a Forgotten Polish Town
Paperback

* Individual store prices may vary.
Description
Winner of Asymptote Journal's 2016 Close Approximations Translation Contest and Shortlisted for the Ryszard Kapuscinski Prize, History of a Disappearance is the fascinating true story of a small mining town in the southwest of Poland that, after seven centuries of history, disappeared.

Lying at the crucible of Central Europe, the Silesian village of Kupferberg suffered the violence of the Thirty Years War, the Napoleonic Wars, and World War I. After Stalin's post-World War II redrawing of Poland's borders, Kupferberg became Miedzianka, a town settled by displaced people from all over Poland and a new center of the Eastern Bloc's uranium-mining industry. Decades of neglect and environmental degradation led to the town being declared uninhabitable, and the population was evacuated. Today, it exists only in ruins, with barely a hundred people living on the unstable ground above its collapsing mines.

In this work of unsparing and insightful reportage, renowned journalist, photographer, and architecture critic Filip Springer rediscovers this small town's fascinating history. Digging beyond the village's mythic foundations and the great wars and world leaders that shaped it, Springer catalogs the lost human elements: the long-departed tailor and deceased shopkeeper; the parties, now silenced, that used to fill the streets with shouts and laughter; and the once-beautiful cemetery, with gravestones upended by tractors and human bones scattered by dogs. In Miedzianka, Springer sees a microcosm of European history, and a powerful narrative of how the ghosts of the past continue to haunt us in the present.
Praise For History of a Disappearance: The Story of a Forgotten Polish Town…
"Filip Springer's History of a Disappearance: The Story of a Forgotten Polish Town is a searching work of historical journalism that tracks the life and death of a tiny Silesian mining village. Translated from Polish, it is a memorial to a town that seemed constantly subject to the brutal whims of history, a force that Springer memorably visualizes as "a beast that knew only how to sow chaos and destruction."… Thanks to his fascinating history, Kupferberg seems unlikely to fade from memory."

—Hank Stephenson, Shelf Awareness, starred review

"With persistence that may amount to obsession, [Springer] has recovered the story of the town's life and times and chronicled the melancholy history of its several disappearances. In a nice tactical move, he has set the place and its people before us in the present tense, an approach that has truly taken distance out of the past.… Characters [are] vividly captured by Springer.… a very rich narrative…. the account continues and teems with neighborhood events and the doings of people we have come to know. It also includes many ghoulishly absurd tales of Soviet enterprise — a genre in itself…. Some of the most striking parts of this wonderful book are interstitial sections of personal testimony concerning various events and situations. It is testimony infused with fear, prejudice, hope, evasiveness, and denial…. I call this a great book, a superb work of intelligence, originality, and tremendous enterprise."

—Katharine A. Powers, Barnes & Noble Review

"The desire to uncover the truth about why Miedzianka, a provincial mountain-top town in Lower Silesia with a history stretching back 700 years, literally vanished from the face of the earth between the 1960s and 1980s, turns a journalistic search for documentary evidence into an existential quest of epic proportions. Was the town simply swallowed by the mountain beneath it, the victim of extra-ordinary geology, or was it deliberately demolished by politicians with dark secrets to hide? Written in the popular Polish reportage genre, rather than as literary fiction, the book nevertheless possesses many features of a thriller: mystery, tension, suspense, horror – all of which are admirably conveyed by the English translation. History of a Disappearance is a tale of traumatic loss for the people who once lived in Miedzianka.… The book's most significant achievement is therefore its restoration of individuals—not normally the focus of writers of history or ideologues of change. A town forgotten by the end of the 20th century has been resurrected."

—Ursula Phillips, European Literature Network

"I chose the winning translation of Filip Springer by Sean Gasper Bye because I found the subject matter totally gripping—it's set in 1944, when the Soviet counteroffensive has reached the Vistula River—and the prose itself is satisfyingly dense, and it has what I look for in any good translation, a very convincing voice."

—Margaret Jull Costa, Judge's Citation, Asymptote's 2016 Close Approximations Translation Contest

"Although he is trained as a journalist and photographer, Filip Springer's work offers an example of how truth can be even more enthralling than fiction. In his most celebrated piece so far, History of a Disappearance (Polish: Miedzianka. Historia znikania), he delved into the stories of a small town that has been completely wiped off the face of the earth, as though it had never existed. By exploring the deeply personal and moving stories of this town and its former inhabitants, Springer gives readers an illuminating journey through the challenges that Poland has faced as a country as well."

—Lani Seelinger, Culture Trip

"What happened to Miedzianka? That's the question the Polish journalist Filip Springer set out to answer in History of a Disappearance: The Story of a Forgotten Polish Town. Springer combs through archival records, hunts down personal correspondence, and collects a series of interviews to try to preserve the history of a town that history erased. It's a very thorough examination, oscillating between big picture historical/geopolitical context and telling the stories of the individual lives, stories that almost sound like segments from This American Life. Despite the thorough research, Springer does not limit himself to a dry, distant reporter's writing style—he inserts himself into the reporting at the occasional appropriate moment, he comments, he guesses, he uses artful metaphor and repetition. It's obvious on the page that Springer has fallen in love with the town, with its story. Some chapters read like a brochure for a place that no longer exists."

—Graham Oliver, Ploughshares

"It's a strange but true facet of history that for several periods of many years, Poland didn't exist. Situated between Germany and Russia, it occupied an unfortunate position, caught between two aggressive, ambitious nations. On multiple occasions, it was occupied and absorbed by one or the other in one of their expansive incantations, for all intents and purposes ceasing to exist as an independent country in its own right. History of a Disappearance looks at this phenomenon from Poland's tricky history as a sort of microcosm, through the lens of a single town in Lower Silesia, called Miedzianka…. Journalist Filip Springer writes a researched, detailed work of "reportage": a popular form of Polish nonfiction literature that uses elements of fiction writing (what we'd consider narrative nonfiction) in a long-form, journalistic reporting style. It's an excellent translation of a sad if hopeful story. Springer creates a detailed picture of the little town and its big personalities, showcasing the character of both place and inhabitants, both of which could so easily be swept under the rug of a long history in a tumultuous region…. It's a wonderful read, rich and strange, shining a light on layer after layer of dusty history in a place that's seen, and been, so much…. Something was there once, withstanding tumultuous history for a very long time, and we'd do well not to forget it."

—What's Nonfiction?

"Americans needn't look abroad for stories like that of the village of Kupferberg. We've got plenty of places like Centralia, Pennsylvania, to keep us awake at night. But there is something about layering those stories over a history that extends far back beyond the the reach of American cultural memory. For Americans our ecological disasters are part of our ongoing and glorious zeitgeist, deeply felt, but quickly forgotten, as one might expect of a people with no past (or a past kept locked in the back of a deep, dark closet) and an overblown sense of manifest destiny. It's Sean Gasper Bye's unpacking of the before and the burden of memory that struck this reader square in the chest."

—M. Bartley Seigel, Words without Borders
Restless Books, 9781632061157, 320pp.
Publication Date: April 4, 2017
About the Author
Filip Springer (born 1982) is a self-taught journalist who has been working as a reporter and photographer since 2006. His journalistic debut—History of a Disappearance—was shortlisted for the Ryszard Kapuściński Literary Reportage Prize in 2011 and was nominated for the Gdynia Literary Prize in 2012. He was also shortlisted for the Nike Literary Prize in 2012 and winner of the third annual Ryszard Kapuściński fellows contest for young journalists.

Sean Gasper Bye is a translator of Polish, French, and Russian literature. He has translated work by some of Poland's leading nonfiction writers, including Małgorzata Szejnert, Paweł Smoleński, and Lidia Ostałowska. An excerpt from his translation of History of a Disappearance won the Asymptote Close Approximations Prize in 2016. He lives in New York.
or
Not Currently Available for Direct Purchase