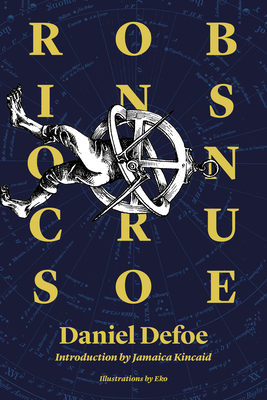 Robinson Crusoe (Paperback)
300th Anniversary Edition (Restless Classics)
Restless Books, 9781632061195, 384pp.
Publication Date: August 27, 2019
Other Editions of This Title:
Paperback, Spanish (4/1/1996)
Paperback (5/4/2011)
Paperback (9/1/2013)
Paperback (10/10/2012)
Paperback (2/5/2014)
Paperback (2/29/2012)
Paperback, Spanish (12/22/2017)
Paperback (12/1/2015)
Paperback, Spanish (1/1/1999)
Paperback (10/8/2006)
Paperback, Polish (9/1/2013)
Paperback, German (5/22/2010)
Paperback, Finnish (4/21/2015)
Paperback (6/15/2012)
Paperback (11/5/2011)
Paperback (9/16/2014)
Paperback (1/27/2014)
Paperback (12/18/2015)
* Individual store prices may vary.
Description
Restless Classics presents the Three-Hundredth Anniversary Edition of Robinson Crusoe, the classic Caribbean adventure story and foundational English novel, with new illustrations by Eko and an introduction by Jamaica Kincaid that contextualizes the book for our globalized, postcolonial era.

Three centuries after Daniel Defoe published Robinson Crusoe, this gripping tale of a castaway who spends thirty years on a remote tropical island near Trinidad, encountering cannibals, captives, and mutineers before being ultimately rescued, remains a classic of the adventure genre and is widely considered the first great English novel.

But the book also has much to teach us, in retrospect, about entrenched attitudes of colonizers toward the colonized that still resound today. As celebrated Caribbean writer Jamaica Kincaid writes in her bold new introduction, "The vivid, vibrant, subtle, important role of the tale of Robinson Crusoe, with his triumph of individual resilience and ingenuity wrapped up in his European, which is to say white, identity, has played in the long, uninterrupted literature of European conquest of the rest of the world must not be dismissed or ignored or silenced."
About the Author
Daniel Defoe (c. 1660 - 1731) was an English writer, journalist, and spy, who gained enduring fame for his novel, Robinson Crusoe. Defoe is notable for being one of the earliest practitioners of the novel and helped popularize the genre in Britain. In some texts he is even referred to as one of the founders, if not the founder, of the English novel. A prolific and versatile writer, he wrote more than five hundred books, pamphlets, and journals on various topics (including politics, crime, religion, marriage, psychology and the supernatural). He was also a pioneer of economic journalism.

Born in Mexico in 1958, Eko is an engraver and painter. His wood etchings, often erotic in nature and the focus of controversial discussion, are part of a broader tradition in Mexican folk art popularized by José Guadalupe Posada. He has collaborated on projects for The New York Times, the Frankfurter Allgemeine Zeitung, and the Spanish daily El País, in addition to having published numerous books in Mexico and Spain.

Jamaica Kincaid is a Caribbean American writer whose essays, stories, and novels are evocative portrayals of family relationships and her native Antigua. Settling in New York City when she left Antigua at age 16, she became a staff writer at The New Yorker in 1976. Her books include the short story collection At the Bottom of the River (1983), the novels Annie John (1984) and Lucy (1990), the three-part essay A Small Place (1988), the novel The Autobiography of My Mother (1996) and nonfiction book My Brother (1997). Her "Talk of the Town" columns for The New Yorker were collected in Talk Stories (2001), and in 2005 she published Among Flowers: A Walk in the Himalaya. Her most recent book is the novel See Now Then (2013).