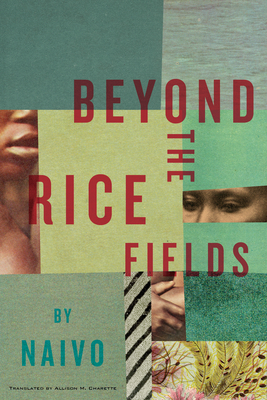 Beyond the Rice Fields
Paperback

* Individual store prices may vary.
Description
The first novel from Madagascar ever to be translated into English, Naivo's magisterial Beyond the Rice Fields delves into the upheavals of the nation's past as it confronted Christianity and modernity, through the twin narratives of a slave and his master's daughter.

Fara and her father's slave, Tsito, have been close since her father bought the boy after his forest village was destroyed. Now in Sahasoa, amongst the cattle and rice fields, everything is new for Tsito, and Fara at last has a companion. But as Tsito looks forward to the bright promise of freedom and Fara, backward to a dark, long-denied family history, a rift opens between them just as British Christian missionaries and French industrialists arrive and violence erupts across the country. Love and innocence fall away, and Tsito and Fara's world becomes enveloped by tyranny, superstition, and fear.

With captivating lyricism, propulsive urgency, and two unforgettable characters at the story's core, Naivo unflinchingly delves into the brutal history of nineteenth-century Madagascar. Beyond the Rice Fields is a tour de force that has much to teach us about human bondage and the stories we tell to face—and hide from—ourselves, each other, our pasts, and our destinies.
Praise For Beyond the Rice Fields…
"His lyrical chronicle traces the lives of Tsito, a young slave whose community is destroyed by Merina soldiers, his new master Rado, and Rado's young daughter Fara…. Naivo gives dramatic intensity to the time of the Imerina monarchs, beginning in 1785 with the reign of Nampiona, a reformer king who declared, "the seas are the limits of my rice fields," and ending in 1849, when the persecution of Christians and sympathizers reaches its peak under Queen Mavo. Translated from the French by Allison M Charette, this is a fascinating window into Malagasy history."

—Jane Ciabattari, BBC Culture

"The best historical fiction shines light on past horrors through the eyes of everyday people who have to find their way forward no matter how tortuous the path. Naivo's debut, the first novel from Madagascar to be translated into English, does just that….the narrative arc, complete with lush descriptions of the rice fields of Sahasoa and the capital, Antananarivo, or the "City of Thousands," is precise and effective. In all, Naivo has created a sharp and memorable tale of young lives caught in the crossfire of seismic events, and a significant novel that deservedly shines light on a little-known chapter of world history."

—Poornima Apte, Booklist



"With quiet surety, the novel pairs an elegantly poetic narrative with an intensifying brutality of events as Madagascar finds itself beset by internal strife, French industrialism, and the zealous efforts of Christian missionaries. … Rich with historical and cultural detail, Beyond the Rice Fields demonstrates with omniscient sadness mankind's ability to commit horrific acts in the name of tradition, or for whoever holds power at the moment."

—Meg Nola, Foreword Reviews, Five-Heart Review

"A sweeping look at the history of slavery and modernization in Madagascar…. It is a vast and ambitious book, bristling with information about the history and culture of Madagascar…. Beyond the Rice Fields is a spiraling, dense, and prickly work, difficult to access until the foreign reader has agreed to put in some time and effort. But once the effort is put in, it is richly rewarding."

—Kate Prengel, Words Without Borders

"A love story and coming-of-age-tale set in one of the most tumultuous periods in Madagascar's history, the publication of this book is an exciting moment for world literature—this is the first ever novel from the nation to appear in English! Naivo's gift for storytelling is evident in Allison M. Charette's graceful translation. Beyond the Rice Fields is a breathtaking monsoon of a book."

—Noah Mintz, Green Apple Books on the Park (San Francisco, CA)

"Naivo's novel, the first from Madagascar to be translated into English, pairs a sweeping, tragic love story with the 19th-century history of his island, when it teetered "on the verge of catastrophe." … Naivo's encyclopedic attempt to capture Madagascar's history is admirable ... the novel's characters [are] fully realized in the novel's thrilling conclusion. … Naivo provides readers with an astonishing amount of information about Madagascar's culture and past."

—Publishers Weekly

"Naivo's first novel... surprises and delights on multiple counts.... The epic story of a country entering a new era and the suspense-filled stories of the heroes are more than enough to captivate a Western reader.… This love and adventure story doubles as a discreet but caustic challenge of the foundations of contemporary Malagasy society itself. A celebration of language and culture, and a needle-sharp questioning of the machinery of society: these are just two sides of the same affection for the Great Island. This novel is both easy and complex, seductive and provocative, sentimental and clear-sighted… A journey through time, space, language, and the human heart—or, everything that we ask of a novel."

—Dominique Ranaivoson, Africultures

"Their lives, both together and apart, deliver elements of a classic love story, yet beyond the couple's whispered promises, Naivo's unflinching realism leaves no room for such idealized tenderness.… the book is as much a commentary on the ruthlessness of colonial-era indifference as it is a primer in the universality of the human experience."

—The Arkansas International



"This beautiful, powerful novel is not without its complications. For those not familiar with Magalasy history, "Beyond the Rice Fields" provides an opportunity to learn more — if readers are willing to use the helpful guide at the back and give themselves over to a new method of storytelling. The novel's narrative structure and number of characters may prove daunting for some readers, but reading this beautiful, commanding novel is an experience to be savored, not rushed. Those who take the time to relish it fully will be justly rewarded."

—Laura Farmer, Cedar Rapids Gazette
Restless Books, 9781632061317, 368pp.
Publication Date: October 31, 2017
About the Author
Naivoharisoa Patrick Ramamonjisoa, who goes by the pen name Naivo, has worked as a journalist in his home country of Madagascar and as a teacher in Paris. His first novel, Beyond the Rice Fields, was published in its French original version in March 2012 by Éditions Sépia in Paris. This work, which describes the violent cultural clash and mass killings that arose in the early 19th century Madagascar in reaction to the arrival of British missionaries and the rise of Christianity, is the first Malagasy novel ever translated into English. Naivo is also the author of several short stories, including "Dahalo," which received the RFI/ACCT prize in 1996, and "Iarivomandroso," which was adapted for a theatrical production in Antananarivo, Madagascar. He recently released a short story collection entitled "Madagascar entre poivre et vanille," which explores various topics pertaining to contemporary Madagascar including the socialist era, the recurrent political coups, the corruption of the judiciary system, and the monarchic and colonial resurgences.

Allison M. Charette translates literature from French into English. She received a 2015 PEN/Heim Translation Fund Grant for Beyond the Rice Fields, the first novel from Madagascar to be translated into English. She founded the Emerging Literary Translators' Network in America (ELTNA.org), a networking and support group for early-career translators. Allison has published two other book-length translations, in addition to short translated fiction that has appeared in Words Without Borders, The Other Stories, Tupelo Quarterly, InTranslation, the SAND Journal, and others. Find her online at charettetranslations.com.