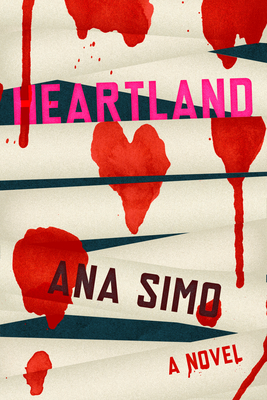 Heartland
Paperback

* Individual store prices may vary.
Description
In a word-drunk romp through an alternate, pre-apocalyptic United States, Ana Simo's fiction debut, Heartland, is the uproarious story of a thwarted writer's elaborate revenge on the woman who stole her lover, blending elements of telenovela, pulp noir, and dystopian satire.

There's only one solution for a nasty case of writer's block, and that's murder. Specifically, that of one Mercy McCabe, a cunning SoHo art dealer who was once our Latina narrator's rival for the scrumptious Bebe. When she discovers that McCabe has squandered Bebe's affections after stealing her away, revenge is not enough: she must admit her guilt, sentence herself, and beg for her own execution, Soviet-style.

In the all-too-terrifyingly-familiar America of Heartland, the inconceivable has become ordinary: corruption and greed at the top have led to mass starvation in the heartland; hordes of refugees have escaped from resettlement camps and attack the cities; a puritanical Caliphate has toppled Constantinople, with America in its sights. Meanwhile, escaping her New York life in disguise, our heroine lures McCabe to her home turf: a hilltop house in the Great Plains where her parents worked as domestic servants. Her nemesis, though, is slippery, and McCabe disappears, threatening to ruin a homicidal masterplan so detailed as to be akin to love.

Heartland is a hilarious, genre-defying debut that confronts taboos of race, assimilation, and sex through a high-voltage tale of love, language, and revenge.


Praise For Heartland…
"Ana Simo's debut novel Heartland is at once manic, brash and unsettling. It's also nearly impossible to categorize without running the risk of coming up short. It straddles the line between pulp noir and slapstick; it carries the can't-look-away sensibility of a telenovela. Simo, a Cuba-born playwright who co-founded the first lesbian theater in New York, takes readers on an erratic—and sometimes erotic—journey through the mind of a jealous lover. What keeps you engaged throughout is Simo's darkly funny and original voice…. Simo boldly tackles issues of race, sexuality, and immigration. It's an engrossing tale, to be sure—one with traces of surreal horror. Simo's gift lies not only in keeping the reader invested in her narrator's detailed observances and wild tangents, but in her own total fearlessness as a writer…. [A] pleasing cocktail that goes down unexpectedly smooth; it is truly unlike any novel I can think of, or imagine."

—Juan Vidal, NPR Books

"This novel is singularly difficult to classify. Is it lesbian noir? Slapstick dystopia? Midwestern gothic? To say that it's all of the above is not to exhaust the list of genres Simo straddles and, maybe, invents.... What holds everything together is Simo's inventive and unapologetically irreverent voice…. Original, profane, and discomfiting."

—Kirkus Reviews

"At age 11, Heartland's unnamed narrator wins a Blue Ribbon at the Elmira County Fair for writing "an inadvertently anti-Semitic fable," which condemns her to become a "[w]riting-made-me-want-to-puke" writer. While supporting her "writing curse" with menial jobs and often masquerading as someone else, she falls for Bebe, the "love of [her] loveless, licentious life." Losing Bebe to Mercy McCabe sets the spurned narrator on a mission-to-kill, luring McCabe back to Elmira, where murderous intentions go awry, hindered by frostbitten limbs, disappearances, unreliable staff, an insatiable librarian, and a return of the dead. Eschewing labels and defying expectations, Simo slyly confronts race, sexuality, multigenerational duty, immigrant dislocation, and even dirty politics while spinning a bizarrely spectacular, outlandishly disorienting (not-)love-story of lost, searching souls."

—Terry Hong, Booklist

"Hilariously absurd and profane."

—N. K. Jemisin, The New York Times Book Review

"This seems like an wholly original novel. It is set in an alternate, pre-apocalyptic United States and promises to be a genre-bending high-octane debut."

—Rabeea Saleem, Chicago Review of Books, The Most Anticipated Fiction Books of 2018

"Part telenovela, part pulp fiction, and part dystopian satire, Heartland is the debut novel from Lesbian Avengers cofounder Ana Simo about one writer's revenge on the woman who stole her lover."

—Carolyn Yates, Autostraddle, 65 Queer and Feminist Books to Read in Early 201

"This is where America seems to be heading even as we speak: corruption and greed at the top leads to mass starvation at the bottom; refugees fill camps across the country until they rise up and attack the cities; and new enemies abroad are rising up with America in their sights. Against this dramatic background we have the story of a writer whose solution to writer's block is to commit murder. Only it's not as simple as that: for the writer the plan would only be a success if the chosen victim admitted her guilt and begged for execution. But the victim is wilier than the writer supposes."

—Paul Kincaid, BestScienceFictionBooks.com
Restless Books, 9781632061508, 240pp.
Publication Date: January 16, 2018
About the Author
A New Yorker most of her life, Ana Simo was born and raised in Cuba. Forced to leave the island during the political/homophobic witch-hunts of the late 1960s, she immigrated to France in time to witness the May 1968 revolt, study with Roland Barthes, and participate in early women's and gay and lesbian rights groups. After moving once again, this time to New York, she became an English-language playwright, journalist and lesbian activist, co-founding Medusa's Revenge theatre, the direct-action group the Lesbian Avengers, the national cable program Dyke TV, and the groundbreaking online magazine The Gully, offering queer views on everything. Her New York Times–reviewed plays have been produced in such venues as PS 122, Theatre for the New City, INTAR Hispanic Arts Center, and the Walker Art Center in Minneapolis. How To Kill Her, her short feature film with Ela Troyano, has been widely screened in festivals in the U.S. and abroad. A CD of her play The Opium War with music by Zeena Parkins was released by Roulette. Heartland is her first novel. She recently finished Tannhäuser's Dream, her second novel, and is currently writing a new one, titled Divine Light.