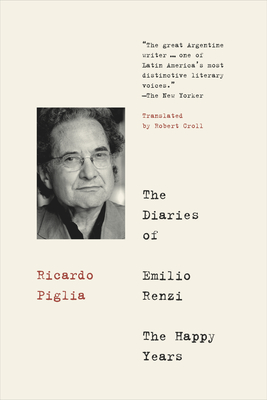 The Diaries of Emilio Renzi (Paperback)
The Happy Years
Restless Books, 9781632061980, 512pp.
Publication Date: November 20, 2018
* Individual store prices may vary.
Description
The second installment of Argentine literary giant Ricardo Piglia's acclaimed bibliophilic trilogy follows his alter ego, Emilio Renzi, as his literary career begins to take off in the tumultuous years 1968-1975—running a magazine, working as a publisher, and encountering the literary stars among whom he would soon take his place: Borges, Puig, Roa Bastos, Piñera.

"One writes," Ricardo Piglia asserts, only "in order to know literature." Spanning the years 1968 to 1975, The Diaries of Emilio Renzi: The Happy Years is a testament to Piglia's intimate, lifelong love affair with the written word. This second installment of the Argentinian master's diaries opens a window into a luminous literary community fertile with genius and ever-traipsing from bar to bar—as well as into a convulsing Argentina racked by the death of Perón, guerilla warfare, and a bloody military coup—and establishes itself as the definitive backbone of Piglia's monumental career.
About the Author
Ricardo Piglia (Buenos Aires, 1940–2017), professor emeritus of Princeton University, is unanimously considered a classic of contemporary Spanish-language literature. He published five novels, including Artificial Respiration, The Absent City, and Target in the Night, as well as collections of stories and criticism. Among the numerous prizes he received were the Premio de la Crítica, Premio Rómulo Gallegos, Premio Bartolomé March, Premio Casa de las Américas, Premio José Donoso, and Premio Formentor de las Letras.

Robert Croll is a writer, translator, musician, and artist originally from Asheville, North Carolina. He first came to translation during his undergraduate studies at Amherst College, where he focused particularly on the short fiction of Julio Cortázar.
Praise For The Diaries of Emilio Renzi: The Happy Years…
"Much like Susan Sontag, the American essayist and one of my favorite writers, my first introduction to Piglia is through his diaries. And what a privilege to be in someone's head even for a bit, to know what troubled or delighted them as they made their way into the world. That no matter how esteemed or revered they are in the public spotlight, they deal with the same problems most of us do: figuring out how to make rent, finding enough time to write, loss, heartbreak."
— Pia Cortez

"The Diaries of Emilio Renzi continue to be a fascinating literary-autobiographical experiment ... and, especially, a wonderful immersion in literature itself. Of particular interest in showing the transition of Latin American (and specifically Argentine) literature -- no longer: "out of sync, behind, out of place" --, Piglia's range extends far beyond that too. Yes, most of this is presumably mainly of interest to the similarly literature-obsessed -- but Piglia makes it hard to imagine who wouldn't be."
— M.A. Orthofer