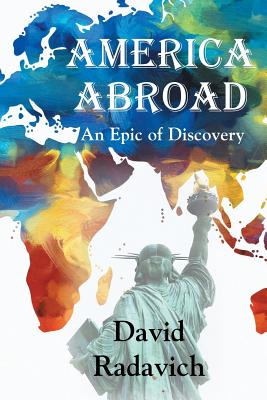 America Abroad
An Epic of Discovery
Paperback

* Individual store prices may vary.
Description
In America Abroad: An Epic of Discovery, David Radavich launches his most ambitious expedition to date. Crossing continents and spanning centuries, this sequence traces historical trajectories from the Age of Exploration to the present. Indeed, we hear echoes of Whitman in its sweep and grandeur. Organized geographically, sections recount the "discovery" of the "New World" and exploration of the American West, as well as sojourns to the Arctic, South America, Asia, and finally the Far East. Along the way, we encounter persona poems speaking in the voices of adventurers, conquistadors, and survivors. This is a bold and expansive book, challenging readers to re-conceive the ways that history is said to rhyme.
--Professor Christian Knoeller, author of Reimagining Environmental History
America Abroad is an amazing achievement. David Radavich offers an entertaining history of the republic in light-footed poetry. It's a wonderful gift. There are heroes galore, both male and female, but Uncle Sam and his consort, Ms. Liberty, dominate the narrative: Smug, calm, and full of selfish drive, he brushes off her protests. Feeling jilted, she laments, "We're still not together." Their squabbles mirror those of the nation; if they were to divorce, it would lose its soul.
--Jean Grant, author of The Burning Veil
America Abroad is part adventure story and part history told in crisp narrative poems rich in searing imagery. In these poems, David Radavich explores America's complex history of discovery, destruction, and quest for power. With the keen eye of an historian and the heart and ear of a poet, Radavich uses a myriad of voices, from Ponce de Leon to Uncle Sam and Lady Liberty to explore America's adventurism with clear-eyed honesty. These poems deliver on the promise that "If you listen hard, / in the end you will be changed."
--Pat Riviere-Seel, author of The Serial Killer's Daughter
David Radavich's America Abroad is vastly imaginative: pastiche; caprice; cameos by Ponce de Leon, Coronado, Sacajewea, Leif Ericsson, Betsy Ross, as well as other historic luminaries; and orchestrated by a truncated, nimble line, with brilliant musical enjambment that puts me in mind of Robert Creeley. The language is wonderfully elastic, accommodating, witty--what an ear Radavich has--but also of epic vision, "Protean / beyond all reckoning," as the speaker declares so aptly in the poem, "Shape-Shifter." And, indeed, these poems do shape-sift, holographic not only in their stunning wordplay, but in their vision and wry social commentary. This is a very fine volume of poems.
--Joseph Bathanti, former Poet Laureate of North Carolina
Plain View Press, LLC, 9781632100603, 116pp.
Publication Date: January 2, 2019