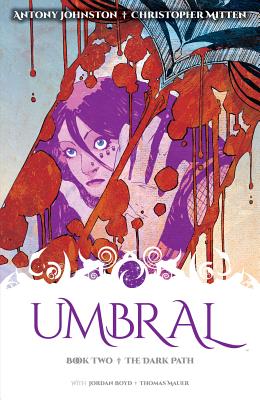 Umbral Volume 2 (Paperback)
The Dark Path (Umbral Tp #2)
Image Comics, 9781632152046, 160pp.
Publication Date: February 17, 2015
* Individual store prices may vary.
Description
The young thief Rascal has discovered a plot by the Umbral, evil shadow creatures from another dimension, to take over the kingdom. The monsters can hide in plain sight, taking the form of their victims... and they've already replaced the King and Queen After stealing a magical gem called the Oculus, Rascal escaped the city with a ragtag band of rebels and foreigners: Dalone, a mysterious wizard; Shayim, a one-eyed smuggler; and Profoss Munty, a drunkard scholar. They plan to destroy the Oculus, banishing the Umbral for good. But to succeed they must trust one another, and in the paranoid world of Umbral, that's a hard task. Dalone claims to be five hundred years old; Shayim and Munty's people have been at war for centuries; and Rascal doesn't even realize that one of her party *is* an Umbral in disguise Rascal's journey on the "dark path", through the mist-filled Bulaswode and beyond, will change her -- and everyone around her -- forever.
or
Not Currently Available for Direct Purchase