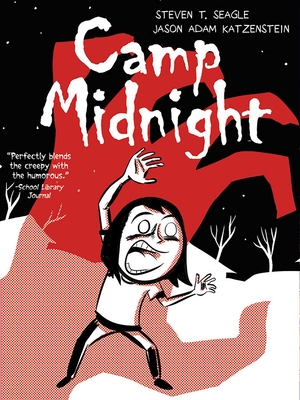 Camp Midnight
Paperback

* Individual store prices may vary.
Description
Ben 10 and Big Hero 6 creator Steven T. Seagle returns to comics with New Yorker Magazine cartoonist Jason Adam Katzenstein for a new graphic novel Reluctant Skye is accidentally sent to the wrong summer camp. Not wanting to please her "step monster," Skye is dead-set on not fitting in. That won't be a problem, as everyone at Camp Midnight-with the exception of fellow camper and fast-friend Mia-is a full-fledged monster The perfect book for fans of Raina Telgemeier's Smile, but wish it had more bowls of gooey eyeballs.
Praise For Camp Midnight…
SchoOL LIBRARY JOURNAL - Gr 3-7-Skye's parents are divorced, and quality time with either parent is hard to come by. When Skye gets kicked to summer camp because her parents don't know what to do with her, she's determined to have a miserable time just to spite them. Somehow she gets shoved onto the wrong bus and winds up at Camp Midnight, where everyone else-except maybe fellow camper and possible friend Mia-is a monster. What's a normal human to do? She decides to bluff and bluster her way into hiding in plain sight and does her best to fit in but eventually learns that it's always best just to be yourself. Skye's character is spunky and totally believable, and her facial expressions are priceless. The other campers are weird and funny-hugely exaggerated and drawn with a wild and crazy art style employing just a few lurid colors, which works wonderfully to evoke the mood of every camp situation. The feelings and thoughts of all the campers are perfectly portrayed through amusing variations of face and body language, making extraneous dialogue completely unnecessary, which in turn makes the book very accessible and enjoyable for a wide range of readers. VERDICT Seagle, creator of the Ben 10 TV show and the film Big Hero 6, offers a graphic novel that perfectly blends the creepy with the humorous. Hand this to readers who enjoyed R.L. Stine's Slappy's Tales of Horror (Goosebumps Graphix, 2015).-Kelley Gile, Cheshire Public Library, CT
Image Comics, 9781632155559, 248pp.
Publication Date: May 10, 2016
or
Not Currently Available for Direct Purchase