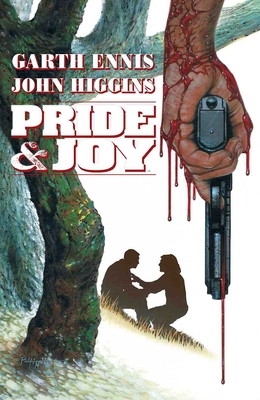 Pride & Joy
Paperback

* Individual store prices may vary.
Description
SOME DEBTS CAN ONLY BE PAID IN BLOOD Still mourning the loss of his wife, Jimmy Kavanagh lives quietly in the backwoods of New England, raising his devoted daughter and resentful teenage son. But fate has come calling in the worst possible way, as Jimmy's criminal past threatens to destroy his entire family- raising the spectre of his crushing guilt for an old and awful crime. On the run with a pair of unwanted associates from long ago, Jimmy and his children are pursued by a foe so ruthless and lethal that no one will stand between him and his prey. A showdown is inevitable- but does Jimmy still have what it takes to fight for his family's survival? And will his horror at his own transgressions consume him long before the predator on his trail? Garth Ennis (Preacher, Crossed, Battlefields) and John Higgins (Judge Dredd, Razorjack, War Story) present a hard-boiled tale of a man at bay- whose only hope of redemption lies on a dark and bloody path. Garth Ennis has been writing comics for over twenty-five years. His credits include Preacher, Hitman, The Boys, Red Team, 303, Rover Red Charlie and the war series Battlefields and War Story. He has also produced successful runs on The Punisher and Fury for Marvel Comics, and recently revived the classic British character Johnny Red. Originally from Belfast, Northern Ireland, he now resides in New York City with his wife, Ruth.
Image Comics, 9781632158017, 104pp.
Publication Date: May 10, 2016
or
Not Currently Available for Direct Purchase