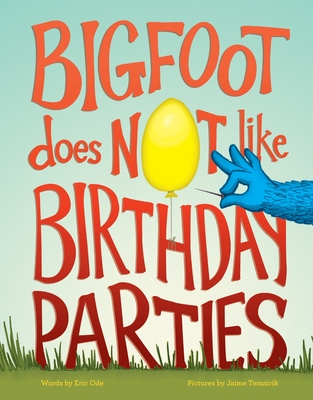 Bigfoot Does Not Like Birthday Parties (Hardcover)
Little Bigfoot, 9781632170040, 40pp.
Publication Date: October 27, 2015
* Individual store prices may vary.
Description
Poet Eric Ode has created a hilarious read-aloud about the town of Mossy Pockets and the birthday party the residents throw for reluctant Bigfoot. Internal rhyme gives the growing lists of people, instruments, pies, and animals a delightful momentum. The party excitement builds until it all comes to a pie-smashing disaster.
About the Author
Eric Ode is a national award-winning children's singer, songwriter, author, and poet who performs for schools, libraries, and community events. He is also the author of Sea Star Wishes and co-author of Larry Gets Lost Under the Sea. In addition to being a professional illustrator, Jaime Temairik is a spectacularly fun birthday party guest.
Praise For Bigfoot Does Not Like Birthday Parties…
A town prepares for Bigfoot's birthday—whether Bigfoot wants a party or not. The town of Mossy Pockets is abuzz with excitement. Today is Bigfoot's birthday! But alas, he will not be at the party because (as readers are told in no uncertain terms, with the words sprawled boldly across the page) Bigfoot does not like birthday parties. It's no matter. The town gathers anyway. The mayor, in his dapper plaid suit, the marching band, the baker with tray piled high with pies, and all the rest: "the cowboy in his boots and vest, / the lady with the purple hat, / the circus clown, the acrobat." They all parade to the mountains to celebrate. Bigfoot, who in theory should be far away since he dislikes parties so much, has bright blue fur and is seen hiding (ineffectively) on almost every page—peering around corners, concealed in trees, etc. His proximity muddles the suspense a bit, but a comical, cumulative chain of events resulting in a pie-flying catastrophe will make readers (and Bigfoot) smile. Temairik's flat illustrative style, with pops of color, is full of visual wit—not to mention particularly diverse townsfolk. An energetic read-aloud with plenty of repetition and zest.
—Kirkus Reviews

This is a fun, imaginative, brightly colored book with a large, bright blue Bigfoot. There are fun things to find on every page: no two of the town's people are the same. It is well written and illustrated, fun for any kid and any parent who will likely be forced to read it again and again.
—Portland Book Review 

A hilarious disaster spoof tale... Bigfoot Does Not Like Birthday Parties dissolves fear in charm and humor to the delight of all young readers.
—Midwest Book Review

I can see this book being adored for a long time… the surprise ending will have kiddos grinning from ear to ear.
—Book Nerd Mommy