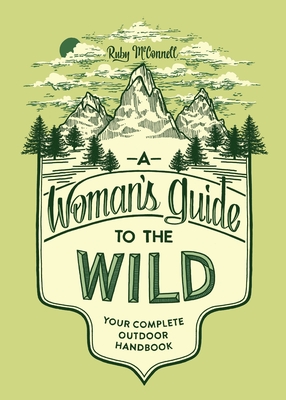 A Woman's Guide to the Wild (Paperback)
Your Complete Outdoor Handbook
Sasquatch Books, 9781632170057, 304pp.
Publication Date: March 15, 2016
* Individual store prices may vary.
Description
For women who enjoy hiking, camping, backpacking, and other outdoor recreation or those inspired by Cheryl Strayed's Wild, this is the definitive guide to being a woman in the great outdoors. This friendly handbook covers the matters of most concern to women, from "feminine functions" in the wilderness to how to deal with condescending men, as well as the basics of wilderness survival tailored to women's unique needs. It includes gear lists in addition to advice for camp setup, fire building, food and water, safety, weather, and navigation.
About the Author
RUBY MCCONNELL is the author of A Girl's Guide to the Wild; she's also a geologist, environmental advocate, and dancer. Her work has appeared in Grain Magazine, Misadventures Magazine, Oregon Quarterly, Seattle Backpackers Magazine, Bird Watcher's Digest, and Fungi Magazine, among others.

TERESA GRASSESCHI is an illustrator, painter, and lifelong glasses wearer who spends her days making pictures for books, brands, and galleries. Her work has been featured in publications such as Stereogum, Rolling Stone, and the Wall Street Journal. She lives in Seattle, Washington.
Praise For A Woman's Guide to the Wild: Your Complete Outdoor Handbook…
"Ruby McConnell is a force of nature. She's fun, informative, and never preachy. Buy a copy of A Woman's Guide to the Wild for all your girlfriends, get out to the backcountry, and get dirty."
—Novella Carpenter, author of Farm City and Gone Feral
 
"A handbook for outdoors-loving women, whether they're experienced trailblazers or newbies inspired by Cheryl Strayed's Wild."
—Publishers Weekly

"Oregonian Ruby McConnell's practical guide to the great outdoors is just for women, with topics such as how to deal bathroom needs and condescending men, and advice on camp setup and building fires."
—The Seattle Times

"I truly appreciate [McConnell's] female perspective as a thorough introduction to the basics."
—She Explores

"...A Woman's Guide to the Wild provides wisdom for outdoor adventurers of all levels. Most of all, it is meant to encourage and support women in exploring their full potential."
— Stackedd magazine

"For women who enjoy hiking, camping, backpacking and other outdoor recreation — or those inspired to start getting out there by Cheryl Strayed's Wild—this book is the definitive guide to being a woman in the great outdoors."
—Bainbridge Island Review
 
"You'll find that [McConnell] is both inspiring and awesome and I highly recommend her book."
—Hike Like a Woman

"It was so refreshing to read straightforward, honest information about the topics that seem to be taboo for every other guidebook."
—Modern Hiker

"[McConnell's] book is a manifesto for women to go exploring the wild, even if it means making mistakes along the way."
—Appalachian Trail Girl

"In A Woman's Guide to the Wild, geologist and outdoor enthusiast Ruby McConnell gives women the tools (and confidence) to safely navigate the backcountry solo."
—Modern Farmer

"[A Woman's Guide to the Wild] has chapters such as Setting Up Camp, Building A Fire, First Aid & Safety, Navigation, and other chapters about food, trail manners and lady matters."
—Women Who Hike

"[A Woman's Guide to the Wild] is small enough to put in your pack so you can reference it while out hiking or camping."
—Traveling Tales

"[A] how-to manual for other outdoorswomen, with practical and sometimes humorous tips on everything from "glamping" to peeing in the woods."
—Oregon Adventures

"[A] practical guide for women in the woods, breaking down the many myths and offering helpful advice."
—Her Packing List blog

"[This] outdoor guide is humorous, conversational, and packed with vital outdoor skills and tips…[It reads] like having a lively chat with your best friend."
—Seattle Backpacker Magazine

"Cheryl Strayed's famous book Wild was almost a how-NOT-to-survive-wilderness book. Ruby McConnell aims to flip the script and give women useful information on striking out on their own."
—NPR

"If you love the great outdoors and you happen to have ovaries, this book has to be on your shelf."
—The Labs & Co

"Don't let the Boy Scouts and lumberjacks fool you—women can handle the great outdoors just as well, if not better, than men. Ruby McConnell is helping to prove it."
—The Source Weekly

"For adventurous women."
—The Adventure Junkies

"I have gotten so many tips reading through this book… a helpful guide to any lady wanting to go out into the wild." 
—Poppy Tails and Trails

"If your mom devoured Wild and promptly purchased red-laced hiking boots, this local guide from an Oregonian geologist is for her."
—Seattle Met Online

"The book every outdoor-loving woman should have on her shelf."
—Misadventures Magazine

"​So grab your favorite headlamp, get outside, and don't forget to pack [this] adventure read for your next adventure!"
—Outdoor Project