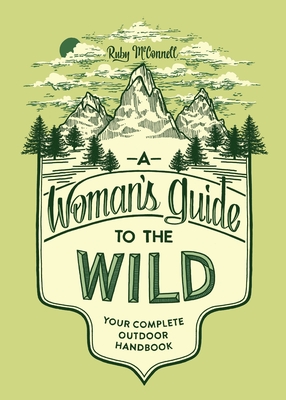 A Woman's Guide to the Wild (Paperback)
Your Complete Outdoor Handbook
Sasquatch Books, 9781632170057, 304pp.
Publication Date: March 15, 2016
* Individual store prices may vary.
Description
For women who enjoy hiking, camping, backpacking, and other outdoor recreation or those inspired by Cheryl Strayed's Wild, this is the definitive guide to being a woman in the great outdoors. This friendly handbook covers the matters of most concern to women, from "feminine functions" in the wilderness to how to deal with condescending men, as well as the basics of wilderness survival tailored to women's unique needs. It includes gear lists in addition to advice for camp setup, fire building, food and water, safety, weather, and navigation.
About the Author
Ruby McConnell is a writer, dancer, and geologist. Her published works include professional geologic papers, personal essays, dance reviews, short stories, and her blog, Ruby Gone Wild. McConnell is a 2016 recipient of the Oregon Literary Fellowship.
Praise For A Woman's Guide to the Wild: Your Complete Outdoor Handbook…
"Ruby McConnell is a force of nature. She's fun, informative, and never preachy. Buy a copy of A Woman's Guide to the Wild for all your girlfriends, get out to the backcountry, and get dirty."
—Novella Carpenter, author of Farm City and Gone Feral
 
"From 'glamping' to peeing in the woods, this practical and sometimes humorous guide for novice outdoorswomen reveals the secret answers to questions that guys may never fully understand."
—William L. Sullivan, author of Listening for Coyote

"A handbook for outdoors-loving women, whether they're experienced trailblazers or newbies inspired by Cheryl Strayed's Wild."
—Publishers Weekly

"Who says women can't camp? Geologist and Girl Gone Wild blogger Ruby McConnell gathers all kinds of useful outdoor advice—how to pack efficiently, tie knots, position tarps, build and light a fire—into a handy pocket guide to being a happy camper."
—Wall Street Journal

"Oregonian Ruby McConnell's practical guide to the great outdoors is just for women, with topics such as how to deal bathroom needs and condescending men, and advice on camp setup and building fires."
—The Seattle Times

"A Woman's Guide to the Wild sings loudly and proudly…as it provides women of varying degrees of outdoor experience with a practical handbook for wilderness adventuring."
—Misadventures Magazine 

 "I truly appreciate [McConnell's] female perspective as a thorough introduction to the basics."
—She Explores

"Not your typical guidebook...a really fun read."
—Portland Monthly magazine

"Highly comical and packed with authentic advice from veteran outdoorswomen and relevant professionals."
—Seattle Magazine

"A well-rounded outdoor guide covering everything from picking out the perfect pair of hiking boots to more complex concepts like navigation and compass reading."
—Rachel Belle, KIRO radio

"Equally well-suited for those most comfortable in an inner-city arboretum, along with anyone who gets a thrill from multi-day camping treks, A Woman's Guide to the Wild provides wisdom for outdoor adventurers of all levels. Most of all, it is meant to encourage and support women in exploring their full potential."
— Stackedd magazine

"A Woman's Guide to the Wild is unabashedly matter-of-fact and cheerfully can-do, a great kick-in-the-pants for outdoorswomen wannabes."
—The Bookmonger, Kitsap Sun

"For women who enjoy hiking, camping, backpacking and other outdoor recreation — or those inspired to start getting out there by Cheryl Strayed's Wild—this book is the definitive guide to being a woman in the great outdoors."
—Bainbridge Island Review
 
"[A Woman's Guide to the Wild] offers women the no-nonsense hiking and camping knowledge that they all should have received as adventurous youngsters."
—Foreword Reviews

"You'll find that [McConnell] is both inspiring and awesome and I highly recommend her book."
—Hike Like a Woman

"In A Woman's Guide to the Wild, Ruby champions the woman adventurer with her experience and knowledge of all aspects of the great outdoors. Her book provides a manual to for both the accomplished and aspiring outdoors woman, with everything she needs to stand toe to toe with even the most rugged outdoorsmen."
—CloudLine Apparel Blog

"It was so refreshing to read straightforward, honest information about the topics that seem to be taboo for every other guidebook."
—Modern Hiker

"McConnell's work is timely and significant, and daring."
—Oregon Literary Arts

"[McConnell's] book is a manifesto for women to go exploring the wild, even if it means making mistakes along the way."
—Appalachian Trail Girl

"In A Woman's Guide to the Wild, geologist and outdoor enthusiast Ruby McConnell gives women the tools (and confidence) to safely navigate the backcountry solo."
—Modern Farmer

"A Woman's Guide to the Wild is a "must-read" primer for any every women considering a camping trip or other journey into the wilderness, whether by herself or as part of a group."
—Midwest Book Review

"Ruby McConnell wrote the new A Woman's Guide to the Wild, simply because she couldn't believe it didn't already exist: A collection of tips and inspiration for people who expect a little more from the outdoors."
—Seattle Metropolitan Magazine

"A Woman's Guide to the Wild is the first outdoor guidebook specifically addressing women's unique wilderness needs."
—KLCC

"This book covers the basics of hiking/camping, women-specific hygiene concerns, and includes a few projects & recipes to try out."
—Campfire Chic

"[Ruby McConnell is] really putting [her] back into this whole crafting-a-literate-world-full-of-art-and-wonder thing."
—Corvallis Advocate

"A how-to manual for other outdoorswomen."
—The Register-Guard

"Ruby [McConnell] shares her unique story as well as her passion for all things outdoors!"
—Nature Kids Radio 

"Hear from Ruby McConnell - writer, dancer, and geologist – about overcoming barriers to getting outdoors."
—Oregon Wild 

"Awesome."
—The Hippy Homemaker

"[A] great resource geared specifically for women who want to engage more with the wilderness."
—Thoreau-fare Blog

"[A Woman's Guide to the Wild] has chapters such as Setting Up Camp, Building A Fire, First Aid & Safety, Navigation, and other chapters about food, trail manners and lady matters… yes, as in how to camp when you're in the midst of 'that time' of the month."
—Women Who Hike

"If you are looking for a great resource for all things outdoors…this is the book for you."
—Alpine Lily Blog

"[N]ot only instructive, but entertaining."
—Book Bargains & Previews

"[A Woman's Guide to the Wild] is small enough to put in your pack so you can reference it while out hiking or camping."
—Traveling Tales

"[A] how-to manual for other outdoorswomen, with practical and sometimes humorous tips on everything from "glamping" to peeing in the woods."
—Oregon Adventures

"[A] practical guide for women in the woods, breaking down the many myths and offering helpful advice."
—Her Packing List blog

"[N]ot only instructive, but entertaining."
—DIY-Wellness

"[A] guide to enjoying the wild."
—InsureMyTrip blog

"[This] outdoor guide is humorous, conversational, and packed with vital outdoor skills and tips…[It reads] like having a lively chat with your best friend."
—Seattle Backpacker Magazine

"Cheryl Strayed's famous book Wild was almost a how-NOT-to-survive-wilderness book. Ruby McConnell aims to flip the script and give women useful information on striking out on their own."
—NPR

"There [aren't] any other guide books like this written for women heading out into the wilderness."
—Jefferson Public Radio

"If you love the great outdoors and you happen to have ovaries, this book has to be on your shelf."
—The Labs & Co

"Don't let the Boy Scouts and lumberjacks fool you—women can handle the great outdoors just as well, if not better, than men. Ruby McConnell is helping to prove it."
—The Source Weekly

"So cute and perfect for an autumn camping trip."
—A Tiny Traveler

"If you're a woman looking...to survive an adventure in the great outdoors, look no further."
—Sweatpants & Coffee

"Empowering."
—Lit Hub

"For adventurous women."
—The Adventure Junkies

"For women who choose to be bold."
—KUOW

"It's a woman's world."
—Oregon Public Broadcasting

"This book gives a great introduction to the basic foundations of outdoor adventures from a female perspective."
—Thompson Island Outdoor Bound Education Center

"I have gotten so many tips reading through this book… a helpful guide to any lady wanting to go out into the wild." 
—Poppy Tails and Trails

"[A] fine wilderness book."
—San Jose Mercury News

"If your mom devoured Wild and promptly purchased red-laced hiking boots, this local guide from an Oregonian geologist is for her."
—Seattle Met Online

"The book every outdoor-loving woman should have on her shelf."
—Misadventures Magazine

"​So grab your favorite headlamp, get outside, and don't forget to pack [this] adventure read for your next adventure!"
—Outdoor Project

"…A meaningful introduction with the unique slant of a feminine perspective."
—Bookhearted

"With this book, she can enjoy a good read while also learning a few new things…"
—Wide Open Spaces