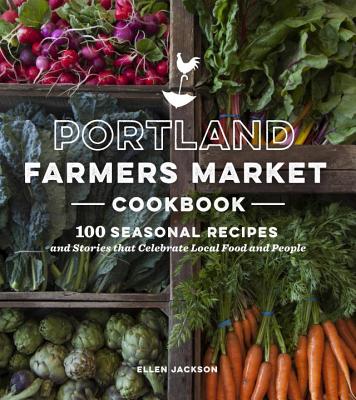 Portland Farmers Market Cookbook
100 Seasonal Recipes and Stories that Celebrate Local Food and People
Paperback

* Individual store prices may vary.
Description
The Portland Farmers Market is a year-round farmers market consistently named among North America's Top Ten. This cookbook is a tribute to the farmers, chefs and shoppers, who embrace their world-class market like no other. With 100, seasonally organized recipes for every meal of the day, stories of the market's farmers and producers, shopping and cooking tips, and glorious color photography, the Portland Farmers Market Cookbook is a celebration of a place and its people, who are proud to share their bounty with the Portland community and beyond.
Praise For Portland Farmers Market Cookbook: 100 Seasonal Recipes and Stories that Celebrate Local Food and People…
"I never miss a chance to visit this market--and every time I do, I have to curb an overpowering desire to move to Portland so that I can shop there every week. Not surprisingly, The Portland Farmers Market Cookbook is a gorgeous example of just how enticing (and straightforward) one's food can be when it comes from local farms and ranches. With recipes from chefs, writers, market board members, and food producers, it is truly a joyful celebration of community."
—Deborah Madison, former manager of the Santa Fe Farmers' Market and author of Local Flavors: Cooking and Eating from America's Farmers' Markets and Vegetable Literacy, among others
 
"This book is a beautiful celebration of the Portland Farmers Market. The collection of recipes tells the story of Portland's heritage and food culture: our creativity as cooks, the roots of seasonal foods, our culinary traditions, and how deeply we value craftsmanship."
—Jenn Louis, chef and co-owner of Lincoln Restaurant and Sunshine Tavern and author of Pasta by Hand
 
"You can travel the globe tasting the latest creations from the trendiest chefs, but there's really nothing more important than knowing where your food comes from. I'm a fan of farmers' markets in general, but especially of this book, packed with local deliciousness from our favorite neighbor, Portland."
—Tom Douglas, chef-restaurateur, Seattle

"You'll find tips straight from the mouths of farmers for identifying the best Pacific Northwest produce—from cherries, to artichokes—and recipes straight from those who likely know the farmers markets better than anyone: local chefs and restaurant owners."
—Eater PDX

"Written by Portland author Ellen Jackson (a longtime member of the market's board of directors) and filled with color photography, [Portland Farmers Market Cookbook is]  organized by season, with tips and tricks straight from the farmers."
—Portland Tribune

"This cookbook, timed to the 25th anniversary of the Portland Farmers' Market, celebrates the farmers and producers who are its lifeblood."
—Tastebook.com

"The book is full of illuminating ideas and useful tips but also hints at ultralocal culinary obsessions."
—Oregon Public Broadcasting

"[A] tribute to the growers and the everyday shoppers who have made the seven different outposts of the Portland Farmers Market among the best in the nation. It's also a rock-solid primer on how to get the most out of a market visit, including tips on what to look for at different times of the year."
—The Oregonian

"Gorgeous images alternate with recipes from top local chefs."
—Modern Farmer

"A local's guide to the seasons and a celebration of 25 years of farmers market evolution [that's] hugely successful."
—Portland Monthly

"The new Portland Farmers Market Cookbook has...inspiration for your seasonal bounty."
—Travel Oregon

"Portland Farmers Market Cookbook is full of stories and photos that will make you want to reach for a fresh bunch of something and pay tribute to one of the most vibrant and lively food shopping experiences in the country."
—Food Republic

"You've made the rounds, sampling Portland's food and beverage bounty. Now, bring your experience back home."
—Travel Portland 

"[Portland Farmers Market Cookbook] is a terrific guide to seasonal cooking and eating for beginners and experienced cooks alike."
—Good Stuff NW

"With farmers market season approaching, I figured this would be a good time to take a culinary step forward. And they've made it easy [with] the new Portland Farmers Market Cookbook."
—Willamette Week

"The cookbook's got 100 recipes, arranged by season and submitted by local restaurateurs and other gustatory dignitaries."
—The Portland Mercury

"A perfect dish."
—KATU2 Portland

"This cookbook has over 100 seasonal recipes with beautiful photos and stories."
—New Cascadia Traditional Bakery

"Ishida's approach is one that fosters exploration, risk-taking, persistence, and nudging yourself to go outside your comfort zone."
—International Examiner

"Relive summer all year 'round."
—Extra Crispy

"The heart of our Portland food world."
—Right at the Fork

"It was a banner year for cookbooks… we want to eat local, eat healthier, and know more about how cooking works and how flavors develop together."
—Powells Books
Sasquatch Books, 9781632170156, 272pp.
Publication Date: May 24, 2016
About the Author
Portland Farmers Market board member Ellen Jackson is a cookbook author, food writer, food stylist, and recipe developer. Most recently, she is the author of The Lemon Cookbook (Sasquatch Books) and Classic Cookies with Modern Twists (Sasquatch Books).