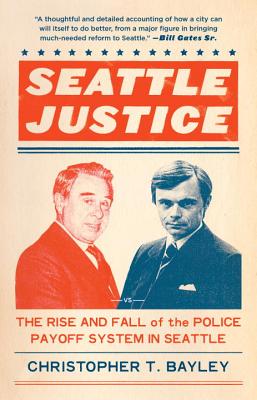 Seattle Justice
The Rise and Fall of the Police Payoff System in Seattle
Hardcover

* Individual store prices may vary.
Description
This is the story of one of the youngest county prosecutors in the country whose mission was to finally end the system of vice and corruption that had infiltrated Seattle's police department, municipal departments, and even the mayor's office. In the late 1960s, Christopher T. Bayley was a young lawyer with a fire in his belly to break the back of Seattle's police payoff system, which was built on licensing of acknowledged illegal activity known as the "tolerance policy." Against the odds, he defeated an entrenched incumbent to become King County Prosecutor (which includes Seattle). Six months into his first term, he indicted a number of prominent city and police officials. Bayley shows how vice and payoffs became rules of the game in Seattle, and what it took to finally clean up the city.
Praise For Seattle Justice: The Rise and Fall of the Police Payoff System in Seattle…
"Bayley's short first-person history is a compelling read and a vivid reminder that Seattle wasn't always the sparkling technological machine that it is now. In fact, not so long ago, it was something quite different."
—The Seattle Times

"[This book] provides context to the forces that helped shape some of the city's key neighborhoods—and makes a compelling argument for why we need watchdogs for those in power."
—The Stranger

"Seattle Justice: The Rise and Fall of the Police Payoff System in Seattle by former King County prosecutor Christopher T. Bayley, published by Sasquatch Books this fall, is an eye-opening new memoir that offers perspective on how hard it is to reform local law enforcement, but reassures that big changes can be made."
—Seattle Magazine

""Seattle Justice" is a valuable guide to the city's racial conflicts from the late 1960's to the present. We should not forget this history:  The central message of Bayley's fine book:  The good old days were pretty damned rotten."
—Seattle P.I.

"Christopher T. Bayley has put forward a thoughtful and detailed accounting of, as he has written, 'How a city can will itself to do better.' You will find that Bayley was a major figure in bringing much-needed reform to Seattle."
—Bill Gates, Sr.
 
"This is an important story of young citizen activists, dismayed over a 'tolerance policy' on crime in King County, Washington. Bayley, a leader of the group, ran for county prosecutor against an entrenched incumbent in what appeared to be a hopeless race--and won. As prosecutor, he created a professional team that ended tolerance policies and his legacy is a highly professional county prosecutor's office that is the pride of citizens forty years later."
—Daniel J. Evans, former Washington State governor and US senator
 
"Seattle suffers from the It-Can't-Happen-Here syndrome, and this book should shake that complacency. Our politicians, government, and the press became deeply corrupted by an illegal payoff system, and Bayley's book spells it out with an investigative reporter's relentless precision and a lawyer's attention to solid evidence. Toppling that system took a lot of courage, plenty of luck, and the rise of reform politics in the state. What a saga! What a narrow escape! What a warning for today!"
—David Brewster, writer, editor, and publisher; founder of Seattle Weekly and Crosscut.com
 
"Christopher T. Bayley's memoir reminds us of an old and not very respectable Seattle in which he played a pivotal role in transforming it into a major city respected for the honesty of its politics and law enforcement."
—Slade Gorton, former US Senator
 
"This is the story of how young Seattleites reformed a corrupt police force and prosecutor's office through intelligence, energy, and courage. Our burgeoning millennials need to step up and pursue needed reforms for American communities to continue progress today."
—William D. Ruckelshaus, former administrator of the Environmental Protection Agency
 
"As candidate and prosecutor, Bayley led the cleanup of Seattle corruption. That he and his team did it largely through the political system shows the reforming power of representative democracy. There is a lesson here for right now in America. Sovereignty resides with the people, after all."
—Bruce Chapman, Seattle City Council member (1971[-]75), founder of Discovery Institute
 
"Seattle Justice tells firsthand the important story of how a few dedicated reformers changed a corrupt civic culture. The battle was as much against complacency as the wrongdoing itself. Every generation needs its Bayleys to challenge the indifference and inertia of its time."
—Ted Van Dyk, author of Heroes, Hacks and Fools and longtime Democratic national policy advisor
 
"I am not a fan of detective stories or police procedurals, and have never lived in Seattle (worse, I'm a 49ers fan). But I was drawn into Seattle Justice. Bayley writes crisply and clearly, sorting out the characters and transforming this tangled web into a fascinating tale of municipal corruption and cleanup."
—John Rockwell, former New York Times arts critic  
 
"This is a well documented and lively story that is part youth movement, part political movement, and all about a properly aroused band of citizens focused on changing their city for the better. And, ultimately, doing it."
—Charley Royer, former Seattle mayor
 
"Seattle Justice provides a colorful, fascinating portrait of the ugly underbelly of the city and reveals how a well-intentioned tolerance policy undermines the morality of law enforcement institutions and leads to pervasive crime."
—Sam Reed, Washington secretary of state, 2001 to 2013 

"In an age of squeaky-clean, process-heavy local government, it's hard to believe that in the 1960s Seattle was rocked by a shocking corruption and payoff scandal that implicated both the local police and elected officials. Bayley, a young lawyer in that era, ran for prosecuting attorney, won, and secured indictments against several public officials. This is his story."
—The Seattle Times 
Sasquatch Books, 9781632170293, 240pp.
Publication Date: October 20, 2015
About the Author
Christopher T. Bayley served as King County prosecuting attorney from 1971 to 1979. He graduated from Harvard College and received a JD from Harvard Law School. He is currently chairman of Stewardship Partners, a land conservation and restoration organization in Washington State.
or
Not Currently Available for Direct Purchase