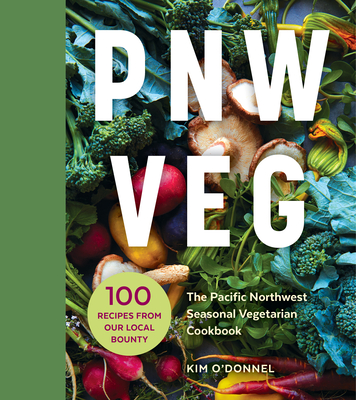 PNW Veg (Paperback)
100 Vegetable Recipes Inspired by the Local Bounty of the Pacific Northwest
Sasquatch Books, 9781632170538, 272pp.
Publication Date: May 9, 2017
* Individual store prices may vary.
Description
Simply delicious, healthy "vegetable-forward" recipes are at the heart of this cookbook that celebrates the bounty of the Pacific Northwest. From simple weeknight meals to on-the-go snacks and sweet- tooth satisfying desserts, this book gives you over 100 ways to celebrate seasonal produce, with recipes like Sweet Corn and Red Lentil Soup, Baked Pasta and Greens Casserole, Cherry Fro-Yo, and more. Vegetarians and omnivores alike will be eager to eat their vegetables, and the convenient gluten-free and dairy-free symbols make navigating the book a breeze for reader with dietary restrictions.
About the Author
For the past 18 years, journalist and chef KIM O'DONNEL has dispensed cooking advice for numerous publications, including the Washington Post and USA Today. The first Meatless Monday blogger on record, O'Donnel is the author of The Meat Lover's Meatless Cookbook and The Meat Lover's Meatless Celebrations. She lives in Seattle.
Praise For PNW Veg: 100 Vegetable Recipes Inspired by the Local Bounty of the Pacific Northwest…
"PNW Veg is a feast for your eyes and your tummy! Kim O'Donnel's creative combo of flavors accompanied by lively personal narrative and tips will get you out of your recipe rut and ignite a passion to prepare plants. Eating healthy, local, fresh produce will never be boring again!"
—Trudi Inslee, first lady of Washington

 "Sassy sister Kim O'Donnel digs deep into the Pacific Northwest for a fresh crop of recipes as fun as they are fascinating. Foraging for new ingredients while putting a spin on old favorites, she grooves on greens and grains, proves her mettle with the nettle, and picks a peck of (local) produce sure to turn even the most devout carnivore into a veg lover."
—Nancy Leson, KNKX Radio, food commentator

"What a colorful and exciting collection of recipes brimming with lively flavors. This is a book people can love and a book to cheer about. Maybe with the help of Kim's Rhubarb Salsa, people will fall in love with raw rhubarb too!"
—Paula Wolfert, award-winning author of nine cookbooks, including The Food of Morocco

"Velvety and sexy, crackling and crunchy, PNW Veg is a culinary bounty. Alongside sumptuous photography, these recipes are vivid, fresh, and filled with delights, from fried fiddleheads to chocolate-beet bundt cake—each is tantalizing and original. O'Donnel draws forth the pleasures of eating your vegetables. Readers will be intrigued, delighted, and absolutely inspired."
—Diana Abu-Jaber, author of Life Without a Recipe and The Language of Baklava

"Vegetables are wicked sexy dressed or undressed, and they are plentiful and all around us. Kim spotlights these sexy little beasts from the PNW with her veg-forward, plant-passionate voice and friendly, doable recipes. No matter what corner of the globe you're in, this cookbook will show you how to delight all you serve."
—Derek Sarno, plant pusher at WickedHealthyFood.com

"It's not an exaggeration to say: Kim O'Donnel helped turn me onto vegetable-focused cooking."
—Washington Post

"...especially appealing are O'Donnel's instructive, encouraging tips and kitchen notes that remove obstacles almost before they can be formulated."
—Oregon Public Broadcasting

"The recipes, including many gluten-free and vegan options, spark with lively ingredient combinations. But especially appealing are O'Donnel's instructive, encouraging tips and kitchen notes that remove obstacles almost before they can be formulated."
—Oregon Public Radio

"Seattle cookbook author Kim O'Donnel's new book will expand [your] cooking repertoire with a focus on local, seasonal veggies."
—Seattle Times

"Healthy and simply delicious vegetables are at the heart of this cookbook."
—Edible Seattle

"A new cookbook that celebrates the bounty of the Pacific Northwest."
—KATU-TV

"Amazing photos of plated masterpieces."
—The Register-Guard

"Local produce finds its way into every meal in another book by Meatless Monday pioneer Kim O'Donnel. Through beautiful photos and more than 100 recipes, O'Donnel's argument for eating more veggies is pretty convincing."
—Seattle Magazine

"Makes the special flavors of the Pacific Northwest accessible to home cooks, no matter where they live."
—Extra Crispy

"Every so often, a vegetarian book comes along that demands home cooks sit up and take notice. This is one of those books that will both inspire and delight..."
—CRAFT by Under My Host

"Crispy-fresh!"
—NW Book Lovers

"Highlights include desserts, frittata, and black bean and beet burgers."
—West Seattle blog

" Simply delicious."
—PDX Food Press

"Beautiful photographs and crave-worthy food await you this ode to the Pacific Northwest."
—Eat Your Books

"[This book has] all sorts of fresh ideas for cooking regional delicacies."
—Portland Oregonian

"If one person understands just how much Portlanders love their veggies, it's Kim O'Donnel. PNW Veg… dish[es] out ways to make the most of the abundance of vegetables in the Pacific Northwest."
—Portland Monthly

"Celebrates the produce of [O'Donnel's] Pacific Northwest home."
—The Daily Gazette

"No matter your level of cooking or vegetable expertise, you'll feel at home in this cookbook. O'Donnel covers the basics and offers helpful tips throughout to give further insight into the recipes."
—The Inlander

"Kim O'Donnel is a master of incorporating more vegetables into her meals, [with] locally sourced, seasonal ingredients."
—Spokane Spokesman-Review

"I need to get my co-host a copy!"
—Food For Thought on KNKX

"Offers 100 healthy vegetable-based recipes that take full advantage of the resources provided by the Pacific Northwest region."
—Portland Mercury

"As my eating habits have changed, I've continued to be inspired by Kim O'Donnel's work."
—The Columbian

'The recipes are applicable to kitchens everywhere, and even the ones with esoteric ingredients like fiddlehead ferns (turned into fritters and dipped in an herby ginger sauce) can be made on [the east] coast."
—Northern Virginia Magazine

"Vegetarians and omnivores alike will be eager to eat their vegetables, and the convenient gluten-free and dairy-free symbols make navigating the book a breeze for reader with dietary restrictions. It is perfect in offering ideas for every meal of the day for people who are working to incorporate more veggies into their diets."
—Joint Forces Journal

"Make this your new summer cookbook!"
—Cookus Interruptus

"PNW Veg offers satisfying, uncomplicated recipe ideas for people who are working to incorporate more vegetables into their diets."
—Meat Free Mondays

"'PNW Veg' is a delight to simply browse through and inspiring to plan menus with." 
—Midweat Book Review

"This is an excellent trade paperback vegetarian cookbook from the Pacific Northwest."
—San Diego Book Review

"Fortunately for the rest of the country, many of these vegetables are available in other regions, so PNW Vegdoesn't have to be PNW-exclusive."
—Meatless Monday

"From cover to cover, the meatless recipe collection, based on what O'Donnel refers to as the 'land of abundance,' is accompanied by Charity Burggraaf's beautiful photos that make your eyes rejoice, and then your mouth water."
—Creative Loafing

"PNW Veg ... is chock full of innovative, healthful, and delicious veggie recipes for family or entertaining highlighting the wonderful bounty in the Pacific Northwest."
—Epicurious