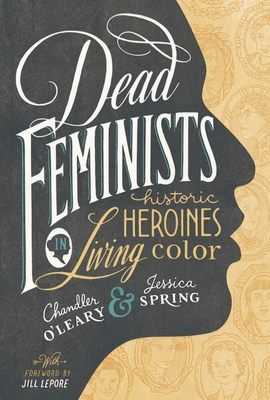 Dead Feminists
Historic Heroines in Living Color
Hardcover

* Individual store prices may vary.
Description
A national bestseller, this lushly illustrated book is an inclusive celebration of inspiring women who transformed the world and created social change. Dead Feminists is a gorgeously illustrated letterpress-inspired book showcasing feminist history with a vision for a better future.  
 
Based on the beloved letterpress poster series of the same name, this book brings feminist history to life, profiling 27 unforgettable forebears of the modern women's movement such as Eleanor Roosevelt, Gwendolyn Brooks, Rachel Carson, and more. Across eras and industries, passions and geographies, this collection of diverse, progressive, and perseverant women faced what looked like insurmountable odds and yet, still, they persisted.
 
Dead Feminists, which features a foreword by Jill Lepore, author of The Secret History of Wonder Woman, is an illuminating and innovative reminder that women can be extraordinary agents of change. The future is female, but in many ways so is the past. Dead Feminists takes feminist inspiration to a new level of artistry and shows how ordinary and extraordinary women have made a difference throughout history (and how you can too).

Featured Feminists:
Adina De Zavala
Alice Paul
Annie Oakley
Babe Zaharias
Eleanor Roosevelt
Elizabeth Cady Stanton
Elizabeth Zimmerman
Emma Goldman
Fatima al-Fihri
Gwendolyn Brooks
Harriet Tubman
Imogen Cunningham
Jane Mecom
Marie Curie
Queen Lili'uokalani
Rachel Carson
Rywka Lipszyc
Sadako Sasaki
Sappho
Sarojini Naidu
Shirley Chisholm
Thea Foss
Virginia Woolf
Washington State Suffragists
Praise For Dead Feminists: Historic Heroines in Living Color…
2018 Pacific Northwest Book Award Winner

"A very warm welcome to Dead Feminists. The world wants it."
—Jill Lepore, New York Times bestselling author of Book of Ages and The Secret History of Wonder Woman

"Fierce, feminist, and forceful, the fascinating words and incredible historical images in Dead Feminists brings the stories of these women to life like never before."
—Sam Maggs, author of The Fangirl's Guide to the Galaxy and Wonder Women

"Dead Feminists offers well-researched and meticulously illustrated insight into some of America's inspiring historic heroines—but it also goes way beyond that.
—Kate Schatz, author of the New York Times bestseller Rad American Women A-Z and Rad Women Worldwide

"[Puts] feminist history into memorable, beautiful context."
—Flavorwire

"Motivating women and beautiful art."
—Bustle

"A gorgeous new book of feminist history."
—Our RISD

"Basically your Nasty Women Bible Vol. 1."
—Strand Book Store

"Pioneering women and 21st-century illustration: now there's a cool combination… an illuminating look at 27 brilliant women… the words and deeds of each are examined, alongside archive photographs and gorgeous posters."
—The i Paper

"[A] gorgeous new book….Our #Bitchreads book of the week."
—Bitch Media

"[A] gorgeous exploration of design, printing, history and feminism...it made me cry from its beauty."
—GeekGirlCon

"Art with the power to incite—and unite—women of every age and stage."
—BookPage

"The pages of this book will leave you feeling hopeful and ready for progress." 
—Lenny Letter

"Remarkable."
—National Museum of Women in the Arts


"Bolster those bookshelves with some quality reading material." 
— ModCloth

"It's hard to know what's more awesome about the Dead Feminists series: the fact that the project enshrines the wisdom of feminists from bygone eras, or the fact that the resulting hand-drawn letterpress prints are so gosh-darn splendid to look at."
—Frankie

"This beautifully-illustrated letterpress hardcover weaves drawing, photographs, artifacts, and text to tell the story of 27 pioneers of the women's movement from Sappho to Eleanor Roosevelt to Shirley Chisholm." 
—InStyle
Sasquatch Books, 9781632170576, 192pp.
Publication Date: October 11, 2016
About the Author
CHANDLER O'LEARY is an illustrator and lettering artist, and a graduate of the Rhode Island School of Design. She is the author of The Best Coast: Illustrated Adventures along the West Coast's Historic Highways and the author of an illustrated travel blog called Drawn the Road Again. She lives in Tacoma, Washington.
 
JESSICA SPRING holds an MFA from the Center for Book and Paper Arts. She is a letterpress printer and teacher and the proprietor of Springtide Press.