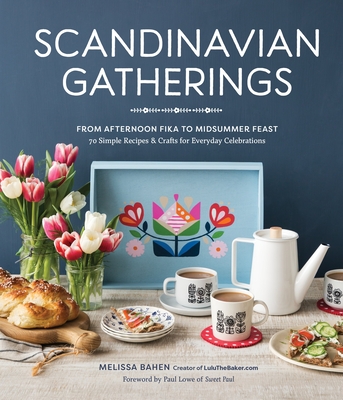 Scandinavian Gatherings
From Afternoon Fika to Midsummer Feast: 70 Simple Recipes & Crafts for Everyday Celebrations
Hardcover

* Individual store prices may vary.
Description
Relax with family and friends the Nordic way with this whimsical collection of Scandinavian-inspired recipes, crafts, and entertaining ideas

Scandinavian Gatherings is your hygge handbook (pronounced HOO-guh) for turning your home into a cozy retreat! The creator of the popular Lulu the Baker blog shows you how to create simple pleasures throughout the year with 10 seasonal, family-friendly gatherings filled with the flavors and traditions of Norway, Sweden, Denmark, and Finland (a region regularly reported as the happiest place on earth!). 
 
The book boasts 30 simple craft projects for entertaining and decorating, as well as 40 sweet and savory recipes that put a modern twist on well-loved, traditional Scandinavian treats. You'll soon be warming your home with the comforting smells of Mom's Maple Pecan Rings, Swedish Meat Pies, Lucia Buns, Hot Chocolate with Homemade Cardamom Marshmallows, and more.
 
With ideas for year-round gatherings such as Nordic Brunch, Woodland Tea Party, Afternoon Fika, Lucia Day, and Christmas Cookie Exchange, you'll turn your home into a stress-free hygge oasis.
Praise For Scandinavian Gatherings: From Afternoon Fika to Midsummer Feast: 70 Simple Recipes & Crafts for Everyday Celebrations…
"In Scandinavia, there's a reason to celebrate every season. Through her recipes and DIY projects, Melissa Bahen does an excellent job of introducing readers to the cozy flavor of the Scandinavian lifestyle, whether you're planning a festive special occasion or just want to make every day a little more magical."
—Anna Brones and Johanna Kindvall, authors of Fika: The Art of the Swedish Coffee Break

"I love the word hygge, a Scandinavian way to describe a life lived beautifully, simply, and cozily. Melissa Bahen has created a completely hygge world in this book."
—Adrianna Adarme, author of The Year of Cozy

"Scandinavian Gatherings in one word: nostalgia! It is just the book I would have loved to have had when I moved to Scandinavia myself. Every project and every recipe is now on my to-do list!"
—Brittany Jepsen, TheHouseThatLarsBuilt.com

"Scandinavian Gatherings is full of the kind of sweet celebrations that make the world a more magical and meaningful place. From the everyday tradition of fika (a daily coffee break to visit with friends and family), to Lucia Day (celebrating light and generosity), I was mesmerized by Melissa's family traditions, delectable recipes, and heartfelt gatherings."
—Jennifer Shea, author of Trophy: Cupcakes & Parties!

"Melissa Bahen has captured everything I love about the culture that I married into—including delicious, comforting baked goods and whimsical, timeless decor rooted in folk tradition. This book will make decorating and cooking for your gatherings just as fun as the gatherings themselves!"
—Molly Yeh, MyNameIsYeh.com

"A delightful book packed with mouthwatering recipes and charming craft ideas, perfect for anyone looking for a hands-on way to re-create traditional Scandinavian festivities, alone or with the help of the entire family."
—Niki Brantmark, MyScandinavianHome.com

"I'd like to escape into the pages of Scandinavian Gatherings every afternoon, exactly when only a Cream Cake with Fresh Strawberries or Waffle Cookies will do. This gem of a cookbook mixed with crafty projects inspires me to make and celebrate."
—Maggie Battista, author of Food Gift Love and founder of Eat Boutique 

 "Scandinavian food culture is not just about the food and the landscape or the cold and the light, it is a way of eating, a way of being together. Scandinavian Gatherings captures that beautifully." —Andreas Viestad, author of Kitchen of Light

"Gorgeous!"
—Handmade Mood

"A collection of seasonal entertaining, craft and food projects drawing from Scandinavian style and traditions."
—Oregon Public Broadcasting

"For the girl always looking for a new DIY to try or planning the perfect party, this book is chock-full of adorable and whimsical ideas to try."
—The Glitter Guide

"Great Nordic-style recipes and crafts."
—Sweet Paul Magazine

"A beautiful celebration of Scandinavian design and tradition."
—Dream Green DIY

"A charming seasonal entertaining/craft/cookbook for fans of Scandinavian style and tradition."
—KATU-TV

"Gorgeous."
—Tag & Tibby

"A gorgeous collection of simple recipes and crafts, all with Scandinavian flair."
—This Heart of Mine

"A stunning homage to [Scandinavia]."
—A Bubbly Life

"Lovely."
—Delineate Your Dwelling

"Easy recipes and crafts for everyday celebrations."
—New Jersey Monthly

"The most beautiful book."
—Alice & Lois

"Full of cozy cute things."
—A Cozy Kitchen

"Scandinavian-style entertaining."
—The Register Guard

 "[I] just found myself drooling all over every single of the 70 recipes and crafts."
—This Little Street

"Scandinavian heritage…passed down from generation to generation."
—Hip Foodie Mom

"Loaded with gorgeous photos that will make you want to make (and eat) everything!"
—Sarah Hearts

"[A] gorgeous volume."
—The Naptime Chef

"[The] go-to guide for a Scandinavian gathering."
—425 Magazine

"I'm so excited to work my way through this gorgeous book."
—Oleander + Palm

"Menus and crafts to inspire readers throughout the year."
—The Norwegian American

"Filled cover to cover with approachable, lovely crafts and ideas."
—One Little Minute

"Filled to the brim with so many great projects and recipes."
—Say Yes

"A treat any time of the year."
—OPB

"Make your holidays more chic."
—Elle Decor

"If you are into Scandinavian Culture, check out this beautiful book."
—Nie Nie Dialogues

"Equal parts entertaining, crafting, and cooking." 
—The Norwegian American

"Get inspired by Scandinavian design." 
—Domino

"An absolute must-buy for Pinterest-inclined hosts with interest in the cultures of Norway, Sweden, Finland or Denmark." 
—Deseret News

"I immediately swooped [the book] up and began drooling over the contents." 
—Lisa Congdon Blog

"A sweet treat."
—Foodista

"Seasonal entertaining traditions."
—Fathom

"I may not be Scandinavian, but I enjoy a good Woodland Tea Party or Midsummer Feast just the same."
—Folded Pages Distillery  

"Bring some Scandinavian traditions into your home."
—Good Things Utah

"Awesome."
—StyleSweetCa

"Our favorite."
—Alice & Lois

"Crafty DIY projects that will turn any kitchen or bedroom into a sweetly rustic Scandi retreat."
—Now Toronto  

"Beautiful DIYs."
—Sarah Hearts      

"[A] charming seasonal entertaining / craft / cookbook for fans of Scandinavian style."
—Sweet Violet Beauty

"A great addition to your own coffee table collection."
—The Crafted Life

"Enchanting…[Melissa Bahen] has captured the hospitality of her heritage."
—Top of Mind 

"Cozy the Scandinavian way."
—Parentmap

"Magic."
—Shrimp Salad Circus

"[For] entertaining."
—Book Larder blog

"Fabulous."
—Pencil Shaving Studio

"Incredibly cozy."
—The Mom Edit

"Packed full of ways to celebrate the hygge life."
— Seattle Refined

"Scandinavian Gatherings is a charming seasonal entertaining cookbook for fans of Scandinavian cuisine."
— The Washington Book Review

"[This] new book - Scandinavian Gatherings - would make a fantastic gift!"
— Cloudy Day Gray
 
"[T]here is so much to love about the Scandinavian culture, food, and design.  And this book totally captures that.  It's one of those books you just want to crawl into….and smell the beautiful flowers, help set the table, slice off a chunk of the fresh bread."
 — Make Everyday

"This book is a feast for the eyes that I cannot wait to try out to create a literal feast."
—Book Nerd Mommy

"Really lovely... gorgeous photography. If you're into the Scandinavian lifestyle, which I know everybody is, this is a great one!" 
—Design Mom

"A charming book that delivers delicious offerings to your table as well as decorating ideas and crafts to make those times with family and friends more beautiful." 
—Eat Your Books (blog)

"Highlight[s] the comfort and coziness of Scandinavian food!"
—Sweet Paul (blog) 

"The first thing I noticed about this book is how gorgeous it is… this book is full of information about Scandinavian culture and craft ideas." 
—Frankly Entertaining (blog)

"A beautiful book." 
—Say Yes (blog)

"I'm super impressed with Melissa Bahen… Hygge is all about gatherings, all about atmosphere and bonding."
—Hungry Squared (podcast)

"Perfect for fans of Scandinavian style, food, and tradition."
—Shelf Joy

"We refer to this book for inspiration. It has a whole chapter on creating a woodland tea party, complete with teacup terrarium and mushroom felt garland tutorials."
—My Name Is Yeh (blog)

"Traditional sweet and savory Scandinavian recipes tweaked for American palates paired with easy craft projects for entertaining will make any midsummer gathering perfectly cozy."
—King County Library System 
Sasquatch Books, 9781632170682, 256pp.
Publication Date: September 27, 2016
About the Author
Melissa Bahen writes Lulu the Baker, a food and lifestyle blog focusing on fresh recipes, simple projects, and modern country life. She lives in western Oregon.