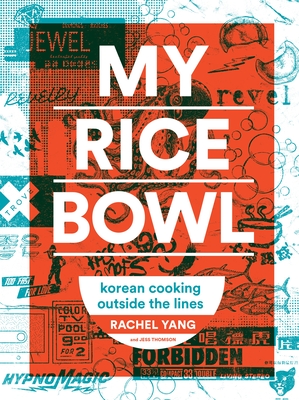 My Rice Bowl
Korean Cooking Outside the Lines
Hardcover

* Individual store prices may vary.
Description
From James Beard Best Chef-nominee Rachel Yang, My Rice Bowl is a cookbook with 75 recipes based on her deeply comforting Korean fusion cuisine, inspired by cultures from around the world.
 
As co-owner of the popular Seattle restaurants, Joule, Trove, and Revel, and Portland's Revelry, chef Rachel Yang delights with her unique Korean fusion—think noodles, dumplings, pickles, pancakes, and barbecue. Along with her husband, Seif Chirchi, Yang serves food that exemplifies cross-cultural cooking at its most gratifying. In the cookbook you'll find the restaurants' kimchi recipe, of course, but there's so much more—seaweed noodles with crab and crème fraîche, tahini-garlic grilled pork belly, fried cauliflower with miso bagna cauda, chipotle-spiked pad thai, Korean-taco pickles, and the ultimate Korean fried chicken (served with peanut brittle shards for extra crunch). There are rice bowls too—with everything from lamb curry to charred shiitake mushrooms—but this book goes way beyond bibimbap.
 
In many ways, the book, like Yang's restaurants, is analogous to a rice bowl; underpinning everything is Yang's strict childhood in Korea and the food memories it engrained in her. But on top you'll taste a mosaic of flavors from across the globe, plus a dash of her culinary alma maters, Per Se and Alain Ducasse. This is the authentic, cutting-edge fusion food of a Korean immigrant who tried everything she could to become an American, but only became one when she realized that her culture—among many—is what makes America so delicious today.
Praise For My Rice Bowl: Korean Cooking Outside the Lines…
"Rachel's sumptuous food, like her stellar career, transcends easy descriptions. She cooks without borders, without inhibitions, but always with a master's sense of technique that makes unexpected flavor combinations seem natural and delicious. This is cross-cultural cooking at its best. This is the cuisine of the future."
—Edward Lee, chef/owner of 610 Magnolia and author of Smoke & Pickles
 
"Rachel Yang has always inspired me as a pioneer in American cooking. She uses her experience as both a Korean and an American to come up with a new, exciting approach that continues to shape modern American cuisine. This cookbook beautifully speaks to her personal story and gives guidance to how she creates her unique flavors. This is the kind of cookbook that will be filled with stains because you will actually be cooking from it all the time!"
—Beverly Kim, chef/owner of Parachute

"Along with being an outstanding example of taking on the American dream, My Rice Bowl presents a menu of delicious contrasts. Add resourceful perseverance and a passion for food, and make the flavors your own."
—Foreword Reviews

"Yang brings culinary fusion to full flower, as she demonstrates in this unique cookbook...An adventuresome cook will discover plenty of imagination and novelty here."
—Booklist Reviews

"This is a collection of innovative recipes with Korean flavors. The food in this book is not straight-up traditional but, like Yang — a Seattle restaurateur — unique and memorable."
—WBUR Here & Now

"Diners at acclaimed Seattle restaurants Joule and Revel have already sampled James Beard Award-nominated Yang's Korean-fusion cooking; now that can re-create those flavors at home with this recipe-filled guide."
—Alaska Airlines Magazine

"[A cookbook] with a point of view…nothing short of epic."
—thekitchn

"If you love [Seattle's Joule, Revel and Trove] restaurants, you will love this book."
—425 Magazine

"[My Rice Bowl] includes 75 recipes based on Yang and husband Seif Chirchi's comfort foods."
—Portland Tribune

"[Rachel Yang's recipe had] a pretty simple marinade but what blew my mind … was how juicy and tender [the meat] was."
—Bon Appetit Foodcast

"Yang incorporates Korean flavors and techniques in unexpected (and delicious) dishes."
—Food 52

"[This ]high-quality, well-designed cookbook practically beg[s] you to re-create restaurant favorites at home"
—The Seattle Times

"I am in love with this book."
—Eat Your Books

"Basically if you are trying to elevate your cooking in the kitchen - get your hands on a copy of this bad boy."
—Seattle Refined

"lt's food without boundaries, made with ingredients from all over the globe...built from our understandings of how flavor works."
—Daily Waffle

"It's a beautiful book. It looks like something I want to use in the kitchen."
—KIRO Seattle Kitchen

"James Beard Award-[nominated] all-star chef."
—The Daily Meal

"A cookbook with 75 recipes from her inventive, highly personal take on Korean cuisine."
—Eater Seattle

"Chef Rachel Yang … shares her unique take on Korean fusion."
—Table Manners Aside

"The story that she tells is very relatable and provides the back story to her inventive recipes and the dishes she serves at her and her husband's restaurants...The graphics and photos are fantastic, but most importantly the recipes are approachable and tasty."
—Kimchi Mom

"In addition to the recipes, My Rice Bowl includes captivating stories of family and love. Yes, that's right. There is romance too...It's a compelling read highlighting Rachel's Korean upbringing and what it means to be American."
—Wallyhood

"With layers of flavors, culinary traditions, and cultural influences, this is a truly global take on Korean cuisine."
—Readers Lane

"Bravo to Chef Yang! We really can't stress enough how much we like this cookbook."
—I'll Have What She's Having

"If you're itching to recreate Joule's kimchi recipe at home, chef Rachel Yang, like an angel of cookery, has descended from the heavens to answer your prayers and so much more."
—Seattle Met

"If you love Joule, Revel, and Trove, you'll love learning chef-owner Rachel Yang's secrets to her personalized Korean style — instead of traditional bibimbap, expect Revel's indispensable 'mother sauces' (like savory chili sauce) and Joule's staff-meal brisket buns. The recipes are diverse, delicious, and doable, and the tone is personal and engaging thanks to local author Jess Thomson."
—Eater Seattle
Sasquatch Books, 9781632170781, 320pp.
Publication Date: September 26, 2017
About the Author
RACHEL YANG and her husband, Seif Chirchi, own and operate Joule, Revel, and Trove restaurants in Seattle, and Revelry in Portland. The duo holds four James Beard Award nominations for Best Chef. Both Rachel and Seif remain working chefs who still cook on the line most nights in one of their signature open kitchens. Their two young sons, Pike and Rye, can often be found in the family's restaurants as well.

JESS THOMSON is an award-winning freelance food and travel writer, and the author of seven cookbooks, many written with Seattle-area restaurateurs, plus her recent memoir, A Year Right Here: Adventures with Food and Family in the Great Nearby. Her work has appeared in the New York Times; Food & Wine; Cooking Light; and Seattle, Sunset, and Edible Seattle magazines; and in multiple issues of the yearly Best Food Writing book collection. She lives in Seattle with her husband and eight-year-old son.
or
Not Currently Available for Direct Purchase