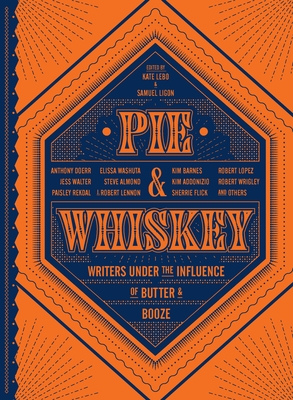 Pie & Whiskey
Writers under the Influence of Butter & Booze
Hardcover

* Individual store prices may vary.
Description
"an anthology that's ... eclectic, drunk and delicious." —The New York Times

If you love pie, whiskey, and good writing, this collection of funny and heartbreaking stories, poems, and recipes serves up a plethora of pleasure.

What happens when good writing is inspired by and served with a slice of pie and a shot of whiskey? Pie & Whiskey is a literary event series started in Spokane, Washington, where the idea was to serve good pie, good whiskey, and good writers reading prose or poetry about pie and whiskey. This collection features the best original work from the series by writers such as Anthony Doerr, Elissa Washuta, Kim Barnes, and more. Proving that good writing is best served with a slice of pie and a shot of whiskey, a smattering of pie recipes and whiskey-centric cocktails are included alongside dozens of surprising, funny, heartbreaking, fantastically written stories and poems by Jess Walter, J Robert Lennon, Kim Barnes, and ML Smoker and more.

Full contributor list:
Kim Addonizio • Steve Almond • Kim Barnes • Devin Becker • Judy Blunt • Anthony Doerr • Thom Caraway • Elizabeth J. Colen • Debra Magpie Earling • Christopher Howell • Sherrie Flick • Jacob H. Fries • Nina Mukerjee Furstenau • Margot Kahn • Meissa Kwasny • Kate Lebo • J. Robert Lennon • Samuel Ligon • Gary Copeland Lilley • Robert Lopez • Tod Marshall • Virginia Reeves • Laura Read • Paisley Rekdal • Nicole Sheets • M. L. Smoker • Alexandra Teague • Rachel Toor • Robert Wrigley • Ed Skoog • Jess Walter • Shawn Vestal • Elissa Washuta • Joe Wilkins • Nance Van Winckel • Kristen Millares Young • Maya Jewell Zeller
Praise For Pie & Whiskey: Writers under the Influence of Butter & Booze…
"This project began as a reading series organized by [Kate] Lebo and [Sam] Ligon, in which they sent 12 writers a pie and whiskey prompt to inspire new work. Six years later, they have created an anthology that's just as eclectic, drunk and delicious."
—The New York Times

"In vino, veritas; in whiskey, wit; in pie pleasure. With that Latin-inspired preamble, we are called west to an all-American literary event held annually in Spokane and Missoula named Pie & Whiskey. And yes, pie and whiskey are served while seriously talented writers read their new works loosely based on, yes again, pie and whiskey."
—Foreword Reviews

"Wonderful relatable storytelling, executed brilliantly."
—San Francisco Book Review


"This book is small enough to fit in somebody's Christmas stocking, and it also contains a lot of swearing. Of course, those are both selling points for the right person."
—Wired.com

"[Part of] the 2017 author lineup for Wordstock."
—Artlandia

"the best of the booze- and sugar-fueled essays, poetry and fiction and nonfiction stories."
—The Inlander

"[Pie & Whiskey] is a breezy, sharp slice of largely Northwest writers like Christopher Howell, Elizabeth J. Colen, and Laura Read—one that examines Americana, domestic bliss (and strife), and debauchery."
—Seattle Met Magazine

"A ridiculously good time."
—Missoula Independent

"ever-popular"
—Missoulian

"This book brings writers together with food and booze and lets the words flow as freely as the drink."
—Seattle Refined

"The anthology features an all-star cast of the best of the Northwest and beyond — Jess Walter, Kim Barnes, Steve Almond — and runs the range of profane to profound, and both. Just my style."
—The Register-Guard 

"I have no memory of eating pie and drinking whiskey at the same time. But the idea of pie and then whiskey appeals, or whiskey and then pie and then whiskey again, especially if those pies are made by Lebo, the best pie-maker there is."
—The Stranger

"...'pie and whiskey' falls right into the Goldilocks zone of themes."
—Seattle Review of Books
Sasquatch Books, 9781632171122, 272pp.
Publication Date: October 24, 2017
About the Author
KATE LEBO is the author of Pie School and A Commonplace Book of Pie. Her essay "The Loudproof Room" appeared in New England Review and was chosen for Best American Essays 2015. Her poems, essays, and recipes have appeared in Best New Poets, Gastronomica, the Washington Post, Poetry Northwest, and elsewhere. She lives in Spokane, Washington.

SAMUEL LIGON is the author of two novels—Among the Dead and Dreaming and Safe in Heaven Dead—and two collections of stories, Wonderland, illustrated by Stephen Knezovich, and Drift and Swerve. He edits the journal Willow Springs, teaches at Eastern Washington University in Spokane, and is artistic director of the Port Townsend Writers' Conference. Ligon lives in Spokane, Washington.