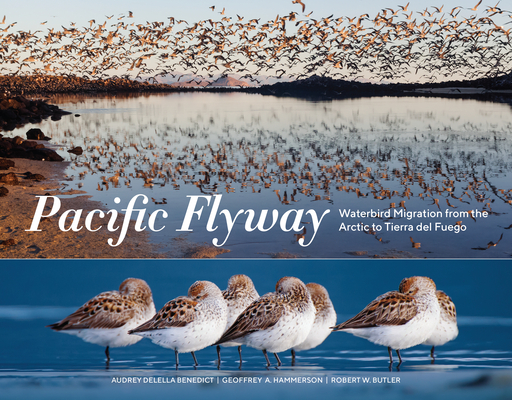 Pacific Flyway
Waterbird Migration from the Arctic to Tierra del Fuego
Paperback

* Individual store prices may vary.
Description
The migratory waterbirds of the Pacific Flyway convert food, air, and water into a mileage plan that has few equals in the animal world. Set against a backdrop of stunning images from more than 120 internationally acclaimed photographers, this book shares the amazing stories of these migrants--a cast of characters that includes shorebirds, seabirds, and waterfowl.

Stretching from the Arctic regions of northeastern Russia, Alaska, and western Canada and along the Pacific coastlines of North, Central, and South America, the Pacific Flyway traverses some of our planet's greatest climatic and topographic extremes. Defined by water, the flyway encompasses a sweeping expanse of coastal and offshore marine ecosystems and an inland archipelago of freshwater wetlands. Hemispheric in scope, this integrated network of ecosystems is linked by its moving parts--the millions of migratory birds whose lives depend on this 10,000-mile (16,000-km) corridor as they travel between their breeding and overwintering grounds. With their ocean- and continent-spanning travels, waterbirds are our sentinels in a changing world--each of their journeys revealing the fraying edges of the web of life that sustains us all. Pacific Flyway perfectly blends amazing photography, science writing, and storytelling to illuminate the profound challenges faced by migratory birds and to inspire a longterm commitment to global conservation efforts.
Praise For Pacific Flyway: Waterbird Migration from the Arctic to Tierra del Fuego…
"What a wonderful read! A treat for bird lovers, no matter where you are in the world...It's very informative and makes you truly appreciate the wonders of bird migration. Captions can be an underrated aspect at times, but I love the way this [book] vividly seizes the context of each snapshot in action. The images themselves are absolutely breathtaking..."
—BBC Wildlife

"Visually stunning and expertly presented, [Pacific Flyway] spotlights bird migrations along the Pacific coast. In admiring prose, the authors marvel at seagulls, ducks, snow geese, and other 'feathered ambassadors.' Readers who want to learn about bird migrations will find this volume educational, while those simply in search of escape will find it a stimulating and scenic journey."
—Publishers Weekly

"This lovely book focuses on the remarkable migration of shorebirds, seabirds, and waterfowl along the Pacific Flyway, made vivid through more than 120 images from internationally acclaimed photographers."
—BirdWatching Magazine

"The most striking aspect of this book is its outstanding photography: the work of around 100 photographers is featured and there are some absolutely stunning images of wildfowl and waders at various staging posts along the route."
—British Birds

"[T]his gem is packed with 120 fantastic photos including a jaw-dropping picture of a bald eagle right on the tail of a fish-carrying blue heron. Imagine Top Gun but with feathers and talons. Joining the awesome images is interesting and accessible text. Fun facts like Bristle-thighed curlews start out with fat loads averaging 42 per cent of their body weight for Pacific flights of 4,000 to 10,000 km, or more make this a perfect book for parents to read with kids."
—Vancouver Sun

"Visually stunning...makes for both educational and escapist reading."
—Hakai magazine
Sasquatch Books, 9781632171344, 176pp.
Publication Date: February 18, 2020
About the Author
Audrey DeLella Benedict is a biologist and writer, a naturalist. She is the founder and director of Cloud Ridge Naturalists, a nonprofit natural history education and publishing program, and has guided trips from the Arctic to the Antarctic. Audrey is the author of several books, including The Salish Sea: Jewel of the Pacific Northwest and Explore the Salish Sea: A Nature Guide for Kids.

Dr. Geoffrey Hammerson retired after 32 years as research zoologist for The Nature Conservancy and NatureServe. He has taught university courses focusing on bird biology for 40 years and has led hundreds of field trips across the western hemisphere, from the Arctic to southern South America and Antarctica.

Dr. Robert Butler is an ornithologist, author, filmmaker, artist, and adjunct professor of biological sciences at Simon Fraser University. His book, The Great Blue Heron, is considered a definitive study.