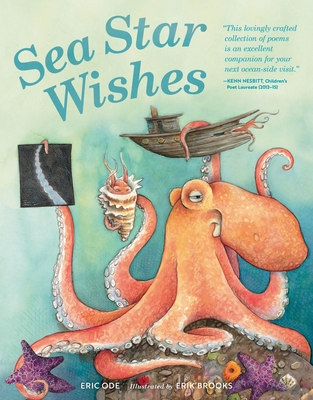 Sea Star Wishes (Paperback)
Little Bigfoot, 9781632171542, 32pp.
Publication Date: March 20, 2018
Other Editions of This Title:
Hardcover (4/2/2013)
* Individual store prices may vary.
Description
Selected as a Children's Poet Laureate Monthly Book Pick, Sea Star Wishes captures the varied and colorful world of our beautiful coastal shores. Discover the wonders of the sea and enjoy a day at the beach in playful and imaginative poetry and illustrations.

In these coastal poems for kids, children meet sea lions, starfish, jellyfish, and other animals in the ocean, and dream about sandcastles and other beach activities. This fun, lyrical children's poetry collection by award-winning children's singer and songwriter Eric Ode features lively illustrations by Washington State Book Award recipient Erik Brooks.

Sea Star Wishes

Do sea stars make wishes
on stars of the night
and dream that they might
be as shiny and bright?

And if they make wishes
perhaps it could be
that fishes make wishes
on stars of the sea.
About the Author
ERIC ODE is a national award-winning children's singer, songwriter, author, and poet who performs for schools, libraries, and community events. He is also the author of Bigfoot Does Not Like Birthday Parties and co-author of Larry Gets Lost Under the Sea, Larry Gets Lost in Seattle, and Larry Gets Lost in San Diego.

ERIK BROOKS is a children's book author and illustrator from Winthrop, WA. He has worked on many books, including If I Were a Whale, Totem Tale, Who Has These Feet, and Polar Opposites, which won the 2011 Washington State Book Awards Scandiuzzi Prize for Children's Picture Books.
Praise For Sea Star Wishes…
The sea shore is so much more than just the beach; it abounds with life as varied as barnacles and sea cucumbers. A visit to the coast also brings kites, ferries, fishermen, and so much more. The poems in Eric Ode's Sea Star Wishes: Poems from the Coast range as widely as his subject matter, including concrete poems, free verse, and rhyming poems both intricately rhythmical and as free flowing as the tides. With creatures as diverse as seagulls and moon snails, and explorations of everything from lighthouses to footprints in the sand, this lovingly-crafted collection of poems is an excellent companion for your next ocean-side visit.
Children's Poet Laureate Kenn Nesbitt 

Twenty whimsical, lyrical, informative poems celebrate life within, on, or near the sea. For example, "The hermit crab,/the hermit crab./He never takes/a taxi cab;/or sails a ship/or submarine;/or rides a motorbike/machine." Some creatures featured in the verses, such as the gull and octopus, are likely to be familiar, but others, including the limpet and geoduck, may not be. Lighthouses, ferries, and fishing are Ode's subjects as well. Easy to read, these poems mostly rhyme, and they vary in format and length. Colorful full-bleed illustrations attract the eye, give context, and complement the spirit of the selections. All in all, an engaging nautical collection.
School Library Journal

Ode—a poet, writer, and children's performer—shares the wonders of the seashore, both natural and manmade, in a collection of 20 poems. The tone ranges from gently observant to comical, but both text and art are at their strongest during the book's more contemplative moments. A dramatically decorated stunt kite curves through the air like a swallow ("It circles/ and lunges,/ lurches,/ dives,/ climbs,/ and plunges"), and elsewhere, jellyfish rise majestically from the deep...readers, whether coastal or landlocked, should enjoy this lighthearted take on eels, geoducks, tide pool denizens, and more.
Publishers Weekly

Does winter's cold and gloom have you missing the rugged, wind-swept Washington coast? This book is sure to cure your beach blues. Written by Seattle-area singer, songwriter, author and poet Eric Ode, this book of poems captures life at a Pacific Northwest beach, from swooping gulls and shy barnacles to giant geoducks and regal sea lions, with a ferryboat and lighthouse thrown in for good measure. Winthrop author and artist Erik Brooks' whimsical and wonderful illustrations make you feel at one with the nature just bursting out of the pages. Bring out this book the next time you're yearning for the shore, and you'll have your little ones dreaming of waves and sandcastles in no time.
Red Tricycle

A day at a Northwest beach is brought to life through these poems. Topics are wide ranging. Including sea life such as barnacles, geoducks, crabs, octopus and sea lions. Also covered are beach activities such as kite flying, fishing and sand castle building and beach icons like ferries and lighthouses. Bright fun paintings capture the poems well. This is a must have for schools that are near the shores of the ocean or the Puget Sound.
Puget Sound Council for the Review of Children's Books

This whimsical children's poetry book by Seattle-area author and singer-songwriter Ode explores the creatures that bring Northwest coastal shores and tide pools to life. With topics from sand castles to sea cucumbers, the poems, augmented by playful illustrations, highlight the wonders of the seashore, educating and entertaining young children in the process.
Alaska Airlines Magazine

Nicely balanced and perfectly executed, Sea Star Wishes is a delight to read. While the poems themselves might be difficult for kids under preschool age, the combination of word and image makes a great fit for younger school-aged kids who are just beginning their own journey through wishes and dreams and learning about the world around them.
AK on the GO

Whether he muses about the stories told by tracks left in the beach sand or asks what type of royalty lives in a sandcastle or who could possible love an ugly eel, poet Eric Ode not only makes his reader laugh but he also poses some thoughtful questions about life at the seashore.
BookLoons

From seagulls and sandcastles to ferries and fishermen, this whimsical collection celebrates a wide range of seaside sights and sounds. Both lyrical and informative, the poems are as varied as the subject matter, while colorful illustrations bring waves of sea lions, lighthouses, limpets, and even footprints in the sand for young readers to explore. Spending time with these fun coastal poems is nothing short of a day at the beach!
All About Learning Press

Sea Star Wishes: Poems from the Coast has the most delightful poems. They are short and sweet about little things in the ocean like limpets and sea cucumbers and ginormous things like ferries and waves. The neat thing about it though is that my little guys can understand the big poetic ideas in the verses and I'm glad I can talk to them about similes and metaphors and sea life. The pictures are gorgeous and the poems are whimsical...
Emerald City Kids

This lovely collection of poems is accompanied by beautiful illustrations of the sealife and surrounding being described in the poems. The combination of the two makes you feel like you're standing on the beach yourself, admiring all there is to see. This book is a fun way to introduce kids to both poetry and some of the creatures of the coast!
Growing My Kids Reviews 
or
Not Currently Available for Direct Purchase