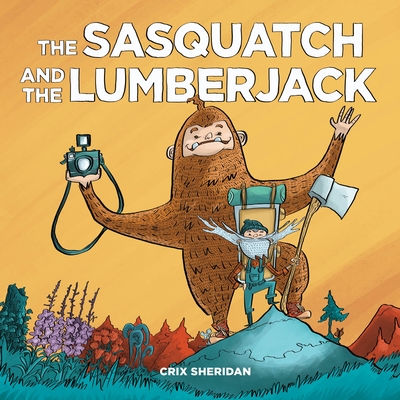 The Sasquatch and the Lumberjack
Hardcover

* Individual store prices may vary.
Description
This one-of-a-kind picture book features the Sasquatch and the Lumberjack, unlikely friends who share wild adventures together. Filled with vivid and gorgeous illustrations, young readers will love stretching their imaginations as they follow these two quirky characters romping through the great outdoors.

After a tentative meeting one fall day, Sasquatch and Lumberjack develop a close friendship as they ski and sled, surf and swim, camp and hike, and forage and pick apples throughout the seasons. This delightful story of an unlikely friendship is told in spare text with endearing illustrations. Perfect for little readers with big imaginations!
Praise For The Sasquatch and the Lumberjack…
"infused with lighthearted spirit thanks to the lumberjack's wildly flyaway white whiskers and his fun loving companion's severe underbite and goofy grin." —Booklist

"Sheridan's simple tale of friendship is also a love note to the great outdoors." --Kirkus Reviews

"Kids will love to pore over the art and tell their own versions of the story."–Linda Ludke, London Public Library, Ont. for School Library Journal

""The Sasquatch and the Lumberjack" is silly and spirited, and its presentation transcends its simplicity." --Register-Guard
Little Bigfoot, 9781632171610, 32pp.
Publication Date: May 22, 2018
About the Author
CRIX SHERIDAN is a creator, illustrator, and designer calling the great Pacific Northwest home. Born east of the Rockies and west of the island of Manhattan, Crix studied screenwriting, film, philosophy, and art in school and at university. He took second prize in a one-act play contest while living abroad in Dublin during his studies of theatre. After years traveling and trying his hand at various fields, he came back to study graphic design. His distinct visual style combines the energy of animation and the love of rich, detailed illustrations. In comics he has contributed to titles including Plants vs. Zombies and Yosagi Yojimbo. His own graphic novels include Motorcycle Samurai and the all-ages comic Spacebatand the Fugitives with Top Shelf. His latest work, The Trouble Makers, was developed with his niece and nephews about them as superheroes. He currently lives in Seattle with his wife and their two bikes.