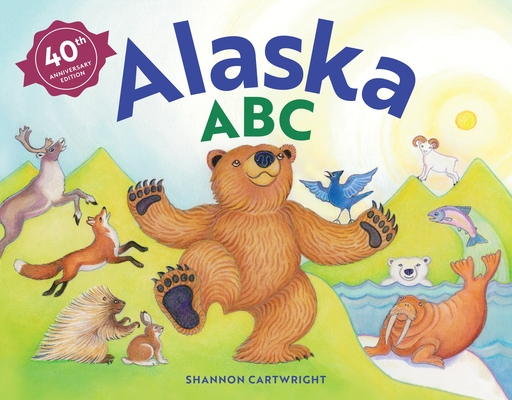 Alaska ABC, 40th Anniversary Edition (Paperback)
Little Bigfoot, 9781632171665, 32pp.
Publication Date: February 20, 2018
* Individual store prices may vary.
Description
The updated 40th anniversary edition of this best-selling ABC book celebrates Alaskan culture, with all-new colorful and imaginative artwork.

This playful and humorous alphabet book inspires learning the ABCs and introduces young children to Alaskan flora, fauna, and culture. Meet a moose in mukluks, a reindeer in the rain, and salmon snowshoeing! A glossary at the end defines words introduced in the text that may not seem familiar but are common in Alaskan culture, like qiviut--the wooly undercoat of a muskox--and umiak--a boat made from animal skin stretched over a wooden frame.
About the Author
SHANNON CARTWRIGHT arrived in Alaska in 1972 after graduating from the University of Michigan School of Architecture and Design. She was drawn north by the stories she heard as a child from her grandmother, Esther Schaubel, a famous public-health nurse who spent 15 years in the Alaska bush during the '40s and '50s.

She has spent most of her Alaska years living in the bush, away from the road system, and has never owned a TV or a computer and communicates by satellite phone and US mail.

Cartwright has traveled all over the state working on a set-net site in Bristol Bay, driving horse-pack trips, guiding in the Alaska Range and Brooks Range, researching book projects, and traveling between her cabins by train, skis, snowmobiles, and horses.

She expresses her love of Alaska through the 28 children's books she has illustrated, seven of which she has also written. Her books are found throughout Alaska, and her cards, prints, and signed books are available at the Dancing Leaf Gallery in Talkeetna, AK.