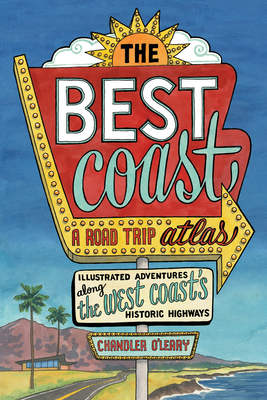 The Best Coast
A Road Trip Atlas: Illustrated Adventures along the West Coast's Historic Highways
Paperback

* Individual store prices may vary.
Description
This quirky illustrated book covers historic routes up and down the West Coast by showcasing roadside attractions, beloved landmarks, hidden history, and other offbeat delights for armchair travelers and road-trippers alike. It's the perfect inspiration for a trip along the coast, or to simply savor as a love letter to the region. 

What better place for a road trip than the West Coast (the best coast, by any measure)? From San Diego, California, all the way up to the Olympic Peninsula in Washington State, you'll find off-the-beaten-path adventures up and down the coast. This charming illustrated book features both the coastal route via historic Highways 101 and 1 (the PCH) and an inland route up Highway 99, highlighting the natural beauty along the shore while also connecting the traveler to major cities and other attractions. Includes side trips to destinations such as Catalina Island, Joshua Tree National Park, Sequoia and Yosemite National Parks, wine country, Crater Lake National Park, the Columbia River Gorge, Mount Rainier National Park, the San Juan Islands, and Vancouver, BC. Also includes in-depth city guides to San Diego, Los Angeles, San Francisco, Sacramento, Portland, and Seattle. Chock-full of unusual facts, hidden history, and Americana, this one-of-a-kind road trip through California, Oregon, and Washington tells a story of the diversity and depth that created the West Coast we know and love today, showcasing both the ever-changing present and vestiges of the past for those who slow down to look. From a co-author of the award-winning Dead Feminists, this guide is perfect for fans of Atlas Obscura, Rebecca Solnit, and Julia Rothman.
Praise For The Best Coast: A Road Trip Atlas: Illustrated Adventures along the West Coast's Historic Highways…
An American Booksellers Association Indie Travel Bestseller

Praise for The Best Coast:

"The Best Coast, Chandler O'Leary's illustrated road trip atlas spanning San Diego, Calif., and Washington State, taps into a desire among vacationers to see America as it was before chain restaurants and frequent-flyer mileage homogenized and shrunk the landscape."
—Publishers Weekly

"O'Leary's guide offers the best of both worlds by taking you off the beaten path without missing out on any bucket-list attractions."
—Seattle Times

"[Chandler] O'Leary's bright, delightful watercolors depict worthwhile stops and sights, from the mission architecture of San Diego to the parks of Vancouver, British Columbia. The book is also packed with the kind of dad-approved roadside history (did you know there are wild zebras in California?) that makes for memorable meandering."
—Seattle magazine

"All the beauty of a west coast road trip, condensed in a beautiful, yet practical book. The Best Coast: A Road Trip Atlas is perfect for those new to the West, and a wonderful supplement for the natives who haven't quite been everywhere yet. Handy tips, stunning locations and a number of side trips just in case you decide to do some wandering."
—Powells.com

"In The Best Coast, readers travel with O'Leary from San Diego to her current home state of Washington and back again. In between beautiful, hand-painted illustrations are portraits of roadside attractions, hidden histories, and historic highway guides."
—Roadtrippers magazine

"Not just an indispensable guide to the West Coast, this is a beautiful, one-of-a-kind love letter to some of my favorite places in the world."
—Geraldine DeRuiter, founder of Everywhereist.com
 
Praise for Chandler O'Leary and DrawnTheRoadAgain.com:
 
"Nobody is clear on the exact ratio of picture-to-words worthiness—some estimates have it as high as 1:1000—but it's hard to argue that your average travel writer could capture the essence of a place as well as Chandler O'Leary does with her . . . watercolor artwork."
—Fast Company
 
"O'Leary has a unique perspective on the sense of discovery in the journey as well as the destination."
—Atlas Obscura
Sasquatch Books, 9781632171740, 224pp.
Publication Date: April 9, 2019
About the Author
CHANDLER O'LEARY is an illustrator and lettering artist, and a graduate of the Rhode Island School of Design. She is the co-author of Dead Feminists: Historic Heroines in Living Color and the author of an illustrated travel blog called Drawn the Road Again. She lives in Tacoma, Washington, and spends every spare moment traveling America's winding back roads, sketchbook in hand.