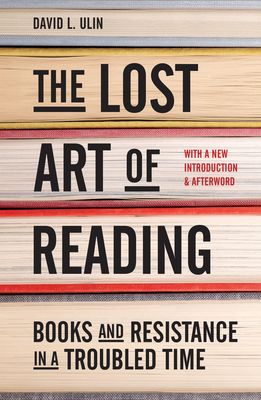 The Lost Art of Reading
Books and Resistance in a Troubled Time
Hardcover

* Individual store prices may vary.
Description
Reading is a revolutionary act, an act of engagement in a culture that wants us to disengage. In The Lost Art of Reading, David L. Ulin asks a number of timely questions - why is literature important? What does it offer, especially now? Blending commentary with memoir, Ulin addresses the importance of the simple act of reading in an increasingly digital culture. Reading a book, flipping through hard pages, or shuffling them on screen - it doesn't matter. The key is the act of reading, and it's seriousness and depth. Ulin emphasizes the importance of reflection and pause allowed by stopping to read a book, and the accompanying focus required to let the mind run free in a world that is not one's own. Are we willing to risk our collective interest in contemplation, nuanced thinking, and empathy? Far from preaching to the choir, The Lost Art of Reading is a call to arms, or rather, to pages.
Praise For The Lost Art of Reading: Books and Resistance in a Troubled Time…
"I was electrified by his celebration of narrative, empathic imagination, and startling insights."  
—Joe Hill, author of The Fireman
 
"David Ulin's soul is up for grabs. The digital era has sunk its hooks into him, and politics has corroded his spirit. But Ulin has found a powerful and instructive form of resistance in his lifelong love of books. The Lost Art of Reading makes us consider our own souls in this crucial moment, and reminds us why books matter. A necessary and deeply human read." 
—Claire Dederer, author of Love and Trouble

For anyone who has forgotten the joy and rewards of reading. This former L.A. Times book critic has expanded an earlier version of this short treatise, which is packed with ideas about what we experience when we read. Ulin rages on about the importance of critical thinking and its connection with citizenship and resistance during this current period of political divisiveness and uncertainty. Complete with a brand new introduction and afterword, this book will whet your appetite to begin reading again.
--The Detroit Free Press

Why read? Books open windows to other worlds and breed empathy, yes, but there's another reason. "I am looking for authority, intelligence," writes David L. Ulin in his short but vital book, "The Lost Art of Reading: Books and Resistance in a Troubled Time" (Sasquatch Books; $16.95). "The last thing I want is someone to tell me what to think."
--The San Francisco Chronicle
Sasquatch Books, 9781632171948, 192pp.
Publication Date: September 4, 2018
About the Author
A book editor for the Los Angeles Times, David L. Ulin has also written for The Atlantic Monthly, The Nation, The New York Times Book Review, and LA Weekly. He lives in Los Angeles.