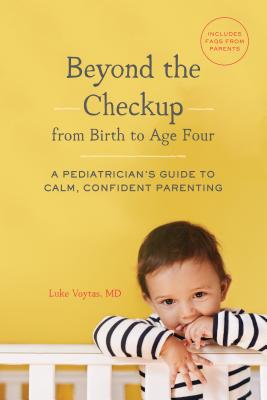 Beyond the Checkup from Birth to Age Four (Paperback)
A Pediatrician's Guide to Calm, Confident Parenting
Sasquatch Books, 9781632171979, 288pp.
Publication Date: August 21, 2018
* Individual store prices may vary.
Description
What if you had 15 extra minutes with your pediatrician? With the goal of instilling confidence in new or anxious parents, this health and wellness handbook follows the typical checkup schedule from birth to age four, while tackling topics that sometimes get neglected—like screen time, picky eaters, and discipline.

With the tangle of information available on the internet, it's easy for new parents to become overwhelmed. In this handbook, Dr. Luke Voytas, a practicing pediatrician (and father of two young kids), helps parents feel confident and calm by providing advice that is a blend of research-based information and common sense. Beginning with preparations leading up to baby's birth, including how to find the right pediatrician, it follows the traditional checkup schedule—month by month, year by year—through age four. In a friendly, often humorous, and reassuring voice, he also delves into common illnesses and concerning topics including behavior, eating, and sleep, and provides answers to questions parents frequently ask. This handbook provides reliable information that empowers parents to make decisions that are best for their child and will surely be a trusted resource for everyday use.
About the Author
Dr. Luke Voytas is a full-time pediatrician at Evergreen Pediatrics in Vancouver, Washington. He has also served as the chair of pediatrics at PeaceHealth Southwest Medical Center, the largest hospital in southwest Washington. He is known for his ability to help even the most anxious parents learn to feel confident about what they're doing for their kids. He lives in Portland, OR, with his wife (who is also a pediatrician) and their kids.
Praise For Beyond the Checkup from Birth to Age Four: A Pediatrician's Guide to Calm, Confident Parenting…
"Pediatrician Voytas […] clearly provides easy-to-follow and evidence-based answers to common questions about infant and early childhood […] authoritatively but compassionately cutting through the anxiety-provoking mass of conflicting ideas. He has given parents a mind-settling resource for those stressful moments when they want kind, specific, authoritative advice, but can't get time with their provider."
—Publishers Weekly