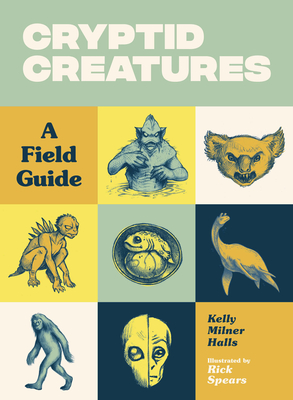 Cryptid Creatures
A Field Guide
Paperback

* Individual store prices may vary.
Description
Explore the fascinating world of cryptozoology with this fun guide, filled with eyewitness accounts of 50 cryptids found throughout the world, some of which have been proven real.

Cryptozoology is the study of mysterious creatures that fall between the realm of real and imaginary on the scientific spectrum. Cryptid Creatures: A Field Guide offers a closer look at fifty of these amazing creatures, examining the best possible evidence for each, including scientific papers, magazine and newspaper articles, and credible eyewitness accounts.

The fifty cryptids are arranged in order alphabetically, and in addition to speculative illustrations, include details like when they were first reported, whether they are terrestrial, aerial, or aquatic, and each have a reality rating of 1 to 6, in which 1 means that the cryptid has been confirmed as a hoax, and 6 means the cryptid has been proven as real.

This page-turning guide will inspire curious readers to investigate more on their own, and maybe even help to prove if a cryptid is a hoax or is real.
Praise For Cryptid Creatures: A Field Guide…
"A collection of creepy cryptids for the courageous connoisseur" --Kirkus Reviews


"Spears's ashy blue drawings have the impromptu feel of field sketches, while facts and alleged eyewitness accounts lend further credence to this fun handbook. Halls also provides a heartening message to readers: for any cryptid proven nonexistent, there are plenty of other weird and wonderful species to compensate." --Publishers Weekly


"This is a solid addition for libraries serving elementary and middle school students." --School Library Connection


"Cryptid Creatures is a joyful romp through a world of possibility."--City Book Review

"Kelly Milner Halls shares exciting information that, amidst all the fun fantasy, also manages to be both historically accurate and scientific. Cryptid Creatures will encourage kids to discover the world around them and explore the its many wonders"--Spokane Coeur d'Alene Living Magazine


"I urge you to check out this remarkable title and share it with kids you know who need a portal to potential!"--Unpacking the Power of Picture Books

"Cryptid Creatures is a well-researched and written field guide of 50 cryptid creatures" --Kid Lit Reviews

Little Bigfoot, 9781632172105, 224pp.
Publication Date: September 24, 2019
About the Author
For the past 25 years, KELLY MILNER HALLS has crafted high-interest nonfiction books and articles for young readers. Known for quirky but well-researched topics, Halls delights in drawing even reluctant readers into the realm of discovery through explorations of dinosaurs, Sasquatch, UFOs and other unusual themes. She lives in Spokane, Washington, and speaks at schools and conferences all over the world.

RICK SPEARS was born in California in the third quarter of the 20th century, relocating to Georgia five years later. As with most young children, he was fascinated by dinosaurs and spent many hours drawing pictures of prehistoric animals in various scenes of combat. His dinosaur and cryptid art has found its way into various books, magazines, websites, and even a board game. His sculptures can be seen in several museums and collections throughout the southeastern United States. Rick currently resides in Georgia with his family, who finds his weird projects just a part of everyday life.