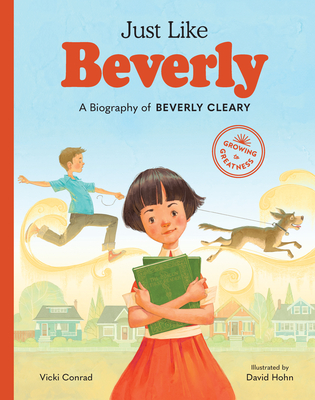 Just Like Beverly (Hardcover)
A Biography of Beverly Cleary (Growing to Greatness)
Little Bigfoot, 9781632172228, 48pp.
Publication Date: August 13, 2019
* Individual store prices may vary.
Description
Junior Library Guild Selection 

Just Like Beverly follows the life of beloved children's author Beverly Cleary from her early years in Oregon to her career as a successful writer who wrote stories, including the wildly popular Ramona and Henry Huggins series, for kids just like her.

As a young girl, Beverly Cleary struggled to learn to read and found most children's books dull and uninteresting. She often wondered if there were any books about kids just like her. With hard work, and the encouragement of her parents and a special teacher, she learned to read and at a young age discovered she had a knack for writing.

Beverly Cleary's story comes to life in this narrative nonfiction picture book as she grows to follow her dreams of writing the books she longed for as a child, becoming an award-winning writer and one of the most famous children's authors of all time.

Beautiful illustrations capture Cleary's sense of humor, struggles, and triumphs, and are filled with Easter eggs throughout for fans to discover.
About the Author
VICKI CONRAD is a teacher with a passion for literacy development and inspiring students to love reading just as much as she did as a child. Growing up, she was always found with a book in her hand, and she has stayed that way ever since. When she is not writing or teaching, she is traveling the world, growing a garden, or searching for stories. She has called Seattle her home for many years. She doesn't mind the rain, as long as she has coffee, friends, and good books for company. Just Like Beverly is her first book.

DAVID HOHN is an illustrator based in Portland, Oregon. His days are spent in the studio imagining what it would be like to be someone else, doing something else--and then he paints it.
Praise For Just Like Beverly: A Biography of Beverly Cleary (Growing to Greatness)…
"Confession: I hugged this book before I even opened it" --Justine Kenin, All Things Considered

"Hohn captures her lively spirit through illustrations, reminiscent of those by Alan Tiegreen for Cleary's own books, that will keep young readers entertained. A loving and informative tribute worthy of celebrating Cleary's 103rd year of life." --Kirkus Reviews, starred

"Conrad writes with clarity and features significant details that bring Cleary's experiences and personality to life for kids today. Hohn makes good use of color, light, and pattern in his imaginative illustrations, which interpret the text sensitively. The artwork looks fresh and appealing while suggesting the period, the emotional resonance, and the upbeat spirit of Cleary's books."--Booklist, starred 

"A celebration of Cleary, literacy, and the pursuit of ambitious dreams, this charming picture book will enhance any biography collection."--School Library Journal

"Debut author Conrad's storytelling is straightforward, ably conveying—in tandem with Hohn's homespun, vintage-style illustrations—the various eras of Cleary's life and her passion for writing and for nurturing readers."--Publishers Weekly

"This beautiful picture book biography of the incredible, beloved children's author and librarian Beverly Cleary is sure to delight both longtime fans and new readers alike." --Madeline S., Powells.com


""Just Like Beverly" is unreservedly recommended for family, elementary school and community library collections" --Midwest Book Review

"Hohn's illustrations feel simultaneously nostalgic and contemporary – just like Cleary's stories."--The Oregonian


"Vicki Conrad and David Hohn chart Cleary's rise to authordom with thoughtful, compelling storytelling and joyous art that feels like it belongs alongside Louis Darling's original illustrations of Cleary's works."--PDX Parent