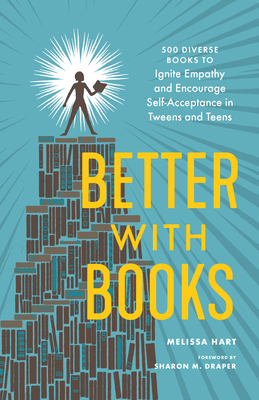 Better with Books (Paperback)
500 Diverse Books to Ignite Empathy and Encourage Self-Acceptance in Tweens and Teens
Sasquatch Books, 9781632172273, 304pp.
Publication Date: April 23, 2019
* Individual store prices may vary.
Description
Needed now more than ever: a guide that includes 500 diverse contemporary fiction and memoir recommendations for preteens and teens with the goal of inspiring greater empathy for themselves, their peers, and the world around them.
 
As young people are diagnosed with anxiety and depression in increasing numbers, or dealing with other issues that can isolate them from family and friends–such as bullying, learning disabilities, racism, or homophobia–characters in books can help them feel less alone. And just as important, reading books that feature a diverse range of real-life topics helps generate openness, empathy, and compassion in all kids. Better with Books is a valuable resource for parents, teachers, librarians, therapists, and all caregivers who recognize the power of literature to improve young readers' lives.
 
Each chapter explores a particular issue affecting preteens and teens today and includes a list of recommended related books–all published within the last decade. Recommendations are grouped by age: those appropriate for middle-grade readers and those for teens.
 
Reading lists are organized around:
Adoption and foster care
Body image
Immigration
Learning challenges
LGBTQIA+ youth
Mental health
Nature and environmentalism
Physical disability
Poverty and homelessness
Race and ethnicity
Religion and spirituality
About the Author
Melissa Hart is contributing editor for The Writer Magazine and creative writing teacher for Southern New Hampshire University's MFA program. She holds a BA in literature from U.C. Santa Barbara's College of Creative Studies and an MFA in creative writing from Goddard College in Vermont. She's the author of the award-winning middle-grade novel Avenging the Owl and two memoirs--Wild Within: How Rescuing Owls Inspired a Family and Gringa: A Contradictory Girlhood. She's based in Eugene, Oregon, and travels frequently around the U.S. with her husband and 12-year-old daughter. www.melissahart.com.
Praise For Better with Books: 500 Diverse Books to Ignite Empathy and Encourage Self-Acceptance in Tweens and Teens…
"An essential resource for parents, librarians, teachers, and all who help guide our teens and preteens: the reading list topics speak precisely to the kinds of issues they face every day. Reading fiction and memoir offers them another way to expand their understanding of themselves and develop empathy for others—both of which are vitally important in an increasingly complex world."
—Nancy Pearl, bestselling author of Book Lust, librarian, and literary critic

"This collection of themed book lists is a valuable resource for educators, librarians, parents, and other adults who recognize the power of literature in the lives of young people."
—Publishers Weekly

"This exceptionally useful text offers well-curated annotated bibliographies on subjects such as immigration, race and ethnicity, LGBTQIA+ identities,  adoption, religion, and poverty, framed by brief and engaging essays on why each topic matters to readers today...[Melissa] Hart writes with an intersectional lens, considering within-group difference. Interviews with children's authors, including An Na, Chris Crutcher, Donna Gephart, Beth Vrabel, and Eric Gansworth, are seamlessly integrated and add insight, as do anecdotes from teachers and librarians...Offering valuable reading lists, this beautifully organized work should become a go-to resource for parents, students of young adult literature, teachers, and librarians."
—School Library Journal

"Buttressed by insightful opening essays based on the compiler's own experiences, this guide covers approximately 500 books in 11 categories...The annotations give major plot points and are concisely and engagingly written...An excellent resource..."
—Booklist

"When you're a teenager or preteen, knowing that you're not the only one going through something makes you feel considerably less alone. Better with Books includes corresponding fiction and memoir recommendations to deal with all of the issues and insecurities that young people face. It's super thorough and helpful and I will definitely be referencing it as my daughter grows up." 
—Padma Lakshmi, actress, television host, and author of Love, Loss and What We Ate

"The right book read at the right time can change a life, and that's why Better with Books belongs in every library. Timely, compassionate, and wise, this is a remarkable reference guide."
—Katherine Applegate, Newberry Medal award-winning author of The One and Only Ivan

"If you're a parent of tweens or teens, or you work with them, Better with Books is an absolute must-have reference book. Essays about important topics, such as body image, mental health, and race, are brimming with personal stories, author interviews, and other helpful information. You'll also find five hundred recommended books for preteens and teens organized by topic, with summaries of each title. This gem needs to be on your bookshelf!" 
—Donna Gephart, award-winning author of Lily and Dunkin and In Your Shoes

"Stories heal, bind, illuminate, and guide us. As an educator always searching for stories to help support and aid my students, I need a guide as thorough and essential as Better with Books. This will definitely sit on my shelf adorned with many Post-it notes!"
—An Na, award-winning author of A Step from Heaven and The Place Between Breaths

"This book is incredibly insightful, organized, and detailed. Hart delivers a wonderful, diverse series of lists and summaries that would be an excellent addition to any home, library, or classroom."
—Peter Brown Hoffmeister, author of the National Book Award-nominated Too Shattered for Mending

"Authors write for many reasons, but one of the most important is to let readers know that whatever difficulty they face, they're not alone. Few tweens and teens are willing to expose their vulnerabilities, and that is as it should be. But when they see their struggles in story—when they come upon a character with whom they feel true kinship—their sense of isolation recedes. We live in a culture where differences that should be celebrated are often not. Kids find truth in story, and often they find answers. Better with Books is a comprehensive guide for educators, parents, and anyone looking to find just the right book for a preteen or teen."
—Chris Crutcher, award-winning author of Staying Fat for Sarah Byrnes and Whale Talk

"If you're looking for even more reading suggestions...pick up this guide to 500 diverse books. The books are organized by category, so you can find something to read based on issues that are important to you—like immigration, mental health, religion, race, and more." 
—New Moon Girls

"Must-read reference book for teens and tweens." 
—KATU TV, AM Northwest

"This book is a must-have for parents of preteens, teens, educators, counselors, librarians—for anyone who spends time with youth. We have no way to measure the impact of placing the perfect story in the hands of a young adult in need or a parent struggling to understand what their teen is going through." 
—Eugene Weekly

"This book of books can help teens find fiction about important topics."
—KING-TV, New Day NW

"Melissa Hart has a beautifully expansive way of looking at diversity going beyond race, ethnicity, gender identity and class to include categories like Adoption and Foster Care, Immigration, Learning Challenges, Mental health, Religion and Spirituality, and Physical disabilities—categories that are often overlooked. You'll find books you already know and love and plenty of lesser-known gems. The books featured are all published in the last 10 years and will provide a foundation for empathetic reading for many years to come. It will be a particularly good book to give as a gift to a favorite teacher."
—From the Mixed-Up Files of Middle-Grade Authors

"At The King's English we have always believed that a book is the perfect place to find yourself, to start a conversation, to see the world in a kinder way. There are a lot of subjects that kids and grownups are sensitive about. Hart tackles an interesting list and provides recommended titles for each subject. Adoption and foster care, body image, LBGTQIA+, mental health, and poverty are just a few of the subjects included in the book. Most of her title picks are aimed at the 10 and up crowd. This book will be a terrific asset for parents, librarians, and social workers."
—The King's English Bookshop