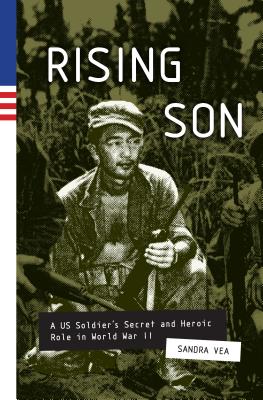 Rising Son (Hardcover)
A US Soldier's Secret and Heroic Role in World War II
Sasquatch Books, 9781632172419, 320pp.
Publication Date: February 12, 2019
Other Editions of This Title:
Paperback (8/6/2016)
* Individual store prices may vary.
Description
The remarkable story of a Japanese American who served in a top-secret team in World War II that coaxed Japanese Imperial soldiers from their bunkers on the front lines of the war in the Pacific.

Masao Abe was a second-generation Japanese American who was swept up in the momentum of history during World War II. Born in southern California but educated as a teenager in Japan during the 1930s, he returned to the US and was drafted into the US Army. As he completed basic training, the attack on Pearl Harbor put his military career in limbo because the US government didn't know what to do with him or how to think about him--was he an enemy or a patriot? Masao was eventually recruited to join the secretive Military Intelligence Service: he was trained to accompany American soldiers as they fought their way across the islands in the Pacific. His assignment was to convince Japanese Imperial soldiers to lay down their arms, and to read captured documents looking for enemy strategies. He went to war with a bodyguard because his commanders knew he wore a target on his front and his back. This little-known slice of history reveals how the confluence of race, war, and loyalty played out when the nation called for the service of those it judged most harshly.
About the Author
Sandra Vea is a graduate of the University of Washington and Western Washington University. She has worked as a public educator for 25 years and is a lifelong learner. She is the partner of Masao Abe's youngest son and interviewed Masao over the course of four years. Vea enjoys spending her spare time reading about and researching American events that are not well known but are of significant historical value and contemporary relevance.
Praise For Rising Son: A US Soldier's Secret and Heroic Role in World War II…
"It is said that war is a means to political ends. Sandra Vea captures how innocent civilians and individual soldiers, like Masao Abe, were driven to have faith in the American dream, America's democracy, and the hope that her system of justice would ultimately prevail . . . Rising Son is a fascinating and highly readable slice of history which should be told."
—Lt Col Michael J. Yaguchi, USAF (Ret) Board of Directors and Executive Secretary, National Japanese American Memorial Foundation

"Rising Son is a consideration of bigotry, loyalty, heroism, sacrifice and war—all the more riveting because it is a true story."
—Barbara Lloyd McMichael, The Bookmonger