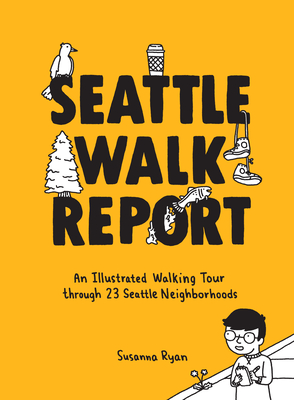 Seattle Walk Report
An Illustrated Walking Tour through 23 Seattle Neighborhoods
Hardcover

* Individual store prices may vary.
Description
Instagram sensation Seattle Walk Report uses her distinctive comic style and eagle eye to illustrate the charming and quirky people, places, and things that define Seattle's neighborhoods.

Leveraging the growing popularity of Seattle Walk Report on Instagram, this charming book features comic book-style illustrations that celebrate the distinctive and odd people, places, and things that define Seattle's neighborhoods. The book goes deep into the urban jungle, exploring 24 popular Seattle neighborhoods, pulling out history, notable landmarks, and curiosities that make each area so distinctive. Entirely hand-drawn and lettered, Seattle Walk Report will be peppered with fun, slightly interactive elements throughout which make for an engaging armchair read, in addition to a fun way to explore the city's iconic, diverse, hipster, historic, and grand neighborhoods.
Praise For Seattle Walk Report: An Illustrated Walking Tour through 23 Seattle Neighborhoods…
Washington State Book Award Finalist

Pacific Northwest Booksellers Association Bestselling Book

"Born from the Instagram-famous comic strip 'Seattle Walk Report,' the book...gives a whimsical tour through Seattle's neighborhoods...With new comics and tips for how to get the most out of your urban hike, the book shows you the quirky side of Seattle and encourages you to explore the city on foot and with an open mind."
—Seattle magazine

"Once an anonymous Instagram account (Ryan has only recently revealed herself), @SeattleWalkReport began as a collection of minutiae from epic urban walks, illustrated in tidy comics that make perfect use of the social media channel's square format. Ryan's depictions of Seattle are pleasingly low-tech. As a book, [Seattle] Walk Report is just as charming...You'd have to be kind of a joy-loathing curmudgeon not to like it..."
—Seattle Times

"All you have to do to discover the treasures of Seattle is go on a walk. Seattle Walk Report's 150-plus pages of twee, guidebook-style comics create an endearing collection of the small details that make Seattle a home."
—The Stranger

"'Few people know how to take a walk,' proclaimed noted walker Ralph Waldo Emerson. If only he'd met the creator of Seattle Walk Report, who takes meandering to a transcendental level."
—Crosscut

"Triggered by the popularity of her formerly anonymous Instagram feed of the same name, Ryan's collection of illustrated field notes maps exploratory walks through her hometown. Dutifully recording paper cup sightings alongside historic building entrances, Ryan emphasizes the pleasures of small discoveries that might go otherwise unnoticed."
—Shelf Awareness

"If you've already been following the Instagram @SeattleWalkReport, you'll want to buy the book by the same name, the self-taught cartoonist who has been documenting her strolls through Seattle with sweet black-and-white comics...Nothing goes unnoticed on Ryan's walks through 23 neighborhoods."
—425 Magazine
Sasquatch Books, 9781632172617, 176pp.
Publication Date: August 13, 2019
About the Author
The artist behind Seattle Walk Report is a self-taught cartoonist, illustrator, and designer. After discovering a love for exploring Seattle by foot, she anonymously started the Instagram comic series Seattle Walk Report in 2017. With her keen eye for Seattle's overlooked landmarks and everyday ephemera, she captures everything that makes the Emerald City magical. Her work has appeared in Seattle magazine, the Stranger, Seattle Refined, The Evergrey, and the Seattle Review of Books, as well as on KOMO News and 107.7 The End.