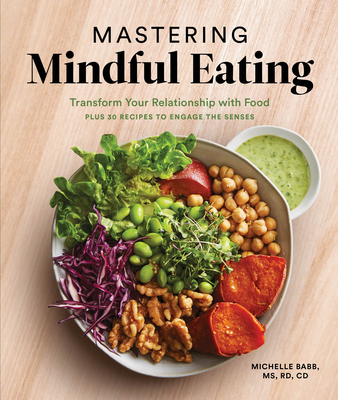 Mastering Mindful Eating (Paperback)
Transform Your Relationship with Food, Plus 30 Recipes to Engage the Senses
Sasquatch Books, 9781632172945, 208pp.
Publication Date: December 1, 2020
* Individual store prices may vary.
Description
A nutritionist explains how to practice mindful eating for improved health, calm, and reaching your healthiest weight. Forget counting calories, strict portion control, and restrictive diet plans. Say goodbye to yo-yo dieting forever.

Eating a sandwich while running from a bear isn't good for digestion or nutrition. That's exactly what we're doing when eating a meal on the run or being distracted by computers, TVs, and newspapers. Rather than nourishing our bodies, we are feeding anxiety and poor habits that prevent our systems from functioning well. Author and registered dietitian Michelle Babb shows you how to practice mindul eating that lets your body access the nutrients from food and turn on its self-regulating system. It's the sustainable way to shed pounds and maintain your healthiest weight. When you build a positive relationship with food, you reduce binge and emotional eating. Included in the book are 30 recipes designed to enhance your introduction to mindful eating by engaging all the senses.
About the Author
Michelle Babb, MS, RD, CD, is a registered dietitian and holds a master's degree in nutrition from Bastyr University. In her nutrition practice, she provides clients with the tools they need to achieve optimal health through nutrition education, creative fitness, and emotional balance. Her training in functional medicine gives her a unique, holistic perspective that helps her create customized nutritional therapies that empower clients to heal themselves. Michelle has also studied at the Center for Mind-Body Medicine, where she learned how to help people change their relationship with food and become intelligent, intuitive eaters. Her anti-diet approach ensures success to those who want to lose weight, manage blood sugar, and lower cholesterol. She's a PCC Cooks instructor and author of Anti-Inflammatory Eating Made Easy and Anti-Inflammatory Eating for a Happy, Healthy Brain.