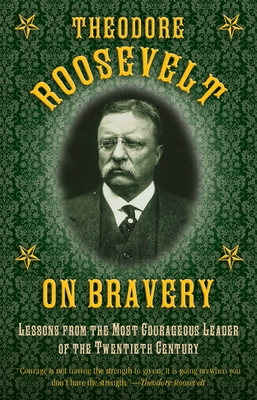 Theodore Roosevelt on Bravery
Lessons from the Most Courageous Leader of the Twentieth Century
Hardcover

* Individual store prices may vary.
Description
Teddy Roosevelt is the only president in history to deliver a ninety-minute speech directly after being shot in the chest. He's a Nobel Prize recipient, a Harvard graduate, and he was the youngest President in history to be inaugurated into office. Roosevelt's force took America by storm in the early twentieth century, and he is regarded as one of the finest leaders ever to take office.

His wisdom even earned him a spot in Mount Rushmore, which has immortalized him along with George Washington, Thomas Jefferson, and Abraham Lincoln.
As a sickly child, Roosevelt was home-schooled his entire life until enrolling at Harvard University, where he studied biology. A year after graduating, he began his political career as the New York City police commissioner, and later as a member of the New York State Assembly, where he led the reform division of the GOP. In the time since his presidency, Roosevelt's bravery has inspired generations of Americans.

"A man who is good enough to shed his blood for the country is good enough to be given a square deal afterwards."

Skyhorse Publishing, as well as our Arcade imprint, are proud to publish a broad range of books for readers interested in history--books about World War II, the Third Reich, Hitler and his henchmen, the JFK assassination, conspiracies, the American Civil War, the American Revolution, gladiators, Vikings, ancient Rome, medieval times, the old West, and much more. While not every title we publish becomes a New York Times bestseller or a national bestseller, we are committed to books on subjects that are sometimes overlooked and to authors whose work might not otherwise find a home.
Skyhorse, 9781632202819, 144pp.
Publication Date: August 4, 2015
About the Author
Theodore Roosevelt was the twenty-sixth president of the United States of America. One of America's most popular presidents, Roosevelt was an avid outdoorsman and historian, and a vivacious reader; he contributed hundreds of books to the literary world, writing of his adventures in Africa and South America. Roosevelt passed away in 1919 at the age of sixty.