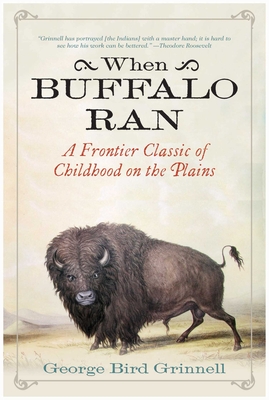 When Buffalo Ran (Paperback)
A Frontier Classic of Childhood on the Plains
Skyhorse, 9781632202857, 128pp.
Publication Date: June 9, 2015
Other Editions of This Title:
Paperback (12/2/2011)
Paperback (3/11/2010)
Paperback (5/19/2008)
Paperback (11/1/2008)
Hardcover (11/10/2018)
Hardcover (10/14/2018)
Paperback (7/27/2015)
Hardcover (11/14/2008)
Paperback (10/14/2018)
Paperback (11/1/2006)
Paperback (11/10/2018)
Paperback (8/14/2018)
* Individual store prices may vary.
Description
When Buffalo Ran tells the story of a young, mid nineteenth century Plains Indian, named Wikis. As Wikis grows, he encounters many wild buffalo and enemy tribes. Along the way, he is guided by his uncle, a mentor and tutor, who teaches him all the necessary skills to become an Indian Brave.

After dedicating a lifetime to researching Native Americans, Grinnell's compelling book artistically captures the voice of a young plains Indian, and his life on the plains. Readers will sympathize with Wikis throughout his adventures, laughing, crying and learning new things with him as he grows from a young boy to a skilled and fearsome warrior for his people.

Skyhorse Publishing, along with our Arcade, Good Books, Sports Publishing, and Yucca imprints, is proud to publish a broad range of biographies, autobiographies, and memoirs. Our list includes biographies on well-known historical figures like Benjamin Franklin, Nelson Mandela, and Alexander Graham Bell, as well as villains from history, such as Heinrich Himmler, John Wayne Gacy, and O. J. Simpson. We have also published survivor stories of World War II, memoirs about overcoming adversity, first-hand tales of adventure, and much more. While not every title we publish becomes a New York Times bestseller or a national bestseller, we are committed to books on subjects that are sometimes overlooked and to authors whose work might not otherwise find a home.
About the Author
George Bird Grinnell was an anthropologist, explorer, historian, naturalist and writer. He was known as the father of American conservation and spent his life defending and protecting America's wild lands and fighting for Native American advocacy. He lived in New York until his death in 1983.