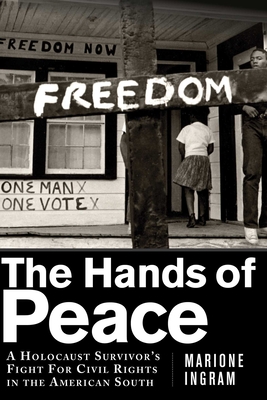 The Hands of Peace
A Holocaust Survivor's Fight for Civil Rights in the American South
Hardcover

* Individual store prices may vary.
Description
Born in Hamburg in the 1930s, Marione Ingram survived the Holocaust in Nazi Germany, only to find when she came to the United States that racism was as pervasive in the American South as anti-Semitism was in Europe.

Moving first to New York and then to Washington, DC, Marione joined the burgeoning civil rights movement, protesting discrimination in housing, employment, education, and other aspects of life in the nation's capital, including the denial of voting rights. She was a volunteer in the legendary March on Washington, where Martin Luther King Jr. gave his iconic "I Have a Dream" speech, and she was an organizer of an extended sit-in to support the Mississippi Freedom Party.

In 1964, at the urging of civil rights leader Fannie Lou Hamer, Marione went south to Mississippi. There, she worked for the Student Nonviolent Coordinating Committee and taught African American youth at one of the country's controversial freedom schools. With her boldness came threats—white supremacists made ominous calls and left a blazing cross in front of her school—and an arrest and conviction. She narrowly escaped a three-month prison sentence.

As a white woman and a Holocaust escapee, Marione was perhaps the most unlikely of heroes in the American civil rights movement; and yet, her core belief in the equality of all people, regardless of race or religion, did not waver and she refused to be quieted, refused to accept bigotry.

This empowering, true story offers a rare up close view of the civil rights movement. It is a story of conviction and courage—a reminder of how far the rights movement has come and the progress that still needs to be made.
Skyhorse, 9781632202895, 192pp.
Publication Date: July 14, 2015
About the Author
Marione Ingram grew up in Nazi Germany and moved to the United States in 1952. With an unwavering belief in the equality of all people, she fought racism and enlisted in a broad-based campaign to end segregation and extend civil rights to African Americans. Her first book, The Hands of War, was a bestseller published by Skyhorse Publishing in 2013. She currently lives in Washington, DC.

Thelton Henderson was the first African American attorney in the Civil Rights Division of the US Department of Justice, having joined the department in 1962. From 1968 to 1977, he was an assistant dean at Stanford Law School, where he helped diversify the student body and established a minority recruiting program. In 1980 he was appointed a federal district judge, and in 1999 the University of California Berkeley Law School established the Thelton E. Henderson Center for Social Justice.
or
Not Currently Available for Direct Purchase