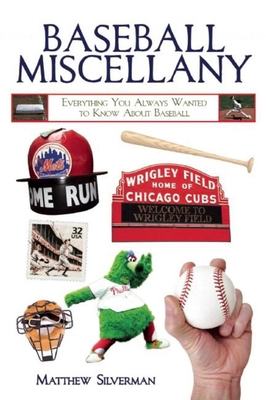 Baseball Miscellany
Everything You Always Wanted to Know About Baseball (Books of Miscellany)
Paperback

* Individual store prices may vary.
Other Editions of This Title:
Paperback (5/19/2020)
Hardcover (3/9/2011)
Description
Why does a curveball curve? What is a "can of corn"? Why was Joe DiMaggio called the "Yankee Clipper"? Who wrote "Take Me Out to the Ball Game"? How many times did Ty Cobb steal home?

In this reissue of Baseball Miscellany, the fascinating history and lore of our national pastime is finally revealed! For example, the reason a curveball curves is that its spin drags a layer of air across one surface of the ball faster than it does across the opposite surface. A "can of corn" is slang for an easy-to-catch fly ball, the term originating from a general store clerk reaching up and dropping a can from a high shelf. Sportswriters dubbed Joe DiMaggio the "Yankee Clipper" because he glided about the outfield with beauty and grace, like a clipper ship on the ocean. The lyrics to "Take Me Out to the Ball Game" were written in 1908 by vaudeville star Jack Norworth, who, while riding the subway, was inspired by a sign that said "Baseball Today—Polo Grounds." And the great Ty Cobb stole home a whopping fifty-four times—fifty more than the career leader in total stolen bases, Rickey Henderson.

Packed with all manner of delightful surprises, beautiful illustrations and photographs, and delicious nuggets of information, Baseball Miscellany demystifies the origins and customs of America's most celebrated game. From spring training through the World Series, you'll be entertained with fun, little-known facts. Why do baseball players wear stirrup socks? Who invented the catcher's mask? What major-league team passed up on signing eighteen-year-old Willie Mays in 1949?

Skyhorse Publishing, as well as our Sports Publishing imprint, are proud to publish a broad range of books for readers interested in sports—books about baseball, pro football, college football, pro and college basketball, hockey, or soccer, we have a book about your sport or your team.

Whether you are a New York Yankees fan or hail from Red Sox nation; whether you are a die-hard Green Bay Packers or Dallas Cowboys fan; whether you root for the Kentucky Wildcats, Louisville Cardinals, UCLA Bruins, or Kansas Jayhawks; whether you route for the Boston Bruins, Toronto Maple Leafs, Montreal Canadiens, or Los Angeles Kings; we have a book for you. While not every title we publish becomes a New York Times bestseller or a national bestseller, we are committed to publishing books on subjects that are sometimes overlooked by other publishers and to authors whose work might not otherwise find a home.
Skyhorse, 9781632203144, 192pp.
Publication Date: April 7, 2015
About the Author
Matthew Silverman is coauthor of Mets by the Numbers (with Jon Springer), Cubs by the Numbers (with Al Yellon and Kasey Ignarski), Red Sox by the Numbers (with Bill Nowlin), and Shea Goodbye (with Keith Hernandez) and the author of Mets Essential and 100 Things Mets Fans Should Know and Do Before They Die. He also served as the associate publisher at Total Sports Publishing, editing titles such as Total Baseball and Total Football.
or
Not Currently Available for Direct Purchase