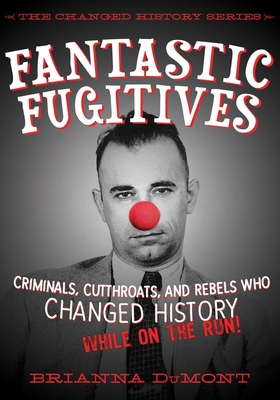 Fantastic Fugitives
Criminals, Cutthroats, and Rebels Who Changed History (While on the Run!) (Changed History Series)
Hardcover

* Individual store prices may vary.
Description
Think fugitives are always bad guys running from the law? Think again! The twelve fugitives in this book annoyed everyone, including queens, presidents and popes. But they didn't let the peeved or the powerful stop them from breaking laws. They stood up for what they believed in, which could be as noble as freedom or as greedy as money. They founded countries, won wars, and even ended empires—all while on the run! Follow the twists and turns of these lawbreaking lives to learn how anyone can change the world. Even you! Just make sure you have your running shoes tied tight.

Fantastic Fugitives: Criminals, Cutthroats, and Rebels Who Changed History While on the Run! is the second book in Brianna DuMont's Changed History series. The series includes Famous Phonies: Legends, Fakes, and Frauds Who Changed History (2015) and a forthcoming book on thieves who changed history.

Fantastically fast fugitives hiding inside:

Spartacus * Cleopatra * Martin Luther * Koxinga * Mary, Queen of Scots * The Pilgrims * Harriet Tubman * Typhoid Mary * John Dillinger * Emmeline Pankhurst * Virginia Hall * Nelson Mandela
Sky Pony, 9781632204127, 192pp.
Publication Date: January 5, 2016
About the Author
Brianna DuMont is author of the Changed History series, which makes history come alive by exposing its murky underbelly. The first book in the series, Famous Phonies: Legends, Fakes, and Frauds Who Changed History, includes gems about "I-must-not-tell-a-lie" George Washington and schoolless Shakespeare. When she's not writing quirky books, Brianna travels the world in search of great museums and historical sites. When she's at home, she is a full-time writer and researcher who is quickly becoming best friends with her local librarian. She and her family live in Chicago, Illinois.
or
Not Currently Available for Direct Purchase