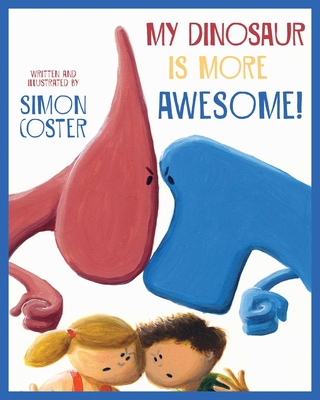 My Dinosaur Is More Awesome! (Hardcover)
Sky Pony, 9781632204165, 48pp.
Publication Date: March 3, 2015
* Individual store prices may vary.
Description
When Joel and Olivia sit down to dinner, with two of their favorite dinosaurs, Olivia can't help but point out that her dinosaur is better. Olivia's dinosaur can play the trumpet while riding her bike, and her house is in the shape of a rabbit. Her dinosaur can make her own jam, and she even eats electric eels. But Joel's dinosaur can swim like a shark, and his teeth sometimes glow in the dark. And he's really good at jumping and sliding on his knees, he has x-ray vision, and he's not afraid of bees. Of course, with so many impressive qualities, it's hard to say which dinosaur is really better, but things get even trickier when a third dinosaur joins them at the dinner table. What could be more fearsome than a dinosaur that once ate a volcano and wears slippers the color of rainbows?

The wonderfully funny, imaginative, and vibrant illustrations are perfectly matched to this new take on a dinosaur story, and the loosely rhyming text is hilarious and unexpected. With a battle unlike any dinosaur fight you've seen before, this book is perfect for all dinosaur lovers, siblings, and parents alike. Simon Coster's debut picture book is a worthwhile addition to any child's library and is sure to get some giggles during story time.

Sky Pony Press, with our Good Books, Racehorse and Arcade imprints, is proud to publish a broad range of books for young readers—picture books for small children, chapter books, books for middle grade readers, and novels for young adults. Our list includes bestsellers for children who love to play Minecraft; stories told with LEGO bricks; books that teach lessons about tolerance, patience, and the environment, and much more. While not every title we publish becomes a New York Times bestseller or a national bestseller, we are committed to books on subjects that are sometimes overlooked and to authors whose work might not otherwise find a home.
About the Author
Simon Coster is a largely self-taught artist who loves to experiment with a wide range of styles and different genres. Although he paints mainly for recreation, his work has always drawn interest and has been exhibited and sold. Simon has always been drawn to storytelling, and My Dinosaur Is More Awesome! is his first children's book. He is a devoted husband and father to three young children and lives in Lincolnshire, England.
Praise For My Dinosaur Is More Awesome!…
"True to the spirit of children's imaginations, this playful story is a quick and fun read. The author is a self-taught artist whose painted illustrations are large and bright, reflecting the larger-than-life feats Olivia and Joel create. Each new skill the dinosaurs acquire appears on a new page, against a white background, making them stand out and capture attention. The cartoonish font and silly title draw on the humor and children's perspective. Kids will love hearing this story read aloud, so they can begin their own friendly feud with their peers. Verdict: A creative and fun debut picture book."—School Library Journal

"True to the spirit of children's imaginations, this playful story is a quick and fun read. The author is a self-taught artist whose painted illustrations are large and bright, reflecting the larger-than-life feats Olivia and Joel create. Each new skill the dinosaurs acquire appears on a new page, against a white background, making them stand out and capture attention. The cartoonish font and silly title draw on the humor and children's perspective. Kids will love hearing this story read aloud, so they can begin their own friendly feud with their peers. Verdict: A creative and fun debut picture book."—School Library Journal
or
Not Currently Available for Direct Purchase