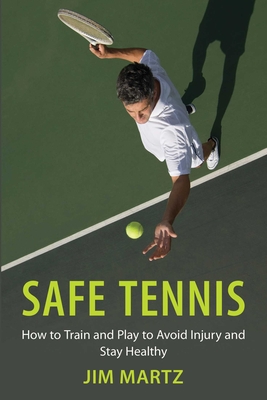 Safe Tennis
How to Train and Play to Avoid Injury and Stay Healthy
Paperback

* Individual store prices may vary.
Description
Correct preparation is important in all aspects of life, but if you fail to warm up properly before playing tennis it could land you in the hospital for weeks. Just look how often professional tennis players are getting injured—sometimes bringing an early end to a promising career—and consider that these athletes are in peak physical shape. So just imagine the risk you are putting yourself at when you venture out for your weekly tennis match.

With images illustrating the exercises to accompany the text, Safe Tennis teaches you how to avoid these injuries and how to properly prepare yourself with detailed warm-up plans and exercises that specifically strengthen you for the sport of tennis. This includes stretching exercises that are designed by physical therapists who specialize in sports medicine. You will also learn the correct way to cool down after your match because injuries can arise if you let your body cool too quickly. Without the worry of nagging injuries, your time on the court will be that much more enjoyable.

Skyhorse Publishing, as well as our Sports Publishing imprint, is proud to publish a broad range of books for readers interested in sports—books about baseball, pro football, college football, pro and college basketball, hockey, or soccer, we have a book about your sport or your team.

In addition to books on popular team sports, we also publish books for a wide variety of athletes and sports enthusiasts, including books on running, cycling, horseback riding, swimming, tennis, martial arts, golf, camping, hiking, aviation, boating, and so much more. While not every title we publish becomes a New York Times bestseller or a national bestseller, we are committed to publishing books on subjects that are sometimes overlooked by other publishers and to authors whose work might not otherwise find a home.
Skyhorse, 9781632204967, 136pp.
Publication Date: September 1, 2015
About the Author
Jim Martz has covered University of Miami football since 1973 and has been editor of CaneSport magazine since 1992. He has authored numerous works on college football and professional tennis. Martz was a sportswriter and editor for the Des Moines Register for three years before serving as a sportswriter, editor, and columnist for the Miami Herald from 1970 to 1991.
or
Not Currently Available for Direct Purchase