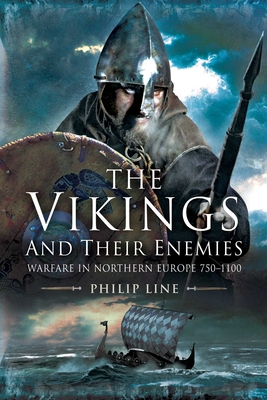 The Vikings and Their Enemies (Hardcover)
Warfare in Northern Europe, 750-1100
Skyhorse, 9781632205032, 344pp.
Publication Date: June 2, 2015
Other Editions of This Title:
Paperback (6/2/2020)
* Individual store prices may vary.
Description
A fresh account of some of history's greatest warriors.

The Vikings had an extraordinary and far-reaching historical impact. From the eighth to the eleventh centuries, they ranged across Europe—raiding, exploring, colonizing—and their presence was felt as far away as Russia and Byzantium. They are most famous as warriors, yet perhaps their talent for warfare is too little understood. Philip Line, in this scholarly and highly readable study of the Viking age, uses original documentary sources—the chronicles, sagas, and poetry—and the latest archaeological evidence to describe how the Vikings and their enemies in northern Europe organized for war.

His graphic examination gives an up-to-date interpretation of the Vikings' approach to violence and their fighting methods that will be fascinating reading for anyone who is keen to understand how they operated and achieved so much in medieval Europe. He explores the practicalities of waging war in the Viking age, including compelling accounts of the nature of campaigns and raids, and detailed accounts of Viking-age battles on land and sea, using all the available evidence to give an insight into the experience of combat. Throughout this fascinating book, Philip Line seeks to dispel common myths about the Vikings and misconceptions about their approach to warfare.

"A wide range of topics are covered, from the equipment and training of the individual warriors to the overall structure of their campaigns. There is also an interesting section on the world view of the Viking warriors and their contemporaries – an attempt to understand how they saw themselves and their actions." —HistoryofWar.org

"A look at European history and driving forces that altered its courses to this day. I loved this book's approach to a complex subject that answers many questions overlooked by historians. It is definitely a five star good read." —Bing's Buzz
About the Author
Philip Line is an expert on Viking land and sea warfare and on the early medieval history of Scandinavia and has published articles on aspects of the subject including a study of Norwegian naval warfare and the role of churchmen in military campaigns. He has written on aspects of state formation and colonization in Scandinavia and the Baltic, his main work being a large study of state formation in Sweden. He has also studied ancient history and Scandinavian languages. He lives in Leeds, United Kingdom.
Praise For The Vikings and Their Enemies: Warfare in Northern Europe, 750-1100…
"A wide range of topics are covered, from the equipment and training of the individual warriors to the overall structure of their campaigns. There is also an interesting section on the world view of the Viking warriors and their contemporaries – an attempt to understand how they saw themselves and their actions." —HistoryofWar.org

"A look at European history and driving forces that altered its courses to this day. I loved this book's approach to a complex subject that answers many questions overlooked by historians. It is definitely a five star good read." —Bing's Buzz
or
Not Currently Available for Direct Purchase