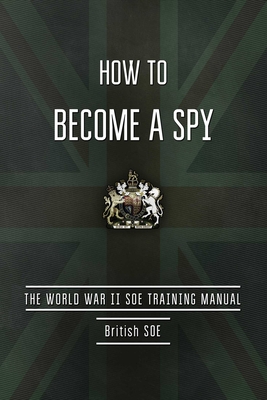 How to Become a Spy
The World War II SOE Training Manual
Paperback

* Individual store prices may vary.
Description
During World War II, training in the black arts of covert operation was vital preparation for the "ungentlemanly warfare" waged by the Special Operations Executive (SOE) against Hitler's Germany and Tojo's Japan. In the early years of the war, the SOE set up top secret training schools to instruct prospective agents in the art of being a spy. Soon there was an international network of schools in operation in secluded locations ranging from the Scottish Highlands to Singapore and Canada.

Reproduced here is one of the most comprehensive training syllabi used at SOE's Special Training Schools (STSs) instructing agents on how to wreak maximum havoc in occupied Europe and beyond. A staggering array of unconventional skills are covered—from burglary, close combat, and silent killing, to utilizing propaganda, surveillance, and disguise—giving an unprecedented insight into the workings of one of WWII's most intriguing organizations.

These files, released from the British National Archive, put covert history in readers' hands. Uncover an exciting, little-known part of WWII history and delve into the inner workings of a real spy network.

Skyhorse Publishing, as well as our Arcade imprint, are proud to publish a broad range of books for readers interested in history--books about World War II, the Third Reich, Hitler and his henchmen, the JFK assassination, conspiracies, the American Civil War, the American Revolution, gladiators, Vikings, ancient Rome, medieval times, the old West, and much more. While not every title we publish becomes a New York Times bestseller or a national bestseller, we are committed to books on subjects that are sometimes overlooked and to authors whose work might not otherwise find a home.
Skyhorse, 9781632205261, 432pp.
Publication Date: June 9, 2015
About the Author
British Special Operations Executive (SOE) was a British WWII organization. It was officially formed on July 22, 1940, to conduct espionage, sabotage, and reconnaissance in occupied Europe against the Axis powers and to aid local resistance movements. Few people were aware of SOE's existence; at times it was referred to as "Churchill's Secret Army" or the "Ministry of Ungentlemanly Warfare." After the war, the organization was dissolved on January 15, 1946.