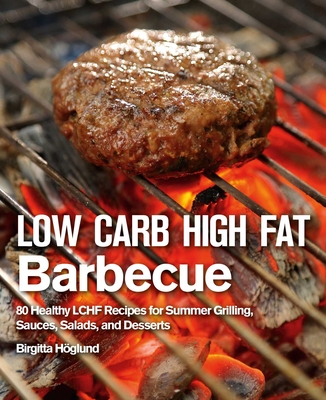 Low Carb High Fat Barbecue (Hardcover)
80 Healthy LCHF Recipes for Summer Grilling, Sauces, Salads, and Desserts
Skyhorse, 9781632205322, 160pp.
Publication Date: June 23, 2015
Other Editions of This Title:
Hardcover (8/4/2015)
* Individual store prices may vary.
Description
Summertime brings many things: warm weather, vacations, sandy beaches—and barbecues. It might seem impossible to plan a menu of healthy food for the backyard cookout or a picnic. But grilled meats and seafood are perfect for the low carb high fat (LCHF) diet, which emphasizes proteins and vegetables over sugar and flour.

Low Carb High Fat Barbecue contains over 80 delicious recipes for grilled food and tasty side dishes. Marinades, sauces, and other delicious accompaniments add variety and make grilling fun. Recipes include:
Rhubarb and Pepper Chutney
Spicy Béarnaise and Chili Hollandaise Sauces
Saffron-Marinated Fish Skewers
Red Wine-Marinated Lamb Chops
Prosciutto-Wrapped Stuffed Chicken Thighs
Grilled Portabello Mushrooms
Three Vegetable Gratins
And much more!

Birgitta Höglund is a trained chef and has long posted on her popular blog, Birgitta Höglund's Food (Birgitta Höglund's Mat). She has personal experience following an LCHF diet, and her LCHF recipes in this book are also crafted for the Glycemic Index (GI) and Paleo diets. Many people simply prefer to eat natural food without preservatives, and Low Carb High Fat Barbecue is here to provide ordinary, fun food that's healthy for the whole family.

Skyhorse Publishing, along with our Good Books and Arcade imprints, is proud to publish a broad range of cookbooks, including books on juicing, grilling, baking, frying, home brewing and winemaking, slow cookers, and cast iron cooking. We've been successful with books on gluten-free cooking, vegetarian and vegan cooking, paleo, raw foods, and more. Our list includes French cooking, Swedish cooking, Austrian and German cooking, Cajun cooking, as well as books on jerky, canning and preserving, peanut butter, meatballs, oil and vinegar, bone broth, and more. While not every title we publish becomes a New York Times bestseller or a national bestseller, we are committed to books on subjects that are sometimes overlooked and to authors whose work might not otherwise find a home.
About the Author
Birgitta Höglund worked as a restaurant chef for eighteen years and has experience from many restaurants. After suffering from both a severe back injury and fibromyalgia, she was able to regain her health by following a low-carb, high-fat diet—a regimen she began 5 years ago. She now writes about food in several blogs, newspapers, and cookbooks. Her cooking style is characterized by local, simple, and natural ingredients, free of gluten and with very few carbohydrates. Birgitta lives in northern Sweden, in Östersund, Jämtland, and spends winter in Alanya, Turkey.