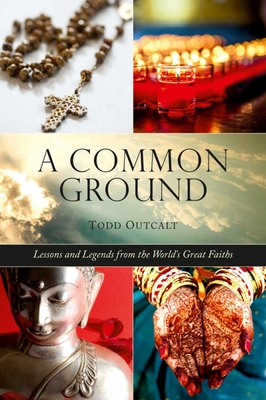 Common Ground
Lessons and Legends from the World's Great Faiths
Hardcover

* Individual store prices may vary.
Description
As the spice maker's cabinet is full of many herbs, so should a scholar be full of Scripture, Talmud, and Legend—an ancient Jewish proverb

This reference to legend—or the teaching tales used by the sages—is a remarkable testimony to the power of story and its place in the history, development, and culture of a people. Legends have helped people understand one another, and offer a context for utilizing ancient beliefs in new ways.

A Common Ground is an eclectic volume of the greatest legends of the world including those from Buddhism, Christianity, Judaism, Islam, and more, along with a discussion on why these stories still matter today. The tales featured demonstrate how seemingly disparate beliefs share common ideas and concerns that are more similar than they are different, helping readers to see the world around them with a fresh perspective.

These stories and parables attributed to saints and sages will offer inspiration for those who desire to live a life of generosity, understanding, and hope. As the book brings together the most marvelous teachings of the world's great faiths, readers will discover new points of conversation and understanding. Likewise, this collection of stories from voices as diverse as Tolstoy and Lao Tzu, from Buddha to Jesus, create a beautiful tapestry of teaching that can be applied to contemporary problems and personal choices
Skyhorse, 9781632205520, 320pp.
Publication Date: May 19, 2015
About the Author
Todd Outcalt: Todd Outcalt is the author of thirty books in six languages including The Best Things in Life Are Free, Candles in the Dark, The Other Jesus, and Where in the World We Meet (poems). He has also contributed to many magazines including American Fitness, Cure, and The Christian Century. Todd is a United Methodist pastor, enjoys hiking, kayaking, and travel, and lives with his wife on several acres of wildlife in Brownsburg, Indiana.
or
Not Currently Available for Direct Purchase