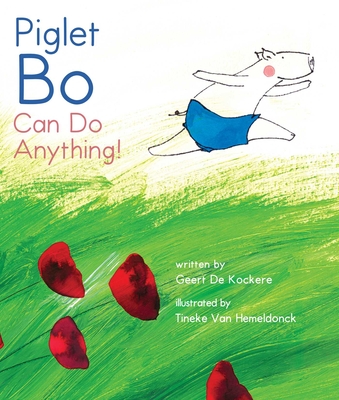 Piglet Bo Can Do Anything! (Hardcover)
Sky Pony, 9781632206008, 32pp.
Publication Date: August 4, 2015
* Individual store prices may vary.
Description
Can he walk on water? Can he widen the beach? Can he pluck a star from the sky? Piglet Bo can do all of these things and more. He leaps over tall grasses, blows down a forest, and walks out onto a long pier, as far as it will take him. He looks to the deep sea, and although the pier will take him no farther, Piglet Bo will not be stopped. "I can go into the water," he says. "If I like. If I dare." And with a leap of faith, he jumps.

Piglet Bo finds friends on his journey—a whale, a pigeon, a bull—and they inspire and help him when they can, but ultimately it takes courage and daring for Piglet Bo to attempt the impossible. Piglet Bo is the bravest and most determined little piglet, with a heart set on adventure. There are no limits to what he can do, and young readers will fall in love with his sweet and endearing resolve. Geert De Kockere writes Piglet Bo's adventures in simple, playful language, filled with light humor. Tineke Van Hemeldonck's brilliant mixed-media illustrations bring the story to life, and even the littlest readers will have fun spotting the elusive, lucky four-leaf clover hidden on each page.

Sky Pony Press, with our Good Books, Racehorse and Arcade imprints, is proud to publish a broad range of books for young readers—picture books for small children, chapter books, books for middle grade readers, and novels for young adults. Our list includes bestsellers for children who love to play Minecraft; stories told with LEGO bricks; books that teach lessons about tolerance, patience, and the environment, and much more. While not every title we publish becomes a New York Times bestseller or a national bestseller, we are committed to books on subjects that are sometimes overlooked and to authors whose work might not otherwise find a home.
About the Author
Geert De Kockere studied to become a teacher but instead became a professional journalist, working for the Flemish newspaper De Standaard (The Standard). Currently he is the editor of Buitenbeen, a nature magazine for Flanders and the Netherlands. He has written many children's books, including several collections of poems, and has won a variety of book prizes for his work. He lives in Kempen, Belgium.

Tineke Van Hemeldonck studied graphic design, specializing in illustration, at Provinciale Hogeschool Limburg in Hasselt. She has done all kinds of graphic design work and has illustrated several children's books. She currently resides in Bunsbeek, Belgium.