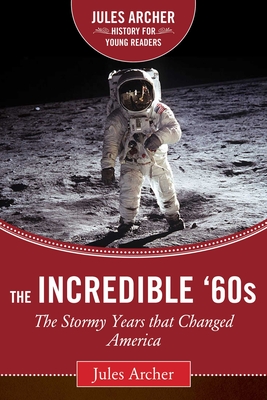 The Incredible '60s (Hardcover)
The Stormy Years That Changed America (Jules Archer History for Young Readers)
Sky Pony, 9781632206053, 288pp.
Publication Date: August 4, 2015
* Individual store prices may vary.
Description
We often remember the 1960s as a time of peace and love, but it was also a time of assassinations, riots, and an unpopular war. Furthermore, more than three million people took to the streets in violent antiwar and civil rights demonstrations during this decade. In The Incredible '60s, renowned historian Jules Archer brings the glories and tragedies of the sixties to a new generation, with a comprehensive history of sixties counterculture, the Vietnam War and the resistance movement, civil rights, feminism, science, rock 'n' roll, and more. Covering everything from the Kennedy Era and the Freedom Riders to nuclear weapons and the Cold War, Archer aims to make sure important history is not forgotten, and this is a story for young people—a story about seeing what needs to be changed in the world and making that change happen.

Jules Archer traveled to distant parts of the globe in search of information, sometimes going back to original sources. For this book he had dinner with Elvis Presley, had tea with two Australian prime ministers, climbed a volcano via camel, and swum the Seine in Paris at midnight. His adventurous spirit and enthusiasm will be contagious to young readers who may just leave their own indelible mark on a future decade. Sky Pony Press is pleased to add this important and thought-provoking piece of historical literature to its new Jules Archer History for Young Readers series.
About the Author
Jules Archer was one of the most respected names in nonfiction for young people. During his lifetime he published over seventy books, which have been translated into twelve languages throughout the world. He lived in Scotts Valley, California until his death in 2008.

Todd Gitlin was a political activist in the New Left of the 1960s and contributed to the so-called underground press. His latest book is Occupy Nation: The Roots, the Spirit, and the Promise of Occupy Wall Street. He lives in New York City.
Praise For The Incredible '60s: The Stormy Years That Changed America (Jules Archer History for Young Readers)…
"Synthesizing his usual solid, exhaustive research, personal experiences, and consummate skill as a prose wordsmith, Archer presents a sweeping but readable and objective overview of the decade that contained 'the stormy years that changed America.'"
—School Library Journal, starred review

"Archer combines exhaustive research with personal experiences in his sweeping overview of ten 'stormy years,' illustrated with outstanding news photos. Ancient history for today's teens, perhaps—but as readable as today's headlines."
—School Library Journal, "Best Books 1986"

"Archer involves readers by assessing the important role young people played in events and satisfying thirst for the history surrounding their parents' nostalgia....Fact-filled, comprehensive and well told."
—Kirkus Reviews

"Synthesizing his usual solid, exhaustive research, personal experiences, and consummate skill as a prose wordsmith, Archer presents a sweeping but readable and objective overview of the decade that contained 'the stormy years that changed America.'"
—School Library Journal, starred review

"Archer combines exhaustive research with personal experiences in his sweeping overview of ten 'stormy years,' illustrated with outstanding news photos. Ancient history for today's teens, perhaps—but as readable as today's headlines."
—School Library Journal, "Best Books 1986"

"Archer involves readers by assessing the important role young people played in events and satisfying thirst for the history surrounding their parents' nostalgia....Fact-filled, comprehensive and well told."
—Kirkus Reviews