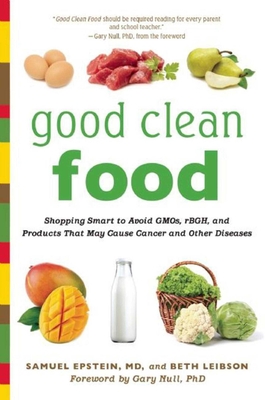 Good Clean Food
Shopping Smart to Avoid GMOs, rBGH, and Products That May Cause Cancer and Other Diseases
Paperback

* Individual store prices may vary.
Other Editions of This Title:
Hardcover (6/1/2013)
Description
Perfect for those who care about what goes into their food.

Did you know that American milk and meat are banned in Europe because of the health risks they pose? Or that one in three items on supermarket shelves contains genetically modified ingredients? How about that forty pesticides in use today have been linked to certain types of cancer?

Between GMOs, hormones, and pesticides, it sometimes feels like our food has become so artificial that shopping smart is impossible. How can we know for sure that the food we buy isn't putting us at risk? If you've got questions, this practical, positive guide has answers. In it, leading public health advocate Samuel Epstein, MD, and coauthor Beth Leibson provide all of the information you need to make the best food choices for you and your family—in language you don't need a PhD in biology to understand.

You'll learn how to choose wisely when shopping for beef, milk and dairy, eggs, soy, corn, snack foods, potatoes, lettuce, strawberries, grapes, baby food, and much more!
Skyhorse, 9781632206381, 176pp.
Publication Date: July 14, 2015
About the Author
Samuel Epstein, MD is an internationally recognized authority on avoidable causes of cancer. The author of more than twenty books and 270 peer-reviewed articles, he has served as president of the Society for Occupational and Environmental Health as well as the Rachel Carson Council, professor emeritus of environmental and occupational medicine at the University of Illinois School of Public Health, and chairman of the Cancer Prevention Coalition. He lives in Chicago, Illinois.

Beth Leibson is a freelance writer and editor for health-related publications. She is the author of I'm Too Young to Have Breast Cancer!, which tells the stories of sixteen women under forty facing diagnosis, treatment, and life after the disease. She holds a master's in public policy from Duke University and a master's of fine arts in creative writing from Emerson College. She lives with her children in New York City.

Gary Null, PhD, is the author of numerous books, including The Complete Encyclopedia of Natural Healing, and the host of The Gary Null Show. He lives in New York City.
or
Not Currently Available for Direct Purchase