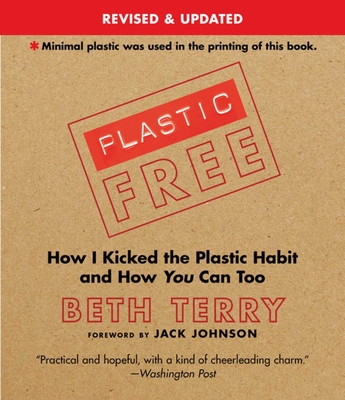 Plastic-Free
How I Kicked the Plastic Habit and How You Can Too
Paperback

* Individual store prices may vary.
Other Editions of This Title:
Hardcover (6/15/2012)
Description
"Guides readers toward the road less consumptive, offering practical advice and moral support while making a convincing case that individual actions . . . do matter." —Elizabeth Royte, author, Garbage Land and Bottlemania
Like many people, Beth Terry didn't think an individual could have much impact on the environment. But while laid up after surgery, she read an article about the staggering amount of plastic polluting the oceans, and decided then and there to kick her plastic habit. In
Plastic-Free
, she shows you how you can too, providing personal anecdotes, stats about the environmental and health problems related to plastic, and individual solutions and tips on how to limit your plastic footprint. Presenting both beginner and advanced steps, Terry includes:
Handy checklists and tables for easy reference
Ways to get involved in larger community actions,
Profiles individuals—Plastic-Free Heroes—who have gone beyond personal solutions to create change on a larger scale.
Fully updated for the paperback edition,
Plastic-Free
also includes sections on letting go of eco-guilt, strategies for coping with overwhelming problems, and ways to relate to other people who aren't as far along on the plastic-free path. Both a practical guide and the story of a personal journey from helplessness to empowerment,
Plastic-Free
is a must-read for those concerned about the ongoing health and happiness of themselves, their children, and the planet.
Praise For Plastic-Free: How I Kicked the Plastic Habit and How You Can Too…
"[Beth Terry] gives us 342 pages of lectures, advice and examples. Bring your own utensils to fast-food outlets. Use solid shampoo bars, and wash clothes with soap nuts. Make your own cleaning products, cosmetics, sodas. Get a reusable dry-cleaning bag. And don't even think about bottled water. It's all really, really, really earnest, and yet . . . it's also practical and hopeful, with a kind of cheerleading charm. And you've gotta love the brown paper dust jacket, reminiscent of how they used to sell Penthouse."
—Washington Post

"The book's real strength lies in the practical tips Terry shares. While she started with baby steps that many of us already take, she has developed sophisticated strategies for upholding her principles and presents what she learned through her years of personal experience and product research. She offers new, repurposed, and homemade alternatives to plastic products and highlights innovative entrepreneurs and plastic-free heroes. Works like Charles Moore's Plastic Ocean are increasing awareness of the mounting plastic problem; Plastic Free offers concerned readers inspiration and concrete steps they can take to combat it personally."
—Library Journal

"Beth's book, with its ingenuity, hands-on examples, and humor will serve as an inspiration and educational resource to readers. The pages that follow provide a toolkit for actionable behavior change at home, work, and in the wider world." 
—Jack Johnson, musician, co-founder of the Kokua Hawai'i Foundation

"I've been struggling to rid my home of plastics for years. This book makes it so much easier!"
—Linda Ronstadt, musician, Plastic Pollution Coalition member

"Friendly, fun, and informative, Plastic-Free is a tutorial on how to cut plastics from your life. Beth empowers us to implement change in our own lives and save the world at the same time. Refuse disposable plastics!" —Dianna Cohen, visual artist, creative director and cofounder, Plastic Pollution Coalition

"Tempted to bring your own reusable silverware to take-out joints but dread the eye-rolling it may generate? This book is for you. With sass and intelligence, the anti-plastic crusader Beth Terry guides readers toward the road less consumptive, offering practical advice and moral support while making a convincing case that individual actions to lighten our environmental impact do matter."
—Elizabeth Royte, author, Garbage Land and Bottlemania

"We're so addicted to plastic, it's hard to imagine doing without it. But Beth Terry dared to imagine, and with hard work, humor and lots of trial and error—turns out there's no easy way to make your own liquid hand soap—she broke the plastic habit. Her book is informative and inspirational—an ideal combination for anyone hoping to follow a less plastic path." 
—Susan Freinkel, author Plastic: A Toxic Love Story

"We could have such lovely things in our lives. Why do we settle for crap made from plastic? Beth Terry is the pioneer when it comes to building a life filled with the things that truly matter."
—Colin Beavan, author, No Impact Man, and founder of the No Impact Project

"This is the tool that we've all been waiting for to ease the transition to going plastic-free. Time to wake up. Peace." 
—Rosanna Arquette, actor, Plastic Pollution Coalition member

"The use of plastic is enmeshed in our American way of life. Kicking any habit is tough, but kicking a habit that is invisible in its ubiquity is even more difficult. In this important and enjoyable book, Beth Terry walks the reader through her trials and travails and shows what the average person can do to rid themselves of plastic. Along the way, she creatively demonstrates that ridding one's life of plastic is not only good for the planet but also good for the health and the pocketbook of the American consumer. This book is inspirational and has helped me kick my plastic habit not only when shopping but throughout my daily life." 
—Congressman Steve Cohen, Tennessee

"Beth Terry is one of the most inspiring people on the planet. Her wisdom about plastic-free living is a beacon of hope for what's possible. Everyone should read this book!" 
—Stacy Malkan, cofounder, Campaign for Safe Cosmetics and author of Not Just a Pretty Face

"Inspiring. Empowering. And most of all, liberating! Finally, here's everything you need to know to live a healthy, safe, plastic-free life. Kudos to Beth Terry! She's definitely my plastic-free guru!" 
—Diane MacEachern, author, Big Green Purse

"Beth is the most knowledgeable person on plastic, particularly disposable plastic, that I know. Her journey to getting rid of disposable plastic is inspiring and amazing, but she also makes it doable for the rest of us. When I first met her, I lived my life pretty nontoxic, but I still used a lot of disposable plastic. Her efforts inspired me to eliminate disposable plastic too, and faced with choices, I always ask myself WWBD (or What Would Beth Do)? She is the standard by which I measure my 'greenness.'" 
—Jennifer Taggart, www.thesmartmama.com, author of Smart Mama's Green Guide: Simple Steps to Reduce Your Child's Toxic Chemical Exposure

"Plastic-Free tells a story that could inspire everyday behavior change for all of us. Small steps, leading to one big milestone—a planet free of plastic pollution. The power lies with each of us to take these steps. It is that simple." 
—Daniella Dimitrova Russo, cofounder and executive director, Plastic Pollution Coalition
 
Skyhorse, 9781632206657, 384pp.
Publication Date: April 21, 2015
About the Author
Beth Terry is the author of the popular blog MyPlasticFreeLife.com. A founding member of the Plastic Pollution Coalition, Terry gives presentations on living plastic-free and why, despite what some critics assert, our personal changes do make a difference. She spearheaded the successful Take Back the Filter Brita recycling campaign in 2008, and her life and work have been profiled in Susan Freinkel's book, Plastic: A Toxic Love Story, Captain Charles Moore's Plastic Ocean, and the award-winning film Bag It. When she's not out fighting plastic pollution, Terry spends her time with her husband and two rascally kitties in Oakland, California.