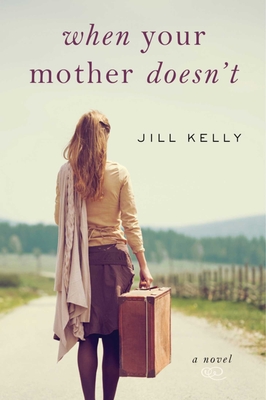 When Your Mother Doesn't (Hardcover)
A Novel
Skyhorse, 9781632207005, 320pp.
Publication Date: April 21, 2015
* Individual store prices may vary.
Description
A Revealing and Intimate Story of What a Mother Will—and Will Not—Do for Her Daughters

What kind of women do daughters become when their fathers are missing and their mothers can't love them? How do they find love and ways to love themselves?

Nearly three decades of secrets lie between Lola Ashby and the two girls she reluctantly raised. Now, prompted by the one father figure she respects, older daughter Frankie agrees to drive from Portland to visit her ailing mother, who abandoned the girls when they were in high school. When younger daughter Callie announces to Frankie that she's moving her fashion model career to Los Angeles from the East Coast, Frankie badgers her sister into meeting up in the Idaho panhandle for a family reunion to dilute the impact of their mother's indifference.

However, on Frankie's first night on the road, the trip gets more complicated when a well-dressed elderly woman at a rest stop dumps a young boy in her lap with a request to take him on to Montana. And Callie's exit from Pittsburgh is fraught with its own shady and violent difficulties. Meanwhile, Lola strengthens her resolve to keep the past and its secrets where they belong.

Skyhorse Publishing, as well as our Arcade, Yucca, and Good Books imprints, are proud to publish a broad range of books for readers interested in fiction—novels, novellas, political and medical thrillers, comedy, satire, historical fiction, romance, erotic and love stories, mystery, classic literature, folklore and mythology, literary classics including Shakespeare, Dumas, Wilde, Cather, and much more. While not every title we publish becomes a New York Times bestseller or a national bestseller, we are committed to books on subjects that are sometimes overlooked and to authors whose work might not otherwise find a home.
About the Author
Jill Kelly is a writer, painter, editor, and coach. Her first memoir, Sober Truths: The Making of an Honest Woman, was a finalist for the prestigious Oregon Book Award. She is the author of a second memoir, Candy Girl: How I Gave up Sugar and Created a Sweeter Life between Meals (2016), two thrillers (Fog of Dead Souls and its sequel Broken Boys) and a romance, The Color of Longing. Jill lives in Portland, Oregon, with four cats, many books, and two easels. She loves to hear from readers at jill@jillkellyauthor.com.
Praise For When Your Mother Doesn't: A Novel…
"Deeply moving and profoundly suspenseful, When Your Mother Doesn't is the unforgettable story of two sisters navigating their way through loss and grief in search of love, and what it means to be a family. A very fine novel from an engaging voice." —Carla Buckley, author of The Deepest Secret

"I devoured When Your Mother Doesn't in greedy gulps, fully steeped in this gripping story of three broken women who understand each other so little, yet are bonded by so much. Beautifully written and unflinching, this book is a gem." —Kristina Riggle, author of Real Life & Liars

"A heart wrenching and poignant story about mothers and daughters and the secrets they keep. With a plot that twists and turns, Kelly masterfully weaves a compelling narrative which explores how abandonment and sacrifice play out against a backdrop of adversity. Told through multiple perspectives, the novel addresses the complex ways in which women are forced to protect themselves and their daughters. An interesting and provocative read that will have you guessing until the very end." —Tamar Ossowski, author of Left

"Slowly peeling back the layers of a complicated set of relationships, Jill Kelly takes the reader on a journey of discovery with her compelling and artful new novel. This is a book full of secrets, loss, and moments of beauty. It will linger with you long after you've closed the final page." —Alice Kuipers, author of Life on the Refrigerator Door

"A vibrant voice, powerful and poignant. Jill Kelly weaves a compelling tale that will stay with you long after the final page." —Colleen Faulkner, author of As Close As Sisters and Just Like Other Daughters

"Deeply moving and profoundly suspenseful, When Your Mother Doesn't is the unforgettable story of two sisters navigating their way through loss and grief in search of love, and what it means to be a family. A very fine novel from an engaging voice." —Carla Buckley, author of The Deepest Secret

"I devoured When Your Mother Doesn't in greedy gulps, fully steeped in this gripping story of three broken women who understand each other so little, yet are bonded by so much. Beautifully written and unflinching, this book is a gem." —Kristina Riggle, author of Real Life & Liars

"A heart wrenching and poignant story about mothers and daughters and the secrets they keep. With a plot that twists and turns, Kelly masterfully weaves a compelling narrative which explores how abandonment and sacrifice play out against a backdrop of adversity. Told through multiple perspectives, the novel addresses the complex ways in which women are forced to protect themselves and their daughters. An interesting and provocative read that will have you guessing until the very end." —Tamar Ossowski, author of Left

"Slowly peeling back the layers of a complicated set of relationships, Jill Kelly takes the reader on a journey of discovery with her compelling and artful new novel. This is a book full of secrets, loss, and moments of beauty. It will linger with you long after you've closed the final page." —Alice Kuipers, author of Life on the Refrigerator Door

"A vibrant voice, powerful and poignant. Jill Kelly weaves a compelling tale that will stay with you long after the final page." —Colleen Faulkner, author of As Close As Sisters and Just Like Other Daughters