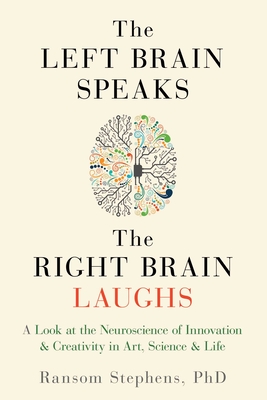 Left Brain Speaks, the Right Brain Laughs
A Look at the Neuroscience of Innovation & Creativity in Art, Science & Life
Paperback

* Individual store prices may vary.
Description
In The Left Brain Speaks, but the Right Brain Laughs, physicist Ransom Stephens explains the interesting and often amusing tale of how the human brain works. Using understandable metaphors and easy to follow language, Stephens gives readers of any scientific level an introduction to neuroscience and shows them how things like creativity, skill, and even perception of self can grow and change by utilizing the body's most important muscle. Fans of Bill Nye and Neil deGrasse Tyson will love Stephens' down to earth attitude and those interested in science will appreciate his thoughtful explanations of scientific terms. The Left Brain Speaks, but the Right Brain Laughs is the perfect gift for anyone who wants to know what's going on inside their head and how they can use that knowledge to make themselves the best humans they can be.
Praise For Left Brain Speaks, the Right Brain Laughs: A Look at the Neuroscience of Innovation & Creativity in Art, Science & Life…
"...all about hard science ... with metaphors and stories, jokes and quips, ideas and assumptions, and crammed with knowledge...a weight of content with undeniable passion and zest " --The Lancet Neurology
— Reviews

"Exceptionally well written, organized and presented." --The Midwest Book Review
— Reviews
Viva Editions, 9781632280466, 260pp.
Publication Date: September 13, 2016
About the Author
Ransom Stephens is a physicist, technologist, and novelist. He's written over 400 articles on subjects ranging from quantum physics to parenting teenagers and produces events for Litquake. His first novel, The God Patent, was "the first debut novel to emerge from the new paradigm of online publishing" according to the San Francisco Chronicle. He lives in Petaluma, CA.